Patent Laws Are Hurting Tech Companies Like Apple - Will Wall Street Be Next?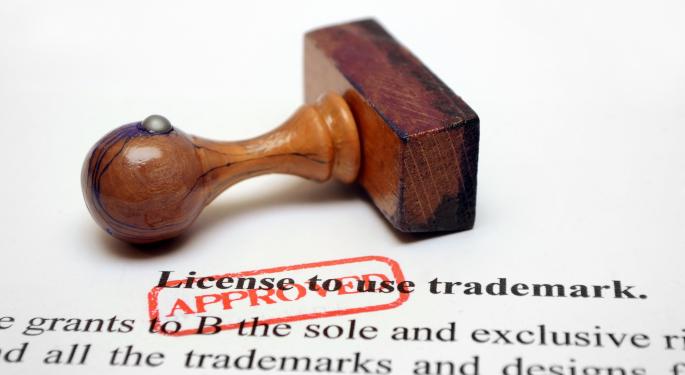 The legal battle between Apple (NASDAQ: AAPL) and Samsung (OTC: SSNLF) may never come to an end.
Patent laws have allowed these firms to sue (and counter-sue) each other over patent infringement. But they are not the only ones who have been affected -- virtually every major publicly traded tech company has been involved in a patent-related lawsuit.
Now that technology has become an integral part of the financial services industry, investors may wonder if similar lawsuits could plague Wall Street.
"There's no doubt," Jim Swartwout, President of tradeMONSTER, told Benzinga. "Since we launched, we've had four or five of these patent trolls come to us and say that we violated some patent they got 20 years ago. They're all crazy. All they're trying to do is get you to settle."
Related: Is Elon Musk's SpaceX Protected Without Patents?
In 2013, one unnamed firm filed a lawsuit against several financial services companies -- including tradeMONSTER. The firm claimed that it held a patent that described the delivery of real-time market data into a Web browser.
"We all basically told them to go away," said Swartwout. "It's a cost of doing business today. Anyone can come after you even if they've got a generic patent. But that's not really any different from the past. I don't see a lot of people running out, getting patents."
Regardless, Swartwout still thinks that patents are an important part of the industry.
"We were the first to launch a Flex-based platform," said Swartwout. "That was a little over five years ago. There have now been people that copied us and done similar things, but at that time we also created several tools that we did put patents on. We've also gotten patents on our mobile application we just rolled out last year because we were the first ones to really master HTML5 for mobile devices. We should have patented the whole platform at the beginning because then we could have made a lot more money [from licensing] by now."
Swartwout also said that patents can be important to a startup because they can help protect its creations during the early days of the business.
Patent Overhaul
When asked if it was time for patent laws to be rewritten, Swartwout said that a rewrite is "log overdue."
"Not just in our industry but everywhere," he said. "You can sit down for five minutes and scribble down a diagram that says, 'I'm gonna send this data to this server and do this and this with it,' without even knowing if it works."
Related: Google Acquires Foxconn Patents To Enhance Google Glass
"And then someone later down the line comes along and figures out how to make that work without even knowing about that patent, and then they get sued."
Swartwout said that the patent office needs to take a harder look at the patents it approves.
"Ours were like huge documents that explained exactly how we did things," Swartwout added. "Some of the ones that have come to us, saying that we violated their patents, were like one-pagers with a little diagram and a paragraph under it."
Disclosure: At the time of this writing, Louis Bedigian had no position in the equities mentioned in this report.
Posted-In: Apple Jim Swartwout SamsungEntrepreneurship Startups Tech Interview General Best of Benzinga
View Comments and Join the Discussion!