14 Stocks to Watch if Marijuana Becomes Legal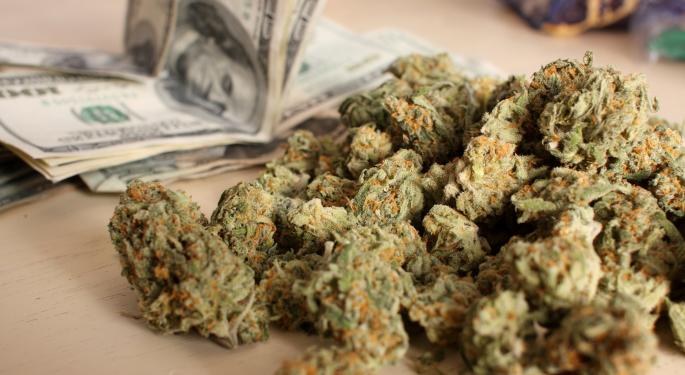 The 2012 elections witnessed the first two states to legalize recreational use of marijuana in Colorado and Washington.
Since then, other states have taken action toward legalization and most polls now show more than half of Americans in favor of legalizing recreational use of marijuana and regulating it similar to alcohol and tobacco.
While federal legislation legalizing the use of marijuana may be a few years away, the tide has clearly turned in its favor. This could have huge implications in business and specifically the stocks of companies that stand to benefit from pot legalization.
Here are Benzinga's 14 stocks to watch if marijuana becomes legal:


AGCO (NYSE: AGCO)
A leading global manufacturer of agricultural equipment, AGCO is a safe bet to enter the cannabis supply chain in an effort to increase the efficiency of large-scale, commercial farms if recreational use of marijuana becomes permissible under law.
Altria (NYSE: MO); Imperial Tobacco Group (IMT)
Altria and the British multinational Imperial Tobacco are giants in their industry. With Altria's 2007 addition of noted cigar maker John Middleton, Co. -- manufacturer of Black & Mild Cigars -- coupled with Imperial Tobacco's acquisition of Altadis USA, maker of Dutchmasters and Phillies cigars, the companies are positioned to grow.
It's common for smokers to dispose of the cheap cigar tobacco and replace it with cannabis to create marijuana cigars known as 'blunts.' Expect this trend to grow.
There is also an unconfirmed rumor that Altria has patented marijuana cigarettes in the form of "Marlboro Greens." The real question is, at just $30,000 a patent, why wouldn't they?
Amazon.com (NASDAQ: AMZN)
If marijuana becomes legal, prompting individuals to begin growing their own plants, expect the demand for hydroponic systems, seeds, fertilizers and other miscellaneous items to surge as well.
Especially in under-served areas, the most affordable and convenient stop for small growers will be Amazon.com, the world's largest online retailer.
American States Water (NYSE: AWR); American Water Works (NYSE: AWK); Aqua America (NYSE: WTR)
Americans' daily water use is already greater than any other nation on Earth.
If the number of small growers rises, as would be expected in a US where recreational use of marijuana is legal, this number is sure to increase via the use of hydroponic systems and other forms of irrigation.
One observer notes that water stocks have provided, "solid dividends, have very low betas (volatility in terms of stock price fluctuations), and their total returns have generally beaten the market over longer periods."
Home Depot (NYSE: HD); Lowe's (NYSE: LOW)
Home improvement kings Home Depot and Lowe's are well positioned for growth if marijuana becomes legal. Both stores already carry an array of hydroponic systems, a selection that will likely boom as smokers purchase lighting and irrigation units to legally grow their own supply.
It's also likely that the stores' gardening departments will begin to carry cannabis seeds, allowing smokers to grow different strains.
Lindsey Corp. (NYSE: LNN); Valmont Industries (NYSE: VMI)
Valmont is the largest manufacturer of mechanized agricultural irrigation systems in the world, while Lindsey is another huge player. If marijuana becomes legalized for recreational purposes, count on a huge expansion of large-scale cannabis farming.
If that occurs, the high from weed smoke will affect more than cannabis enthusiasts. Expect the stocks of large-scale irrigation companies to reap the benefits.
Monsanto (NYSE: MON)
Legalized marijuana will incentivize established players to explore the viability of large, commercial farms. The undisputed king of genetically-modified seed production is Monsanto, a likely bet to enter the market for growers seeking to grow large amounts of high-quality, potent cannabis plants.
Rentech Nitrogen Partners (NYSE: RNF); CVR Partners (NYSE: UAN); Mosaic (NYSE: MOS)
Whether the expansion in cultivation of cannabis plants from legalization occurs in the homes of enthusiasts or on giant commercial farms, growing marijuana requires adequate nutrients.
Rentech and CVR Partners are the two of the world's foremost producers of nitrogen-based fertilizers -- a must have -- and Mosaic is renowned for mining concentrated phosphate and potash -- two nutrients also necessary for the growth of healthy cannabis plants.




Follow Alex Biles on Twitter at @perfectlyaloof
Posted-In: cannabis marijuana pot weedEntrepreneurship Economics Trading Ideas General Best of Benzinga
View Comments and Join the Discussion!