How to Find a Career You Love that Pays Well Too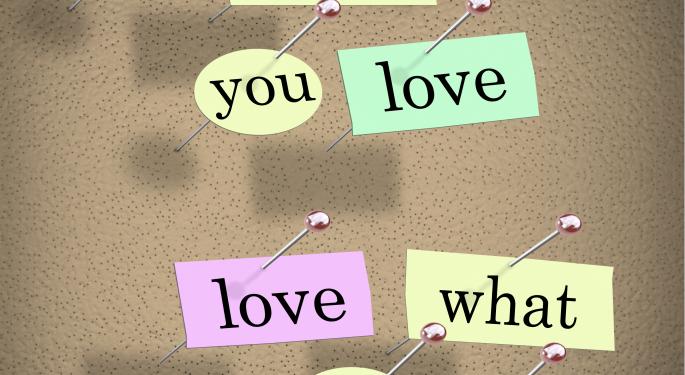 You may be new to the "What will I be when I grow up," game. Or, maybe you've had several jobs but never a career.
However you got here, you're ready to explore your options. All you need is a system.
Marty Nemko at AOL Jobs says, if you're looking for a fun and not-so-scientific way to find your strengths, check out the Department of Labor's Skills Profiler.
Before you click the link, Nemko cautions that even the best skill and interest assessors are far from perfect. The Skills Profiler is worth investigating, but just to be safe, read on.
Nemko prefers a more personalized series of questions. Here are a few that he asks new clients:
Is there an aspect of society that makes you so unhappy or upset that you would love to do something about it?
What do you consider the non-negotiables in your choice of a career?
List three projects you've done that not only turned out well, but were a real joy to work on.
Which of the following do you consider yourself to be: a) word person, b) math/science person, c) people person, d) artistic person, e) fix-it, build-it person, f) paperwork details person.
What's an unusual interest of yours?
Answers to these questions may lead you to a career that intrigues or interests you.
Nemko's final caution is not to wait for a career to come to you. Most people, he says, would not have predicted that they would end up loving the career they ended up choosing.
Instead, he suggests identifying two or three career choices, learning more about them, and doing an informational interview or even job shadow.
Tim Tyrell-Smith of U.S. News Money also suggests a series of questions to ask yourself.
What are your natural talents? We tend to enjoy tasks that involve skills that come easier to us. A list of natural skills can be matched up with one or two career choices and give you a great place to start your search.
What's your work style? For example, do you prefer a flexible environment, or one that is more rigidly structured?
Where do you like to work? Big city? Small town? An office? Your home? What part of the world appeals to you? Do you like staying in one place or are you more comfortable living out of a suitcase? All of these factors can play an important role in making a career choice.
Do you enjoy social interaction? Do you like working as part of a team or alone? Knowing your social needs is a critical part of choosing a career. You will spend a significant part of your life at work. An environment that is comfortable to you matters – perhaps more than you think.
Then there are the obvious considerations of salary and benefits. Each is important, but for most people neither is a deal breaker, if everything else lines up.
As far as salary is concerned, stable is sometimes more important than an above average salary. If your chosen career is not high paying, know it going in. If it is, know the cost (time, flexibility, stress) of that high salary and be willing to pay that price.
When it comes to benefits, don't expect to have a complete picture of the benefits package. That will depend on where you work. But know the basics. If you're starting your own business, realize that there will be no "company" medical benefits – only what you provide yourself.
Finally, after you answer the questions, conducted the research, and put everything together, check a resource, such as the U.S. News and World Report 100 Best Jobs list.
Compare the results of your "self-survey" with careers that are considered fast growing, well paying, and enjoyable. Pick two or three that appeal to you and check them out.
Although it's great to follow your passion, balance that with the practical reasons for having a job in the first place. Most people work because they have to support a family. You might love to play football, paint, or travel abroad but if those passions don't help you reach your financial goals and obligations, maybe your second or third choice would be worth pursuing.
View Comments and Join the Discussion!
Posted-In: Marty Nemko Monster Worldwide Tim Tyrell-SmithEntrepreneurship Topics Success Stories General Best of Benzinga