Is the Chief Yahoo Crazy?
There was an article on Reuters over the weekend that former Yahoo! (NASDAQ: YHOO) CEO and co-founder Jerry Yang was looking to buy the company, and take it private.
This begs the question: what does the former CEO see in the U.S. operations that no one else does?
Yang wants to take the company private, with the help of private equity, and do a leveraged buyout offer for the Sunnyvale, Calif.-based company. Yang currently own 3.63% of the company, to go with the other co-founder, David Filo, who owns 5.9% of the company.
Since Dan Loeb announced his stake in Yahoo, it was fairly obvious that some kind of transaction would be the end result. Who the buyer ultimately is has no answer yet, but everyone sees the value in the Asian assets. What no one really sees is what Yang apparently sees in the North American assets.
Since hiring Allen & Co and Goldman Sachs, many names have been thrown out for the Asian assets, and the company as a whole. Alibaba has been mentioned, with Alibaba CEO Jack Ma recently making comments he would be interested in buying the company. This morning, we learned that Alibaba is supposedly working with Temasek Holdings, Singapore's sovereign wealth fund, to line up funding for a potential deal for the 40 percent stake Yahoo owns in Alibaba.
A potential transaction for the entire company could be more difficult, Ma said, especially with political interference in the way.
In comments obtained by Reuters, the Yahoo board said, "The entire Board, including Jerry, is fully aligned and unanimous in support of the comprehensive scope of the ongoing strategic review. As always, Jerry's singular focus remains to serve the best interests of Yahoo -- its shareholders, employees, users and advertisers."
So what does Yang see that no one else really sees? When Loeb reported his stake in the company, he gave a valuation to the core U.S. assets at $2.78 per share. Why is Jerry Yang worried about less than $3?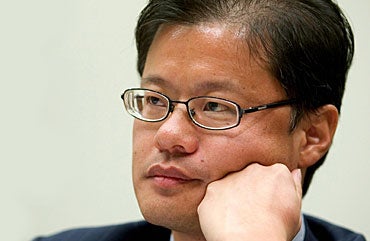 Yang, 43, is trying to restart a company that he co-founded and has seen lost market share to Google (NASDAQ: GOOG) and Microsoft (NASDAQ: MSFT) in search, and relevance around the world. According to ComScore, Yahoo had 16% of the U.S. internet search market as of August. Google had 65%, and Microsoft, which actually has a deal with Yahoo on outsourcing search technology, owns 15% of the market.
Yang may want to try to save his "baby" from the punishing eyes of Wall Street, which have punished the company for low growth. Yang is also losing control over the company he once founded, as newer executives come to Sunnyvale. After Yang and the board messed up the 2008 decision to reject the Microsoft offer to buy the company for $45 billion, Yang has been seen as something of a poor decision maker.
He would have to drastically reduce headcount, and most of all, change the way the consumer thinks about Yahoo to really change the market perception of the company. In order to grow the company as he wants, he will need to get the U.S. consumer to focus on Yahoo's incredible U.S. assets, like Yahoo Finance, Yahoo Sports, and Yahoo News. Otherwise, he may just wind up wasting the money of the private equity firms. Remember, they want to make money as well. They are not just potentially handing Mr. Yang billions of dollars so he can play with his company. They need to see a return on investment just like every other business.
What Yang sees is not quite clear to anyone, just yet. It could be like a parent who is not willing to let a child grow into their own and become their own.
In this case, it could be like a parent who is not willing to let their child suffer, and will do whatever they can to help save it.
Whether it is fruitless, or not.
ACTION ITEMS:

Bullish:
Traders who believe that Yahoo will get sold, despite some market concern might want to consider the following trades:

The chatter in Yahoo seems to signify a deal does get done. The worries of what Yang sees in core Yahoo are not Wall Street's concern. If traders believe a deal is likely, consider out of the money calls or the common stock.
Bearish:
Yang may be delusional in his hopes that he can save the company from dying a slow death. The company has lost relevance for years, and to try to turnaround the company when it is this far behind the 8 ball may be frivolous. This could be bearish for the phrase, "Do you, Yahoo?"

Neither Benzinga nor its staff recommend that you buy, sell, or hold any security. We do not offer investment advice, personalized or otherwise. Benzinga recommends that you conduct your own due diligence and consult a certified financial professional for personalized advice about your financial situation.
Posted-In: Long Ideas News Short Ideas Entrepreneurship Management M&A Tech Media Best of Benzinga
View Comments and Join the Discussion!