$1,000, 5 Years Later: How Much Would Starbucks Stock Be Worth?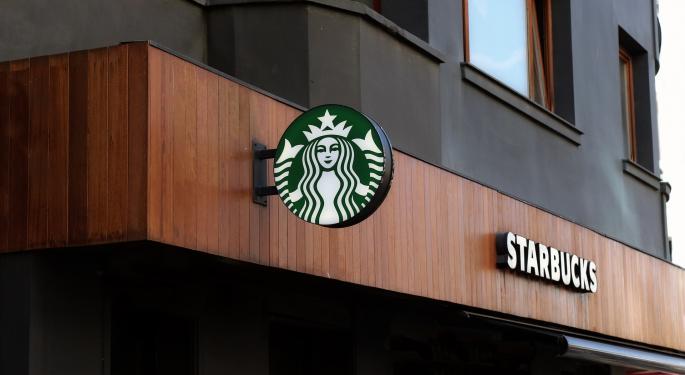 Check out our list of best stock brokers to get started
Investors who have owned stocks since 2016 generally have experienced some big gains. In fact, the SPDR S&P 500 (NYSE: SPY) total return in the past five years is 125.7%. But there is no question some big-name stocks performed better than others along the way.
A Tough Path: One company that has struggled to keep pace since 2016 has been Starbucks Corporation (NYSE: SBUX). Despite struggles along the way, Starbucks investors have gotten some decent overall returns.
Starbucks continued its explosive growth in the past five years, growing its number of locations from about 22,500 in 2015 to more than 30,000 by the end of 2019. Starbucks also expanded its footprint in international markets, growing its total number of overseas locations from 10,500 in 2015 to 16,200 by 2019.
Major focus points for Starbucks in the past few years have included the Starbucks Rewards program and mobile and online ordering via the Starbucks app. In addition, the company has been expanding its food offerings as part of a 2018 to double the food menu by 2021.
At the beginning of 2016, Starbucks shares were trading at around $59. They traded mostly sideways in 2016 and 2017 before hitting its low point of the past five years in mid-2018, dipping down to $47.37 as management warned investors that revenue growth that year would slump to as low as 1%.
From that point, the stock caught fire over the next year, as high as $99.72 in mid-2019.
Related Link: Here's How Much Investing $1,000 In Intel Stock 5 Years Ago Would Be Worth Today
Starbucks In 2021, Beyond: The COVID-19 pandemic sell-off in March 2020 pushed Starbucks shares back down to as low as $50.02. Fortunately for Starbucks investors, fast-food restaurants weren't hit nearly as hard as casual and fine dining restaurants, and Starbucks investments in its app and heavy reliance on drive-thru really paid off in 2020.
By late 2020, Starbucks shares made new all-time highs at $107.75 before settling back down to around $104 today.
Starbucks investors that bought and held on through a volatile five-year period turned a significant profit. In fact, $1,000 worth of Starbucks stock bought in 2016 would be worth about $1,971 today, assuming reinvested dividends.
Looking ahead, analysts expect Starbucks to continue to grind higher in the next 12 months. The average price target among the 29 analysts covering the stock is $111, suggesting 6.7% upside from current levels.
View Comments and Join the Discussion!
Posted-In: Education Restaurants General Best of Benzinga