How Trump's Stock Market Return Compares To Obama, Bush And Other Past Presidents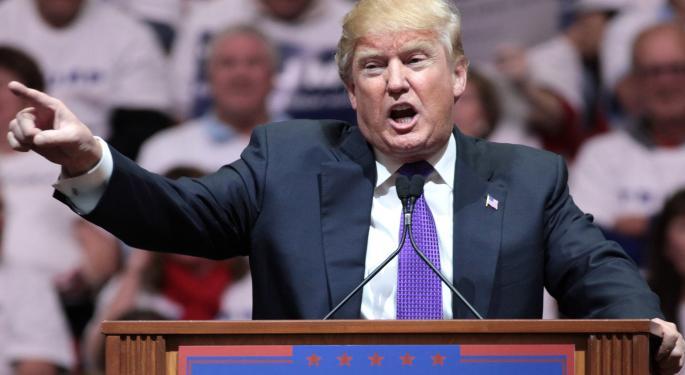 With the final votes in the presidential election being cast Nov. 3, Americans are weighing the two major party presidential candidates and choosing which will be best for the country over the next four years.
One way they can do that is by looking back on the first term of President Donald Trump and comparing the impact his policies have had on the country to previous administrations.
Trump's Stock Market Numbers: Trump has campaigned as the best choice for the U.S. economy. The best representation of the real U.S. economy is gross domestic product, but Trump often uses the stock market as a scorecard for his policies.
Here's a look at annual S&P 500 returns during Trump's presidency. The 2020 number represents year-to-date gains through Oct. 27:
2017: +19.4%
2018: -6.2%
2019: +28.8%
2020: +5.2%
How Trump Compares: Overall, S&P 500 returns have averaged about 11.8% during Trump's first term in office. Here's a look at how those returns stack up to President Barack Obama:
2009: +23.4%
2010: +12.7%
2011: +zero
2012: +13.4%
2013: +29.6%
2014: +11.3%
2015: -0.7%
2016: +9.5%
In his eight years in office, S&P 500 annual returns averaged 12.4% under Obama — about 5% higher than Trump's growth rate.
Related Link: Historically, Stocks Perform Better When Sitting President Is Reelected
Here's a look at average S&P 500 annual returns under the previous six U.S. presidents:
Jimmy Carter (D): 6.8%
Ronald Reagan (R): 9.8%
George H.W. Bush (R): 12.8%
Bill Clinton (D): 15.8%
George W. Bush (R): -2.4%
Barack Obama (D): 12.4%
Donald Trump (R): 11.8%
In his first four years in office, S&P 500 returns under Trump have been right in the middle of the pack compared to the previous six presidents.
Overall, stock market returns were highest under Clinton and H.W. Bush. Stock market returns were lowest during the second Bush presidency and the Carter administration.
Benzinga's Take: The SPDR S&P 500 ETF Trust (NYSE: SPY) is up 19.8% in the last six months, but its year-to-date gain of 5.2% in this election year is still historically underwhelming.
Looking ahead to 2021, stocks have historically performed better in post-election years when the incumbent president wins the election than in years following a change in leadership.
View Comments and Join the Discussion!
Posted-In: 2020 presidential election Donald TrumpEducation Futures Politics Top Stories Markets General Best of Benzinga