Here's How Much Investing $1,000 In Oracle Stock In 2010 Would Be Worth Today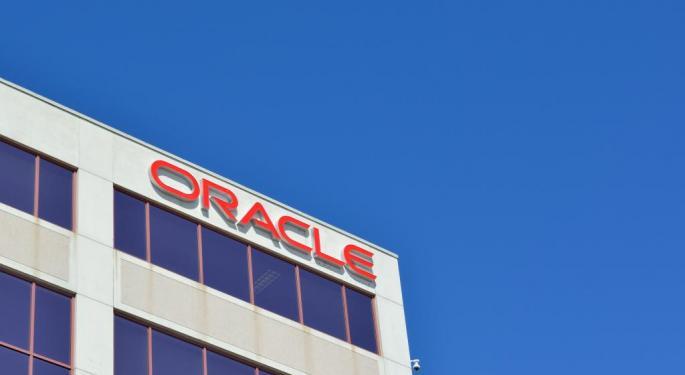 Investors who owned stocks in the 2010s generally experienced some big gains. In fact, the SPDR S&P 500 (NYSE: SPY) total return for the decade was 250.5%. But there's no question some big-name stocks did much better than others along the way.
Oracle's Difficult Decade: One poor performer of the last decade was cloud service stock Oracle Corporation (NYSE: ORCL).
Oracle spent much of the past decade transitioning away from its legacy businesses of on-premise database services, hardware and business software to a new cloud services-centric model.
In 2016, Oracle paid $9.3 billion for cloud pioneer NetSuite. Unfortunately, Oracle's major investments in cloud services aren't generating the type of growth investors had hoped. Revenue was flat on a constant-currency basis in fiscal 2020. Cloud license revenue and on-premise license revenues have been particularly weak in recent quarters.
TikTok Drama: The good news for Oracle investors is that the company has made two potentially game-changing deals during the COVID-19 pandemic. First, Oracle landed Zoom Video Communications Inc (NASDAQ: ZM) as a cloud customer earlier this year. Second, Oracle emerged as a winner from a messy bidding war among American companies to partner with popular social media app TikTok.
When Chinese TikTok parent company ByteDance rejected a buyout offer from Microsoft Corporation (NASDAQ: MSFT) and Walmart Inc (NYSE: WMT), Oracle swooped in to secure a deal to become TikTok's "technology partner." As part of the deal, Oracle will not have access to TikTok's prized algorithm, but it will reportedly take a 12.5% ownership stake in TikTok.
Oracle started the 2010s trading at around $25. By mid-2010, the stock had dipped to $21.24, its low point of the decade. By late-2015, Oracle hit $45.71, but it wouldn't reach the $50 level for the first time for nearly two years. Oracle spent much of 2017 and 2018 trading between $42.50 and $52.50 before breaking out to the upside in early 2019.
Oracle hit its high point of the 2010s in mid-2019 when the stock peaked at $60.50
2020 And Beyond: The COVID-19 sell-off sent Oracle shares tumbling as low as $39.71 in March 2020, but its deals with Zoom and TikTok had the stock back making new all-time highs of $62.60 just this week.
Oracle shares have been a profitable investment over the past decade, but the return isn't particularly outstanding. In fact, $1,000 worth of Oracle stock in 2010 would be worth about $2,528 today, assuming reinvested dividends.
Looking ahead, analysts are optimistic Oracle will hold onto its 2020 gains. The average price target among the 23 analysts covering the stock is $63, suggesting about 4.2% upside from current levels.
Related Links:
Here's How Much Investing $1,000 In AMD At Dot-Com Bubble Peak Would Be Worth Today
Here's How Much Investing $1,000 In Nvidia At Dot-Com Bubble Peak Would Be Worth Today
Photo credit: Raysonho, via WikimediaCommons
View Comments and Join the Discussion!
Posted-In: NetSuiteEducation Top Stories General Best of Benzinga