2 Important Numbers To Look For In The Starbucks Q3 Earnings Report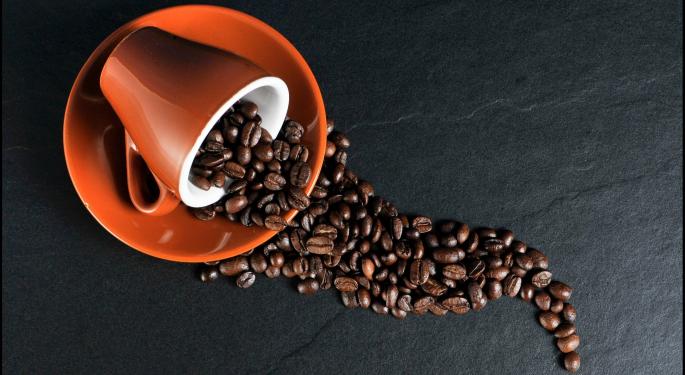 Through a global chain of more than 32,000 company-owned and licensed stores, Starbucks Corporation (NASDAQ: SBUX) sells coffee, espresso, teas, cold blended beverages and food.
Just like many other companies during the COVID-19 pandemic, Starbucks had to adjust its course for the year in order to bring in the most revenue while still practicing safety guidelines and procedures.
Starbucks reports fiscal third-quarter earnings on Tuesday after the close. The EPS and sales numbers are always important, with consensus estimates of a loss of 59 cents per share and $4.06 billion in sales, but each company has its own specific projects and updates to look out for.
Here are two things to look out for in Starbucks' earnings report.
U.S. Same-Store Sales: Due to the pandemic, Starbucks had to close many U.S. stores and customers stopped reeling in as its usual customer base shifted to working from home.
"Today 95% of stores are open, with remaining closures predominantly in the New York metro area. From here forward, comp improvement will depend on 'organic' sales improvement to reach Americas' 4Q20 comp guidance of -10% to -20%," Cowen's Andrew Charles wrote in a note issued on June 10.
COVID-19 Landscape in China: Starbucks was continuing its expansion into China before the pandemic. If the situation gets worse in China, Starbucks would potentially have to halt new store openings and reopenings, which could impact future income statements.
"Currently, 99% of stores are open, of which 90% are operating at traditional hours. Additionally, Starbucks has resumed store development in China, with 57 net new openings in April & May, and reiterated that the company is on track to deliver at least 500 net openings in fiscal 2020," said Charles.
Another important metric to look out for, although not found in Starbucks' earnings report, is changes in non-farm payrolls. Cowen noted since 2009, it's seen "a +0.62 correlation between Starbucks U.S. traffic growth on a two-year basis (to smooth results) & changes in non-farm payrolls."
View Comments and Join the Discussion!
Posted-In: Previews Restaurants Trading Ideas General