This Day In Market History: Federal Reserve Banks Open For Business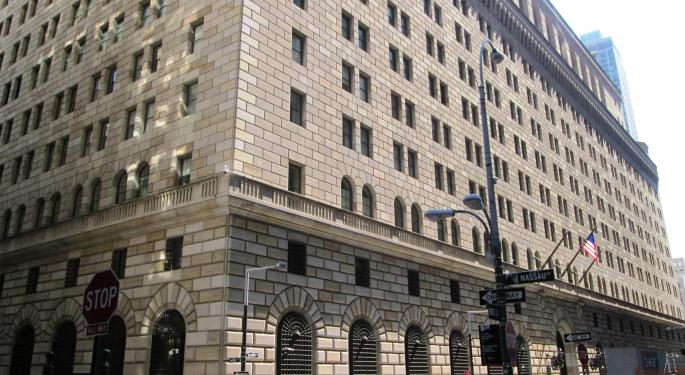 Each day, Benzinga takes a look back at a notable market-related moment that occurred on this date.
What Happened
On Nov. 16, 1914, the nation's first Federal Reserve Banks became fully operational.
Where The Market Was
The S&P 500 was on its way down to $7.35, and the Dow Jones Industrial Average was mid-shutdown for World War I. It wouldn't open again until Dec. 12.
What Else Was Going On In The World
World War I was in its fifth month, and the U.S. wouldn't engage for another three years. The Wilson Administration established the Federal Trade Commission in September.
The Fed's First Flight
On its opening day, the Federal Reserve Bank of New York collected $100 million in reserve deposits from 221 of 480 Second District members. The sum included $82 million in gold and gold certificates, as well as $11 million in silver and silver certificates. Total assets surged to $105 million by the day's close.
With WWI crippling commerce and banking, the Wall Street Journal said the banks ushered in a new banking era, and the Wilson Administration felt similarly.
"The opening of these banks marks a new era in the history of business and finance in this country," Treasury Secretary William McAdoo said. "It is believed that they will put an end to the annual anxiety from which the country has suffered for the past generation about insufficient money and credit to move the crops each year, and will give such stability to the banking business that the extreme fluctuations in interest rates and available credits which have characterized banking in the past will be destroyed permanently."
The Federal Reserve Bank of New York had been incorporated in May of that year and had appointed directors in September. It didn't assemble a permanent staff until eight weeks after opening but borrowed officers and employees from other operations.
Related Links:
Despite Fed Seeing Slower Business Investment, Rates Seen Rising Next Month
Cold Start: Worries About Hawkish Fed, Rising Prices Seem To Weigh On Sentiment
Photo credit: Beyond My Ken [GFDL], from Wikimedia Commons
Posted-In: Education Top Stories Federal Reserve General Best of Benzinga
View Comments and Join the Discussion!