Why Futures Traders Keep Their Eyes On The Dollar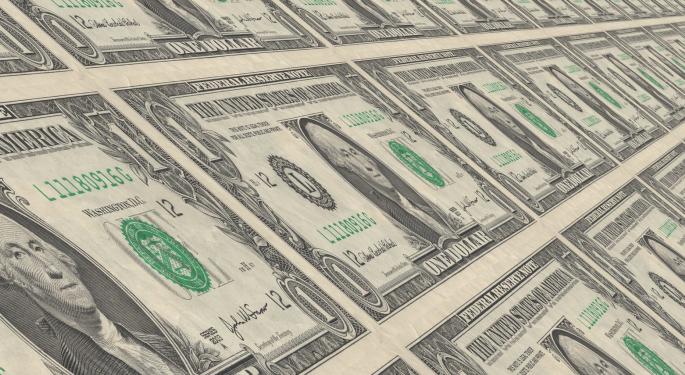 Among the hundreds of economic, political or climatological factors weighing on a given commodity market, the single most pervasive and broadly influential signal in futures trading is the relative strength or weakness of the U.S. dollar.
The reason for this is simple: the dollar is the primary currency in which the most heavily traded commodity products are denominated. This omnipresence is the result of a lot of industrial and geopolitical history, but the core logic behind the pairings is that the U.S. dollar is the most historically stable currency in the world. The dollar's consistent track record ensures that commodity prices are less susceptible to undue price swings, which provides resilience to the framework of international trade.
The dollar's historic dominance may change in the future. This year China introduced the yuan-denominated petro-yuan to compete with the USD denominated "petrodollar" that crude oil is otherwise priced in. However, the petro-yuan's novelty has so far not attracted the volume that some expected, although it is still in its infancy.
What this also means that the daily movement of the dollar will, to some degree, be felt across all of those commodities priced in — and currencies paired with — the USD, although the effects may be felt in different ways under different circumstances.
Currency markets have the most obvious correlation between dollar movements. The dollar index (DXY) is a relative measure of the strength of the USD against a basket of other currencies including the euro, yen, and pound, among a few others. In the case of a currency pair that includes the dollar, and assuming that the other currency remains stable, a fall in the DXY will cause a rise in its pair while a rise in the DXY will result in a fall.
This is, of course, a very general assessment. But even beyond direct USD pairs, the strength of the USD generally has an inverse relationship with other currencies.
This comes back to the fact that commodities are priced in dollars, which means the stronger the dollar is compared to another country's currency, the more expensive those products become in the non-USD currency.
While some countries (like China) argue this gives the dollar too much influence, commodity prices are still largely set by supply and demand. We've seen this in 2018, where a strong dollar against weakening international currencies generally depresses commodities. Conversely, signs of a weakening dollar are often a signal that commodity prices could be on the rise.
Again, this is an example taken in a vacuum. There are near infinite factors that might impact the price of currency or commodities and those of their futures contracts. However, irrevocably woven within the tangle of cause and effect that underlie the international markets is the greenback.
RJO Futures is a content partner of Benzinga
View Comments and Join the Discussion!
Posted-In: currencies dollarEducation Futures Forex Global Markets General