This Day In Market History: First Industrial Steam-Powered Locomotive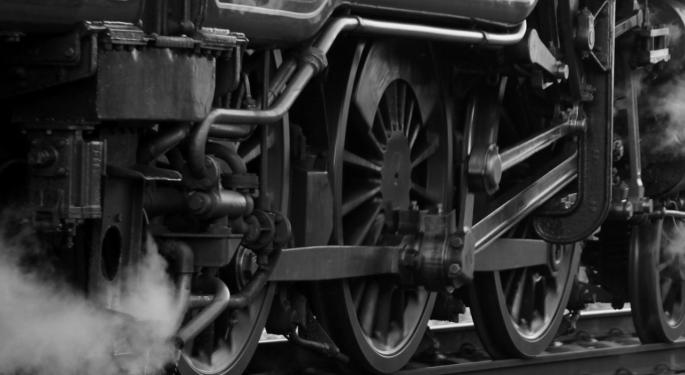 Each day, Benzinga takes a look back at a notable market-related moment that occurred on this date.
What Happened?
On this day 205 years ago, British inventor George Stephenson unveiled his design for the first ever functional steam-powered locomotive.
Where The Market Was
The steam locomotive predates the Dow Jones Industrial Average and the S&P 500.
What Else Was Going On In The World?
In 1814, Ludwig von Beethoven premiered his 8th Symphony in F. The U.S. and the U.K. signed the Treaty of Ghent, officially ending the War of 1812. A pound of raw sugar cost about 23 cents.
The Birth Of The Modern Railroad
Stephenson didn't actually invent the steam-powered locomotive. Richard Trevithick is credited with the first steam engine design in 1802. However, Stephenson was the first to unveil a design for a locomotive that could haul 30 tons of coal cargo up a hill at a speed of 4 mph. Stephenson reportedly built 16 early locomotives designed to operate for Killingworth Pit.
Pioneers of the early America railroad companies reportedly visited Stephenson to learn about his design, and roughly the first dozen American locomotives were purchased from Stephenson.
Not only did railroads enable Americans to settle the West, they also played a major role in the early U.S. stock market. Prior to the creation of the modern-day Dow Jones Industrial Average, Charles Dow created an index of 11 top U.S. stocks back in 1884, and nine of the 11 stocks were railroad companies.
Related Links:
This Day In Market History: Charles Dow's First Stock Index
View Comments and Join the Discussion!
Posted-In: this day in market historyEducation Markets General Best of Benzinga