Three Industries Already Using Self-Driving Vehicles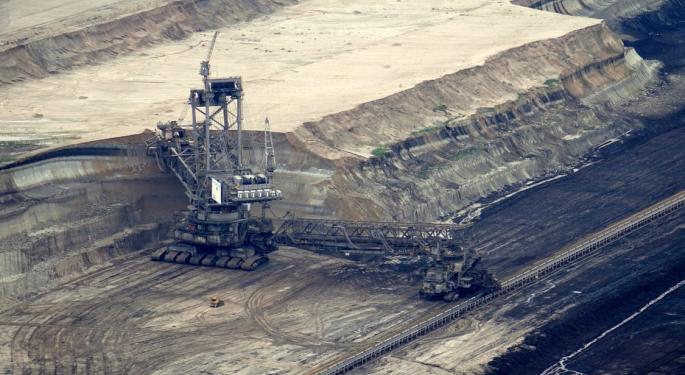 When it comes to self-driving technology, a bulk of the focus is on personal transportation. But there are other industries where self-driving vehicles are already being used.
Mining, farming and construction were all ripe for implementing self-driving technology before it made its way to public transportation because they all largely take place on privately owned land in a more controlled environment.
All three of these industries are also comprised of repetitive tasks with little to no variability. Dump trucks at construction and mining sites spend all day picking up dirt, driving it a short distance to dump it at a predetermined location, and then returning to the same starting point to do it all over. Tractors on farms go back and forth, tilling perfectly measured rows and planting crops. Again, an ideal environment for autonomous technology.
Below we'll look at how companies in these industries are implementing self-driving technology.
Mining
Rio Tinto plc ADR (NYSE: RIO), one of the world's largest mining companies, launched its Mine of the Future program in 2008. One aspect of the program has been implementing autonomous technology throughout the company's operations and controlling it via a centralized command center. Rio Tinto is doing that with trucks used to haul materials at the mine, as well as with trains used to transport ore from the mine to ports, where it is shipped throughout the world.
By the end of 2019, RIO has said it plans to have more than 140 self-driving trucks in operation at its Pilbara site in Australia, up from the 80 it says it currently has in operation. The trucks Rio Tinto uses are manufactured by Komatsu Ltd ADR (OTCMKTS: KMTUY) and they use a combination of GPS, radar and LIDAR (light detection and ranging) to navigate safely throughout the mine.
Rio Tinto is also working on self-driving trains that carry iron ore from mines to ports for shipping, according to the company. In early 2017, the company started running autonomous trains, and recently announced that 60% of the distance travelled by its trains is autonomous, with a driver on board solely for supervision.
Caterpillar Inc. (NYSE: CAT) is another one of the major manufacturers of self-driving mining equipment. In late 2017, Caterpillar announced a deal with Fortescue Metals Group to supply the company with self-driving technology and upgrade 100 of Fortescue's Caterpillar and Komatsu trucks so they could operate autonomously. At its Solomon Hub mine in Australia, where Fortescue had already implemented an autonomous hauling system, the company saw a 20% improvement in productivity, according to CEO Nev Power.
Construction
On construction sites, many of the tasks are similar to those in mining, and autonomous hauling trucks are used in both. However, construction sites can range from massive swaths of land down to small, single-family homes. While a dump truck making repeated trips might be necessary for building a new supermarket or housing subdivision, machinery with a little more finesse is often required for smaller projects.
Caterpillar, Komatsu, Hitachi and Volvo Construction Equipment are four of the big manufacturers that have announced prototypes of self-driving construction equipment that can handle precise tasks like digging and grading. In addition, several startups have done so as well.
One of them, Built Robotics, has been building self-driving construction equipment prototypes to be used for earth moving and grading services. The company estimates that in the U.S. alone more than $100 billion is spent on these services each year. Built Robotics was founded by Noah Ready-Campbell, who previously worked on Google's self-driving car efforts, to develop solutions "to address a chronic labor shortage, productivity that has fallen by half since the 1960s, and an industry that, despite significant improvements, remains the most dangerous in America."
Farming
Self-driving tractors have been in use for quite some time in the farming industry, although they largely relied on GPS and other technologies that were not as sophisticated as what's being used in self-driving cars. That's been changing as companies that produce agricultural equipment invest in new technologies.
Dan Leibfried, director of embedded solutions at John Deere's Intelligent Solutions Group, told Quartz: "We have to have the ability to sense everything the human would inside of the system related to the quality of the job… Whether it be preparing the soil, planting the seed, protecting the crop, or harvesting it."
In September 2017, Deere & Company (NYSE: DE) purchased Blue River Technology for $305 million, a maker of smart agriculture equipment. Deere's management had previously indicated they were interested in acquiring Blue River for its machine learning technology. Blue River's See & Spray equipment uses computer vision to analyze individual plants in order to precisely spray herbicide to effectively manage crops.
What's Next?
While some of these industries have implemented basic self-driving technology, there are still a lot of opportunities for companies to fully automate the equipment that handles precise tasks.
As the complexity of tasks grows, some companies have partnered with chipmakers, such as NVIDIA Corporation (NASDAQ: NVDA) and Komatsu's announcement in December 2017, to power the artificial intelligence required by autonomous machines that can handle more than just driving back and forth. Others have chosen to invest in robotics companies, like Caterpillar's $2 million investment in Fastbrick Robotics, a manufacturer of bricklaying robots.
Regardless of the industry, there are similar benefits that proponents of autonomous vehicles foresee: improved productivity and efficiencies, less fuel consumption and emissions, and safer working environments.
For the companies discussed above that are producing self-driving equipment, retrofitting older models with new technology and rolling out advanced products could provide new avenues for growth. But like most potential growth opportunities, there are plenty of competitors cropping up.
Information from TDA is not intended to be investment advice or construed as a recommendation or endorsement of any particular investment or investment strategy, and is for illustrative purposes only. Be sure to understand all risks involved with each strategy, including commission costs, before attempting to place any trade.
Posted-In: TD AmeritradeEducation Markets Tech General
View Comments and Join the Discussion!