Analysis: The Rarity Of A Sub-4% Unemployment Rate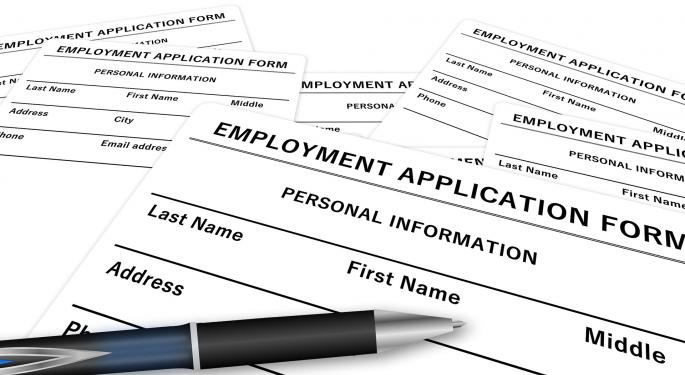 With a reported 3.9-percent unemployment rate, April became one of six months in nearly 40 years when the figure fell below 4 percent.
Before that, less than one-third of the months between 1948 and January 1970 saw lower or equivalent rates, according to the Bureau of Labor Statistics.
The Circumstances Of A Strong Economy
As the U.S. economy continues to improve at an unexpected pace, Americans are spending their biweekly checks on $62-a-barrel crude oil, screenings of "Avengers: Infinity Wars," downloads of Drake's "God's Plan," and 13.5 million new PCs a quarter.
The S&P 500 Index and Dow Jones Industrial Average traded nearer to their year-to-date nadirs than their year-to-date highs —although just about on pace with the former all-time highs struck at the end of 2017 — and Walmart Inc (NYSE: WMT) is atop the Fortune 500 with $485.9 billion in annual revenues.
Here's what life looked like the last two times the U.S. sustained a comparable unemployment rate.
Where Money Went The Last Time Around
In 1970, midway through President Richard Nixon's administration, crude oil cost $3.18 a barrel — the highest price in nearly a century, according to the U.S. Energy Information Administration. General Motors Company (NYSE: GM) topped the Fortune 500 list with $24.3 billion in revenue, the Dow traded years behind all-time highs in the low $800s and the S&P traded relatively low in the $90s.
Three decades later, under President Bill Clinton, crude oil hit a two-decade high of $26.72 and General Motors still led the Fortune 500 with $189.06 in revenue. The Dow traded at a stable level around $10,400 and the S&P 500 around $1,300, although both were short of their all-time highs
The well-employed Americans of 2000 blew their checks on Destiny's Child's "Independent Women Part I" and tickets to "Cast Away," while 1970s folk jammed to B.J. Thomas' "Raindrops Keep Fallin' On My Head" and viewed "M*A*S*H" or "Patton."
The latter were still seven years out from getting into PCs, but the former were averaging 49.4 million PC purchases a year.
Related Links:
This Day In Market History: New York Times Article Suggests Cancer Cure By Year 2000
This Day In Market History: Bill Gates Unveils Microsoft Excel
View Comments and Join the Discussion!
Posted-In: Bureau of Labor Statistics Unemployment Rate US Energy Information AdministrationEducation Top Stories Economics General Best of Benzinga