This Forex Trader's Biggest Piece Of Advice For Young Women Who Want To Trade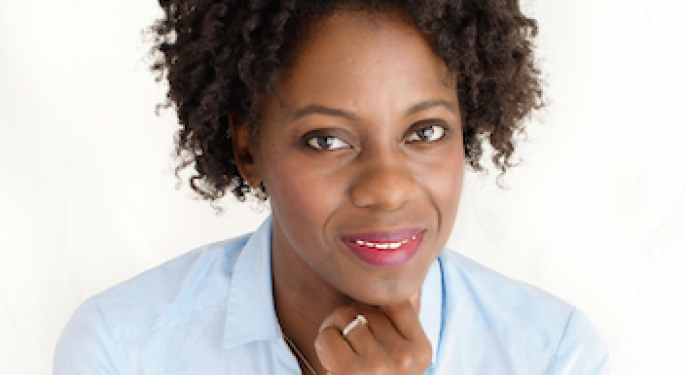 In advance of Benzinga's first annual Women's Wealth Forum, PreMarket Prep is highlighting women—some regulars, and some new guests—from across the finance industry all week.
On Monday's PreMarket Prep, forex trader Lydia Idem Finkley offered up her strategy, career path, and advice she'd give to young women in the field.
Lydia Idem Finkley, Forex Trader and Author of FaithMightFX
...On how she got into forex trading:
I was doing equities, and honestly, it was my mom. She must have seen, I don't know what she was seeing, she was watching CNBC and she saw 'Learn about the forex markets.' And I had just graduated from business school, and she said 'Come with me and learn about how to trade foreign exchange.'
I said 'You can't do that' because in my mind you could only trade stocks. And as soon as I said you can't do that, I realized you must be able to do that. And it just made a lot of sense. The liquidity, trading against pairs, and the buying and the selling—being able to take positions on both sides of the market fairly easily—it just really made a lot of sense to me."
On how she trades fundamental events like Fed speeches...
I'm really setting up on a Sunday when the forex markets open up. As a technical trader, these kinds of events don't bother me. I allow my setups to set up. Usually these kinds of events I look forward to because they trigger trades. They'll actually move markets in the direction of my setup. They'll either correct the markets and I can get in, or they'll rally them off and hopefully, I'm already in and I'm in the right direction.
So no, I don't allow fundamentals to sway me from my setups. So I would say don't allow news events to remove you from setups that you see. If your setup is your setup, use that as your trigger.
On advice she'd give to a woman getting into trading...
I think that as traders period, we're always looking for individuals who really know their system, really know the markets. And then the respect then comes. So I would say really embrace your uniqueness as a woman, embrace how you look at markets and put it out there fearlessly. Just put it out there and if you're right, you're right and if you're wrong, you're wrong. The markets will tell the story, they will prove you right or wrong. You don't need opinions of others.
For a discounted ticket to the Women's Wealth Forum, coming up March 21 in Boston, go to the registration page and enter the discount code 'PMP'.
To listen to the full show, including the full interviews with Finkley and Kiana Danial, the podcast is below. Finkley's interview starts at 33:50. Danial's begins at 56:10.
You can watch the show live every day from 8-9 a.m. ET here, or catch the podcast on iTunes, Soundcloud and Stitcher.
PreMarket Prep is a daily trading ideas show hosted by former floor trader Joel Elconin and prop trader Dennis Dick. You can listen to the show live every day from 8-9 a.m. ET here or on YouTube Live. The podcast is available on iTunes, Soundcloud, and Stitcher.
Posted-In: FaithMightFXEducation Forex Top Stories Markets Trading Ideas Interview General Best of Benzinga
View Comments and Join the Discussion!