This Day In Market History: Herbert Hoover Creates The Reconstruction Finance Corp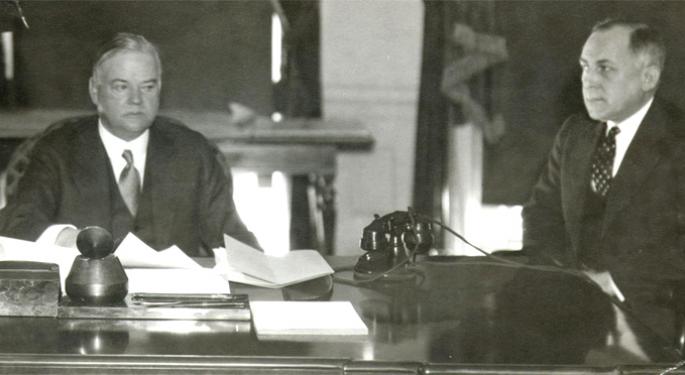 Each day, Benzinga takes a look back at a notable market-related moment that happened on this date.
What Happened?
On this day in 1932, President Herbert Hoover created the Reconstruction Finance Corp.
Where Was The Market?
The S&P 500 finished the month at 8.30, and the Dow Jones Industrial Average stood at 78.81.
What Else Was Going On In The World?
In 1932, the Great Depression ravished the U.S. economy, sending unemployment rates soaring to 24 percent. Al Capone was convicted of income tax evasion, and Franklin Roosevelt defeated Hoover in a landslide in the November election. The average American worker lucky enough to maintain a job earned $1,650 in wages.
First Attempt At Government Stimulus
Long before FDR's New Deal, Hoover attempted to kickstart the depressed U.S. economy by forming the RFC, a government corporation intended to support major U.S. companies by lending money. In its first few years, the RFC loaned $51.3 billion from the U.S. Treasury and $3.1 billion from the public to struggling railroads, banks, and municipalities.
The RFC certainly didn't get the U.S. out of the Great Depression, but by lending between $1.5 billion and $1.8 billion per year from 1932 to 1934, it may have prevented things from getting even worse. RFC loans insured that bank depositors could withdraw their money and kept the railroad transportation system functioning.
The RFC under Hoover was initially successful at reducing the number of bank failings, but Hoover was criticized for the selective nature of bank bailouts.
Related Links:
This Day In Market History: Peter Lynch Is Born
Taxpayers Have Now Made A $63 Billion Profit From Fannie Mae, Freddie Mac Bailouts
View Comments and Join the Discussion!
Posted-In: Herbert Hoover Reconstruction Finance Corp this day in market historyEducation Top Stories Economics Markets General Best of Benzinga