The 20 Best Business Books Of 2017, According To Amazon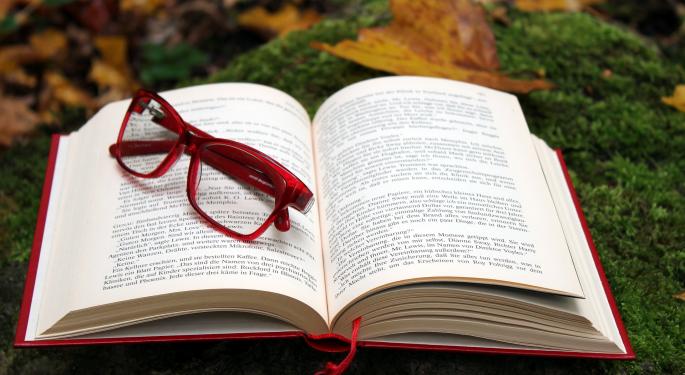 Americans are gearing up for shopping season. For shoppers looking for gift ideas for the business connoisseur in your life, Amazon.com, Inc. (NASDAQ: AMZN) has made it easy by creating a list of the top 20 business books this holiday season.
Amazon may now be selling groceries, cloud services and pretty much everything else under the sun, but it did start out as an online bookstore, after all. If you're looking to get back to Amazon's roots this holiday season, here are its top 20 books for the business-minded reader:
1. "Principles: Life and Work" (Ray Dalio)
2. "High Performance Habits: How Extraordinary People Become That Way" (Brendon Burchard)
3. "Option B: Facing Adversity, Building Resilience, and Finding Joy" (Sheryl Sandberg and Adam Grant)
4. "Hit Refresh: The Quest to Rediscover Microsoft's Soul and Imagine a Better Future for Everyone" (Satya Nadella and Greg Shaw)
5. "The Four Tendencies: The Indispensable Personality Profiles That Reveal How to Make Your Life Better" (and Other People's Lives Better, Too) (Gretchen Rubin)
6. "Blue Ocean Shift: Beyond Competing — Proven Steps to Inspire Confidence and Seize New Growth" (W. Chan Kim and Renée Mauborgne)
7. "Unshakeable: Your Financial Freedom Playbook" (Tony Robbins)
8. "Everybody Lies: Big Data, New Data, and What the Internet Can Tell Us About Who We Really Are" (Seth Stephens-Davidowitz)
9. "Adaptive Markets: Financial Evolution at the Speed of Thought" (Andrew W. Lo)
10. "Scale: The Universal Laws of Growth, Innovation, Sustainability, and the Pace of Life in Organisms, Cities, Economies, and Companies" (Geoffrey West)
11. "The Captain Class: The Hidden Force That Creates the World's Greatest Teams" (Sam Walker)
12. White Working Class: Overcoming Class Cluelessness in America (Joan C. Williams)
13. "Fifty Inventions That Shaped the Modern Economy" (Tim Harford)
14. "Black Edge: Inside Information, Dirty Money, and the Quest to Bring Down the Most Wanted Man on Wall Street" (Sheelah Kolhatkar)
15. "Stick with It: A Scientifically Proven Process for Changing Your Life-for Good" (Sean D. Young)
16. "Hit Makers: The Science of Popularity in an Age of Distraction" (Derek Thompson)
17. "The Upstarts: How Uber, Airbnb, and the Killer Companies of the New Silicon Valley Are Changing the World" (Brad Stone)
18. "The Wisdom of Finance: Discovering Humanity in the World of Risk and Return" (Mihir Desai)
19. "Move Fast and Break Things: How Facebook, Google, and Amazon Cornered Culture and Undermined Democracy" (Jonathan Taplin)
20. "Learn Better: Mastering the Skills for Success in Life, Business, and School, or, How to Become an Expert in Just About Anything" (Ulrich Boser)
Related Links:
Walmart's Crazy Christmas Plans
Posted-In: AmazonEducation General Best of Benzinga
View Comments and Join the Discussion!