The Commitments Of Traders Reports
Traders use the Commitments of Traders (COT) reports to gain perspective on the commodity market, as it provides insight into where the market's biggest participants are moving their money. However, a common challenge that some traders initially face is how to decipher information from the report. In this article I'll explain some of the key information from the COT reports. The reports can be obtained by clicking here.
Reading the COT Reports
At first glance, information from the COT reports may not come across as transparent and user friendly. The report is created by the Commodity Futures Trading Commission (CFTC), a government agency, and reports from the government are often tricky to read. That said, many traders tend to use the familiar legacy reports that are listed toward the bottom of the COT reports under the title of Current Legacy Reports. These reports are provided in a couple of different formats for both futures and futures options. Our focus will be on futures, as in most cases futures options will generally not change the consensus of the report.
The Short Format is the most commonly used format. It highlights the three categories of traders that we discussed in the last article. The Long Format provides additional information, including crop year data separation (when relevant) and position data for the largest four to eight traders. Many traders believe that the Short Format provides more simplified yet very useful information supplied by the CFTC. That said, let's look at the Short Format as an example.
It's important to note that various commodity products will be listed across a number of exchanges and you'll have to select the Short Format that corresponds to the related exchange. The image below highlights the exchanges that currently report on commodity products.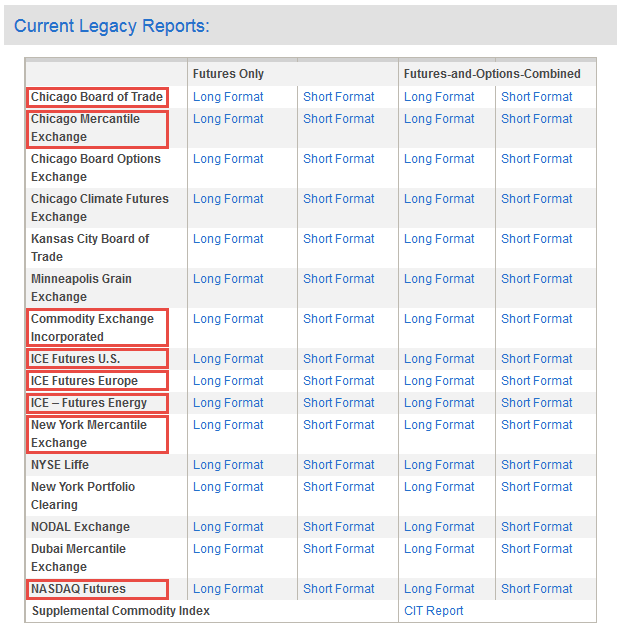 For illustrative purposes only.
After selecting an exchange, click its corresponding Short Format. For this example, I'll use the Chicago Board of Exchange (CBOE), as shown in the image below. However, to better understand the Short Format, let's first define its terminology:
Long: Refers to number of contracts that have been purchased (anticipating a price rise)
Short: Refers to number of contracts that have been sold short (anticipating a price decline)
Spread: Denotes the number of contracts where a particular trader has an equal number of long and sold positions
Open Interest: Denotes the total number of open contracts outstanding for a particular futures contract
Number of Traders: Indicates the total number of traders who are required to report positions to the CFTC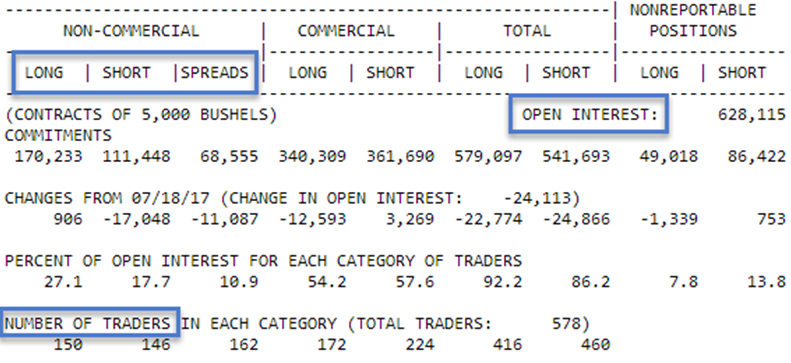 For Illustrative purposes only
As noted in the previous article, Three Factors Pushing Commodity Prices, we're mainly interested in following the Non-Commercial group. This group consists of large traders and is often referred to as "smart money." Conversely, we also discussed using the Non-Reportable small traders category as a contrary indicator.
As we look at these two groups, our main objective is to focus on the total number of both long and short contracts to determine if they're increasing or decreasing. We can do this by looking at the Changes section from the previous week, as shown below.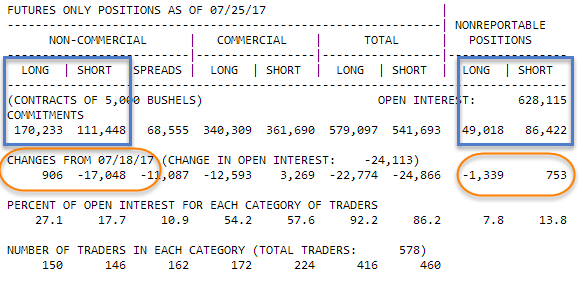 Having a longer term history of change (more than one week) provides traders with a trend of both long and short activity.
Conclusion
Remember, the COT reports is a useful tool that can help improve our ability to project future commodity price movement. Tracking the buying and selling patterns of the largest participants helps traders gain invaluable perspective into the commodity market. However, the COT reports is still only a tool and is not infallible. Even the largest most-informed participants can still be wrong from time to time.
In the next article, we'll focus on visually tracking the historical trends of buying and selling activity.
Neither Investools Inc. nor any of its officers, employees, representatives, agents or independent contractors are, in such capacities, licensed financial advisors, registered investment advisers or registered broker-dealers. Investools Inc. does not provide investment or financial advice or make investment recommendations, nor is it in the business of transacting trades, nor does it direct client commodity accounts or give commodity trading advice tailored to any particular client's situation. Nothing contained in this communication constitutes a solicitation, recommendation, promotion, endorsement or offer by Investools Inc. of any particular security, transaction or investment.
The risk of trading futures can be substantial. The valuation of futures may fluctuate, and as a result, investors may lose more than their original investment. Investors must consider whether futures are a suitable investment for their own personal financial situation before trading. Past performance is not indicative of future results.
Links to third-party content are provided for informational and/or entertainment purposes only and are not an indication of endorsement, sponsorship, approval or affiliation. The views and opinions expressed in third-party content are solely those of the third-party. All third-party content is the property of its respective owner(s).
Posted-In: Investools TD AmeritradeEducation Commodities Markets General
View Comments and Join the Discussion!