PC Market Downturn Continues Into Its Sixth Year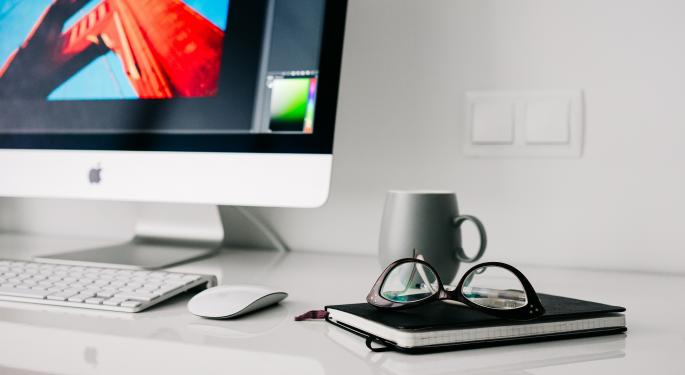 There seems to be no light at the end of the tunnel for the PC market, as it continues its lean run in the recently concluded second quarter. The PC market has been on a secular decline for five years now, and the second quarter marked the eleventh straight quarter PC shipments fell year over year.
2Q Statistics
Estimates by Gartner as well as IDC underlined the underlying weakness in the PC market. The former estimates that worldwide PC shipments fell 4.3 percent to 61.1 million units, while the latter forecast a 3.3-percent drop to 60.5 million units.
The difference between IDC and Gartner numbers is accounted for the form factor each counts as PCs.
What Is Ailing The Sector
IDC feels inventory build-up caused by shortages of key components such as solid state drives as one of the reasons for the weakness in the past several quarters. Though the second quarter of 2017 was less impacted by the shortages, increased cost of components hurt final sales value of systems, dragging down PC sales.
Gartner sang the same tune, tracing the weakness back to higher PC prices due to the impact of component shortages of DRAM, SSD and LCD panels.
Sleek smartphones and tempting tablets have lured customers away from PCs, which they find to be anachronistic devices. The former two gadgets have now so much evolved that they offer all the functionalities of PCs, along with convenience of use and mobility only they can offer.
With consumers, PCs having almost become an obsolete product, commercial customers continue to patronize it, as they go for product upgrades and refreshes, triggering demand for PCs.
However, one avenue of growth for the ailing device could be the demand for gaming hardware devices, which could prop up PC sales.
PC Market Shipments Over The Years
After peaking at around 365.4 million units in 2011, PC shipments declined 4 percent to 351.1 million units in 2012, falling a steeper 10 percent in 2013 to 316.5 million units. After the decline tempered to 1 percent in 2014, shipments fell 8 percent and 6 percent, respectively in 2015 and 2016.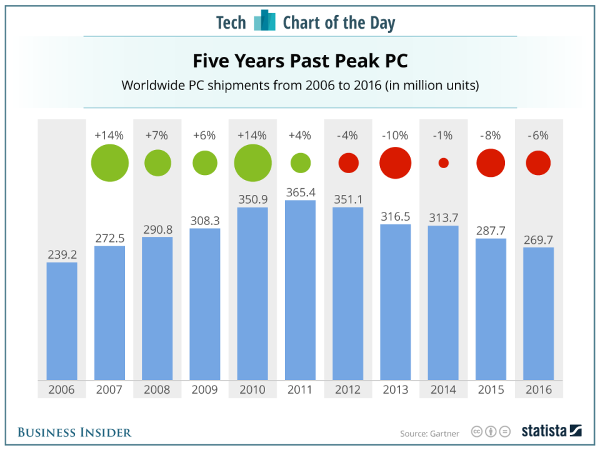 Vendorwise Performance
HP Inc (NYSE: HPQ) has weathered the half-a-decade PC market downturn relatively better than it peers. IDC's 2Q17 estimates showed that the company retained the distinction of the top PC vendor for the second straight quarter, boasting of a 23-percent market share.
Meanwhile, Gartner's research indicated that HP wrested the top slot from Lenovo Group Limited (ADR) (OTC: LNVGY), which has become a force to reckon with in the PC market after it bought International Business Machines Corp. (NYSE: IBM)'s PC business in 2005. HP fared particularly well in the U.S., where it outperformed the regional market.
Lenovo has remained the leader since 2013, with HP trailing behind it.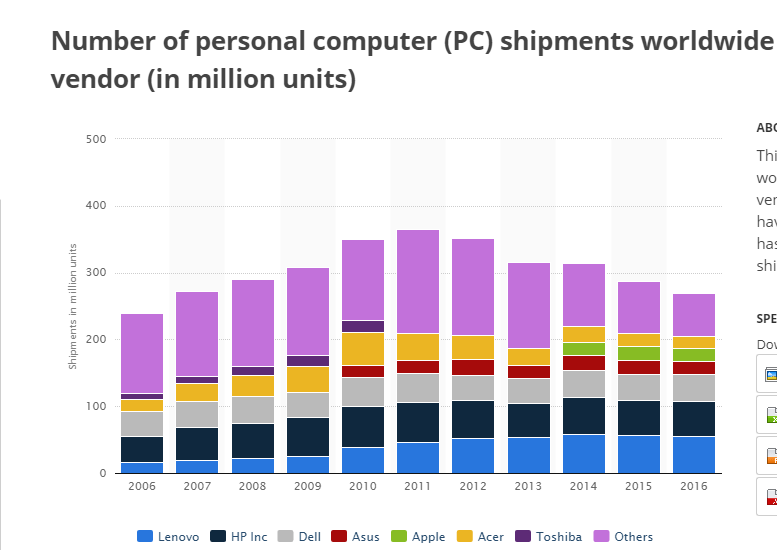 Source: Statista
Dell Inc. has been become both Lenovo and HP. Meanwhile, Asus and Acer Inc (OTC: ACEYY) has been running neck-on-neck, closely following Dell.
Apple Inc. (NASDAQ: AAPL), despite its visually appealing Mac PCs, was clubbed under the "others" category until 2013. Apple shipped 19.6 million units of Mac in 2014, with shipments rising to 20.83 million units in 2015. However, shipments fell to 18.61 million units in 2016.
The PC market cannot be obliterated completely, as commercial customers still rely on them. That said, consumer PC sales are definitely on the wane. It remains to be seen how the industry stands up to multiple challenges before it.
Related Links:
Strong PC Data For June Is Good For Micron Investors
Logitech Is Ready To Show It Is Bigger Than Just Computer Mouses
View Comments and Join the Discussion!
Posted-In: Gartner IDCEducation Top Stories Tech Media Trading Ideas General Best of Benzinga