Spirit Realty And The Block-Deal Frenzy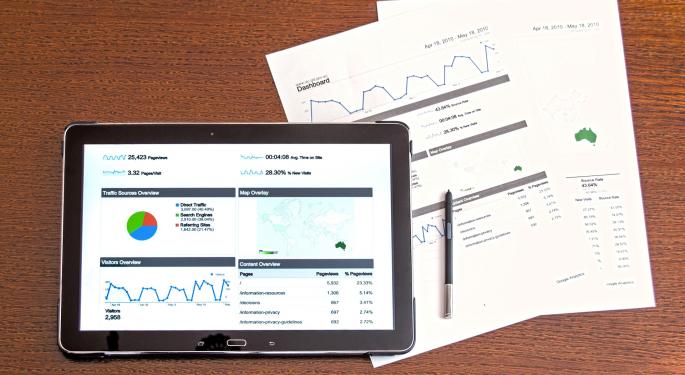 A block trade is a single order placed to sell or buy a significantly large number of units of a security. It is a large trading order, defined on the New York Stock Exchange as an order that consists of 10,000 shares of a given stock or at a total market value of $200,000 or more, according to Nasdaq's investing glossary.
Usually, the parties involved would be large hedge funds and institutional investors, given the massive amount of dollars involved. The transaction is effected through investment banks and other intermediaries.
When a block trade is executed through the open market, it could engender volatility in volumes, and in turn, the stock price. In order to mitigate the volatility, block trades are usually routed through an intermediary called the block house, which has the expertise and technology to initiate a block trade with minimal swings.
Sprightly Activity
One stock, which has been seeing frequent and heavy-volume execution of block deals in recent times, is Spirit Realty Capital, Inc (New) (NYSE: SRC). Since late April, there have been multiple block trades on this counter on a few days of each month:
April 28: eight trades, with the lot size ranging from 376,000 at $9.48 to 2 million at $9.45.
May 1: four trades, with the size ranging from 311,641 to 500,000.
May 2: four trades.
May 3: three trades.
May 4: nine trades.
May 5: 15 trades.
May 8: six trades.
May 9: four trades.
May 10: seven trades.
May 17: three trades.
May 25: 10 trades.
May 26: four trades.
June 1: 12 trades.
June 2: six trades.
June 6: five trades.
June 8: six trades.
June 9: three trades.
June 13: four trades.
June 14: four trades.
June 15: three trades.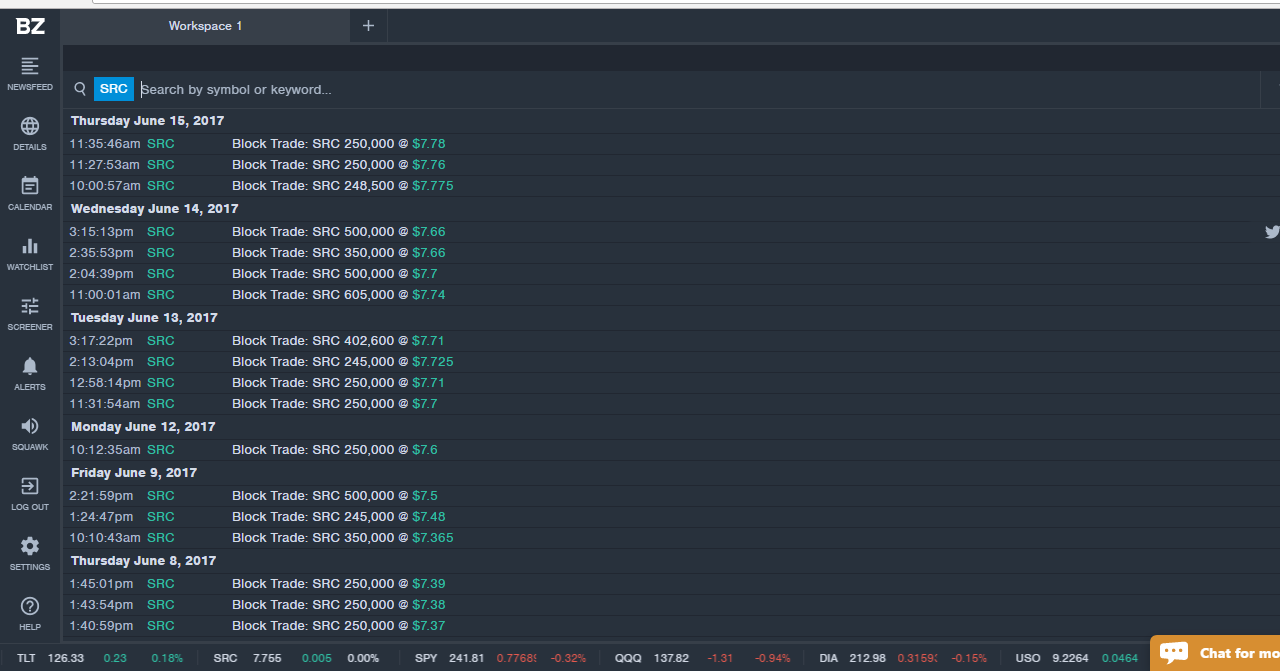 Source: Benzinga Pro
A look at the stock price of the company reminds of the classic "chicken or the egg" scenario. Around the time, block deals in the stock picked up pace, the stock also began a steep descent after trading roughly sideways since November last.
On April 28, the stock fell below the $10 handle, which had served as a support for a while, and has lost about 23 percent since then. There is no denying of the fact that there have been negative catalysts along way. On May 4, the stock suffered downgrades at the hands of several analysts following the release of its first quarter results on May 3.
Another stock which saw frenzied pace of block deals was Whole Foods Market, Inc. (NASDAQ: WFM) in the wake of Amazon.com, Inc. (NASDAQ: AMZN) announcing a deal to buy the company for $13.7 billion on Friday.
Do These Deals Mean Anything?
Since block trading involves large quantity of securities and consequently more investment dollars, the dealer who execute the block trade may be saddled with a huge loss if the position has not been squared up. Meanwhile, traders may also construe a block trade as reflective of future price movements on the assumption that money managers may have privy to some non-public information.
For a stock involved in a M&A transaction, the price at which a block trade is executed might give an idea for analysts to fix the offer price, given that the price would represent the level at which institutional investors are willing to buy a stock.
That said, there are views that since block trades are orchestrated between two parties in a regulated manner, they may not create meaningful ripples in the market.
Related Links:
The Technician's Playbook: 11 Sector Pair Trades
Posted-In: block tradeEducation Top Stories Trading Ideas General Real Estate Best of Benzinga
View Comments and Join the Discussion!