5 Of Boxing's Strangest Encounters: Mayweather Vs. McGregor Bout Not The First 'Money' Fight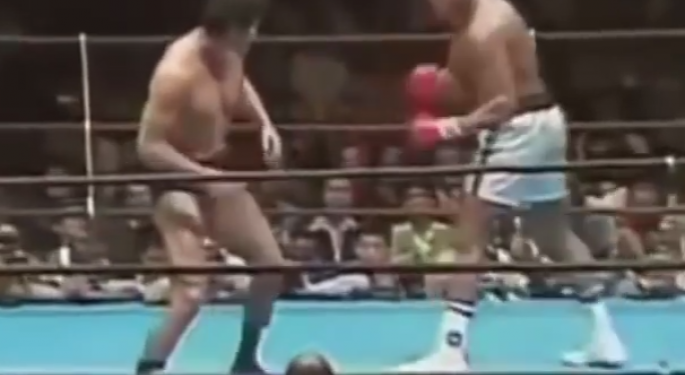 Floyd Mayweather Jr. versus Conor McGregor is the latest in a long line of heavily hyped gimmick bouts aimed not on settling any questions of fighting prowess, but making boatloads of money.
The boxing press seems united in its disdain for mixed-martial artist McGregor's fight with the elderly but undefeated Mayweather, which is set for Aug. 26 in Las Vegas.
"The bout will carry news cycles, print money for participants and take over an already hostile Twitter. What it won't be is interesting or close," writes Greg Bishop at Sports Illustrated.
"This is about money, the bricks of $100 bills that Mayweather likes to post on Instagram, the nine-figure payday that awaits him."
Here's a look at some other matchups motivated mainly by money.
Related link: The Boxer And The CEO: A Detroit Love Story
Muhammad Ali vs. Antonio Inoki
Billed as a bout between the world's greatest boxer versus the greatest wrestler, the match was held in Tokyo on June 26, 1976. Through some strange alchemy of rules and restrictions, Inoki spent most of the fight on his back, kicking at Ali's legs.
Ali didn't throw a punch until the seventh round and only six punches all night. The "fight" went 15 rounds and was declared a draw while fans at the Nippon Budokan arena threw garbage into the ring. Some people consider the fight the precursor of mixed-martial arts.
Mark Gastineau vs. Derrick Dukes
The All-Pro football player versus a professional wrestler in a boxing match. Or so it was billed. In June 1991, former New York Jets defensive end Mark Gastineau took on former American Wrestling Association star Derrick Dukes in Salem, Virginia.
Twelve seconds into the first round, Gastineau caught Dukes on the chin with a left hook that left the latter flat on his back and down for the count. Reports later surfaced that many of Gastineau's fights were fixed.
Jose Canseco vs. Vai Sikahema
The retired slugger for the Oakland A's versus the former NFL return man. Jose Canseco versus Vai Sikahema was billed as a celebrity boxing match, but both men took it seriously enough.
The crowd at Atlantic City was rooting for Philadelphia native Sikahema when the two squared off in July 2008. Even though Canseco was the bigger and heavier man by far, Sikahema knocked the former outfielder down with a left hook in the first 30 seconds. Canseco got up briefly to survive a flurry of punches before the referee stopped the debacle.
Joe Louis vs. Rocky Marciano
Louis was broke, fleeced by his handlers, under investigation by the IRS and overweight when he came out of retirement to fight a series of matches that milked his name but sullied his legend. His boxing skills were badly eroded when he was booked to fight undefeated up-and-comer Rocky Marciano in October of 1951.
It was a money fight. Louis was still the biggest name in boxing. Marciano carried him into the eighth round before dropping him with a left and knocking him through the ropes and out of the ring.
Muhammad Ali vs. Chuck Wepner
The unforgettable cover of Sports Illustrated in the runup to this March 1975 fight told the story: A close-up of Wepner with the caption: "Boxing's Strange Encounter."
Wepner was a journeyman with a record of 30-9-2. Ali was fresh off his triumph over the seemingly invincible George Foreman when he tapped Wepner for a match in what Ali, the showman who wanted to tweak racial sensibilities, dubbed the "Give The White Guy A Break" fight.
Wepner threw a series of questionable punches to the back of Ali's head and knocked him down in the ninth -- film later showed that Wepner may have stepped on Ali's foot and pushed him over -- before Ali got serious and knocked Wepner out in the 15th.
Struggling actor and screenwriter Sylvester Stallone was so inspired by Wepner's effort that he wrote the movie "Rocky."
Posted-In: Antonio Inoki Chuck Wepner Conor McGregor Floyd Mayweather Jr. Joe LouisEducation Sports General Best of Benzinga
View Comments and Join the Discussion!