Homer Simpson's Grease-Stealing Idea Comes To Life: What Else Has Springfield Spawned?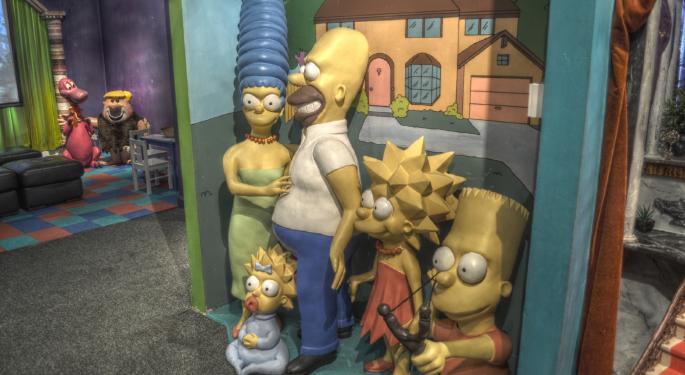 Business Insider's Will Martin made a keen observation recently by correlating the theft of grease to "The Simpsons."
Sounds crazy, but smart criminals know where the money is. Restaurants hire waste handlers to safely remove and dispose of leftover grease from their fryers and other kitchen machines after a few days of use. But according to an industry watch group, as much as $75 million of grease is siphoned each year.
Sound familiar? Many fans of "The Simpsons" are likely yelling out loud that the grease thieves merely stole the idea from Homer and Bart. In season 10, episode 1 of "The Simpsons," Homer learns from Apu that there is a market for used grease. So, Bart and Homer steal grease from a kitchen that has never been emptied, namely his elementary school cafeteria.
Homer's Iliad
Are there any other modern ideas predicted from the hit TV show? Quite a few, actually.
Here is a list of five other inventions that "The Simpsons" could be credited with coming up first. The data was compiled from Gizmodo who cited a YouTube video created by "Alltime10s."
3D Printers
Marge transforms 2D images into 3D cakes. Printing food and other 3D items is now a very real technology with companies like 3D Systems Corporation (NYSE: DDD) and Stratasys, Ltd. (NASDAQ: SSYS) battling for a leadership position.
"Farmville"
A joke featured in the episode "Bart Carny" depicted kids wanting to play on a "virtual yard simulator." It sounded funny at the time, but not for mobile game maker Zynga Inc (NASDAQ: ZNGA) who created "Farmville."
Hamburger earmuffs
Professor Frink's wisdom included taking a product that exists and combining with another product that exists to create an entirely new product, like... hamburger earmuffs.
Baby Translator
Homer's half-brother Herb came up with the idea of creating a device that translates a baby's cries into plain English that anyone can understand. There is now an app for that.
Airplane Restaurants
To celebrate Homer and Marge's anniversary, Bart came up with the idea of dining at an airplane-turned-restaurant buffet. Fourteen years later, a restaurant in Colorado opened the first ever airplane-turned-restaurant out of an old U.S. Air Force tanker.
Related Links:
The Simpsons And 7 Great TV Shows That Went On For Too Long
Did 'Tim & Eric' Find The Answer To TV Fragmentation?
_______
Image Credit: By Miguel Mendez from Malahide, Ireland - Wax Museum Plus, CC BY 2.0, via Wikimedia Commons
Posted-In: 3D Printing Alltime 10s Business Insiders GizmodoEducation Top Stories Media General Best of Benzinga
View Comments and Join the Discussion!