Cupertino To Bangalore: Apple Is Becoming Truly Global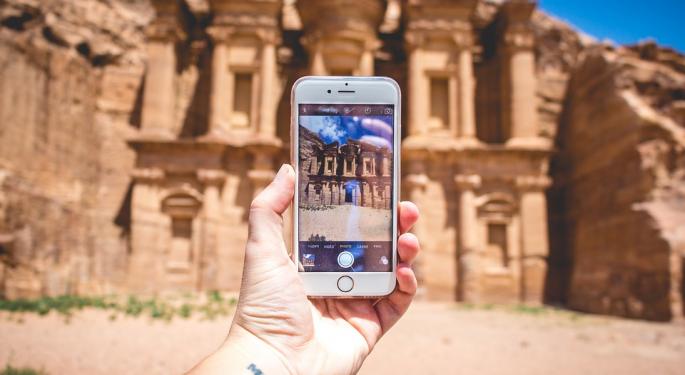 This article originally appeared on DriveWealth.
Last week, Apple Inc. (NASDAQ: AAPL) made a much-anticipated announcement: the world's largest smartphone maker (as of fourth quarter 2016) is officially set to begin manufacturing iPhones in India. Not only that, but Apple is prepared to begin this manufacturing within the next two months. Why? Allow us to explain.
Two years ago, data analysis covering the smartphone market in India came back with some very telling news: of all smartphone vendors, Apple ranked 18th in terms of total sales in India. Yes, that's right, 17 companies were selling more smartphones than Apple. To many of us, that seems crazy. We probably can't even list 17 smartphone providers – let alone 17 that we think could out-sell Apple!
Furthermore, several months later, another study of some Indian sales records showed that shipments of smartphones to India nearly tripled[MB1] [DF2] [DF3] just in the third quarter of 2015. These records told the world that, not only that there was there a major market for smartphones growing in India, but that Apple was still virtually non-existent within that ever-growing market.
And, last but not least in this telling chain of events, one more key piece of information has become evident since that initial 2015 study: the fight over smartphone territory is stagnating in many other parts of the world. What do we mean by this? We mean that between Samsung and Apple, the two largest smartphone providers in the world, many of the world's potential smartphone customers have already been reached and have purchased one of these two brands of smartphones. For example, the rate of people who have smartphones in just North America is upwards of 60% currently and is expected to be more than 64% by the end of 2017. Of that 64% of people who will have smartphones, it's estimated that upwards of 96% of them have either a Droid or an iPhone. So, it's fair to say that Apple and Samsung have covered almost the entire existing North American market.
Let's stop here for a quick summary. What does all of this information mean for Apple currently? Basically, two years ago, Apple was found to be practically non-existent in a country of 1.34 billion people (and growing) who have a noticeably increasing demand for smartphones. At the same time, many other parts of the world have become so smartphone-saturated that more than 3 in 5 people likely has either an iPhone or a Droid. So, if you were in charge of Apple, would you work on pushing your products in the sector of the world that is already very smartphone-heavy to see if you could acquire new customers? Or, would you enter a "new frontier" where you already know people will have higher demand for your products?
If you ask us, we'd say try the new frontier! Why? The potential user acquisition is much higher in India (1.34 billion people) as compared to the potential user acquisition in North America (the remaining 36% of 597 million, or 215 million people). See the difference? Apple did too.
That brings us to the current day. According to a WSJ report last week, Apple announced that it would be making this jump to the new frontier. In order to target the smartphone market in India, the company decided to reduce iPhone prices there. In an economic sense, this seems like a good way to get people to buy more. But, how can Apple do it? By opening a plant and producing iPhones locally. Apple knows that local production will allow it to side-step India's expensive import tariffs, that have historically made iPhones very expensive compared to other similar smartphone options. So, by finding a way around these tariffs, Apple can become more price-competitive. In fact, it is estimated that Apple could cut phone prices by nearly $100 for all Indian customers if this goes according to plan.
Sound like a promising new venture? We think it could definitely increase iPhone sales. However, there is one down side. As detailed in last week's report, Apple will begin by manufacturing only the iPhone 6 and 6S models in India – not the most recent models, like the iPhone 7. For many Indian customers, this seems like a deterring factor from switching from another smartphone provider to Apple. However, we're hoping this delay in the manufacturing of the most recent products is just part of the initial plan to get the new operation started, and not part of Apple's end game.
What do you think? Do you think local production of iPhones and the reduction of phone prices will help Apple break into the Indian smartphone market? Or, do you think that Apple's fatal flaw will be its lack of the most up-to-date products? Stay tuned, investors, because either way it goes, the effect of this announcement could be big for Apple.
Posted-In: DriveWealthEducation Emerging Markets Markets Tech General
View Comments and Join the Discussion!