Major Players In Billionaire Space Race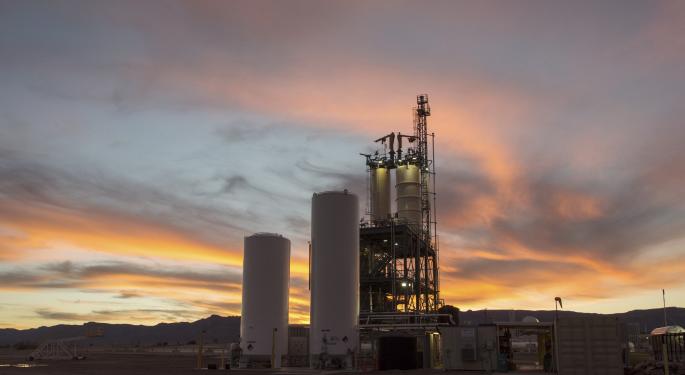 In the 1960s, the great Space Race was a battle between the two most powerful nations in the world: the United States and the Soviet Union. In the 21st century, the race has shifted to two of the most recognizable billionaires: Tesla Inc (NASDAQ: TSLA) and SpaceX CEO Elon Musk and Amazon.com, Inc. (NASDAQ: AMZN) and Blue Origin CEO Jeff Bezos.
Bezos Vs. Musk: A Space Battle Out Of This World
This week, Bezos tweeted a photo of Blue Origin's first fully-assembled BE-4 engine.
1st BE-4 engine fully assembled. 2nd and 3rd following close behind. #GradatimFerociter pic.twitter.com/duE4Tnzvkx

— Jeff Bezos (@JeffBezos) March 6, 2017

Musk and Bezos are both working on the same ultimate goal of making space travel safe and relatively inexpensive. To accomplish that goal, Blue Origin and SpaceX are both developing reusable rockets that can take people and payloads into space and return intact to make a vertical landing back on earth.
In November 2015, Blue Origin became the first company to accomplish this goal with its New Shepard spaceship. About a month later, SpaceX followed up by repeating the feat with its Falcon 9 ship.
Blue Origin and SpaceX insiders don't like to think of the two companies as rivals. Instead, they all believe they are working for the good of mankind. However, Bezos' congratulatory tweet to Musk after the Falcon 9 landing demonstrated that the public sees things differently.
When Bezos congratulated Musk for "joining the club," SpaceX supporters jumped on Bezos, pointing out that the Falcon 9 carried a payload, it was launched into orbit (New Shepard's flight was simply up-and-down), it is 10 times more powerful that the New Shepard and it flew twice as high.
Congrats @SpaceX on landing Falcon's suborbital booster stage. Welcome to the club!

— Jeff Bezos (@JeffBezos) December 22, 2015

Bring On The Other Billionaires
The race between Musk and Bezos is heating up, but other billionaires are also making strides with their own private space travel companies.
Virgin founder Richard Branson (Virgin Galactic), Microsoft Corporation (NASDAQ: MSFT) co-founder Paul Allen (Vulcan Aerospace) and Digital Sky Technologies founder Yuri Milner (Breakthrough Starshot) are all working on space travel initiatives.
But while Amazon and Tesla investors may be rooting for their home-team CEO's company, SpaceX and Blue Origin are both private. That doesn't mean the space race isn't impacting a number of public companies as well.
United Launch Alliance (ULA) is a joint venture between aerospace and defense giants Boeing Co (NYSE: BA) and Lockheed Martin Corporation (NYSE: LMT). The company's Vulcan rocket may be a dark horse in what would otherwise seem like a two-man race. In 2014, ULA partnered with Blue Origin to deliver the very BE-4 rocket engine that Bezos tweeted about this week.
In addition to ULA, traditional aerospace technology companies Aerojet Rocketdyne Holdings Inc (NYSE: GY) and Orbital ATK Inc (NYSE: OA) are still playing a pivotal role in the space race. Wildcards in the industry include newer names such as XCOR Aerospace, Spacefight and Moon Express. Even two former Blue Origin and SpaceX engineers recently launched space travel startup Relativity Space.
While the 21st-century space race may not have Cold War implications, it is still a high-stakes game with A-list entrepreneurs and potentially trillions of dollars on the line. After all, the winner of the race may quite literally end up as the savior of all mankind.
Related Link: The Astronomical Price Of Moon Tourism
Related Link: SpaceX Reopens Historic Launch Site, Advances American Position In International Space Marathon
Related Link: 6 Things Elon Musk Is Working On Other Than Tesla
______
Image Credit: Sunset over test stand at Blue Origin's West Texas facility; By NASA/Lauren Harnett - http://www.nasa.gov/content/blue-origin-test-fires-new-rocket-engine/index.html, Public Domain, via Wikimedia Commons
View Comments and Join the Discussion!
Posted-In: Blue Origin Elon Musk Jeff BezosEducation Travel Tech Media General Best of Benzinga