The Fulfillment Of Orwellian Prophecy Since 1984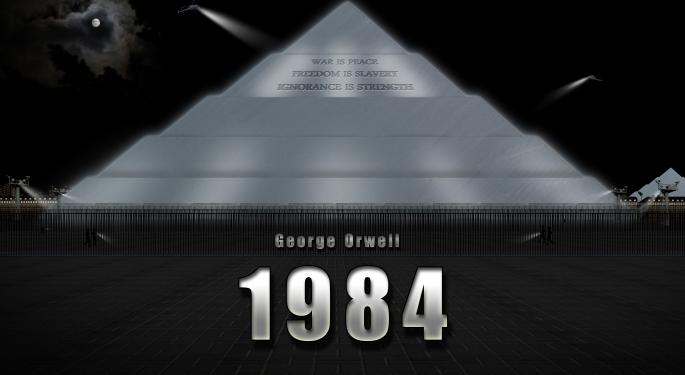 On January 24, 1984, Apple Inc. (NASDAQ: AAPL) debuted its first Macintosh computer.
And around the same time in the realm of dystopian fiction, George Orwell's ThoughtPolice launched technology-heavy surveillance and regulatory missions in "1984."
The timing of Apple's product release seemed intentionally ironic. In fact, the company's first Macintosh advertisement placed its technological milestone in the context of Orwell's story.
Its gray commercial featured entranced citizens marching in uniform to a large auditorium, where a big screen broadcast a speech by Big Brother. A woman clad in orange and white — the personification of Apple — rushed the room and smashed the screen with a swiftly flung sledge hammer.
The commercial concluded with a message: "On January 24th, Apple Computer will introduce Macintosh. And you'll see why 1984 won't be like '1984.'"
But in recent times, many have regarded the technology precipitated by Apple innovations as the catalyst of an Orwellian era.
Apple's Fight Against Big Brother
It seemed that Apple's mission was to prevent an Orwellian future, and since its inception, the company has actively protected consumers from surveillance and regulation.
In 2013, Apple first incorporated encryption security measures in its devices through iOS 7, and a year later, it implemented a default encryption process for iOS 8.
Through this system, Apple protects user information from even itself. Not even court orders can force the revelation of text messages or photos, which are all secured by the user's passcode. Any incriminating evidence must be voluntarily surrendered.
Still, Apple has been bested.
In 2016, the Federal Bureau of Investigation cracked the phone code of a shooting suspect after the company refused to assist. Apple has since been working to strengthen product security.
Apple's Undesired Function In Societal Manipulation
The FBI isn't the only foe to Apple's anti-Orwellian cause.
Over the last few years, evidence has mounted against the U.S. National Security Agency for its surveillance of phone and Internet activity.
Facebook Inc (NASDAQ: FB) has also been accused of playing "Big Brother" by collecting and monitoring user data to shape targeted advertisements.
On Saturday, the company was flagged for a potential hacking scheme wherein user posts were involuntarily edited and messages effectively censored. Facebook's involvement in the instance is yet unknown.
Also over the weekend, Twitter Inc (NYSE: TWTR) was caught in an Orwellian scandal when management revealed its capacity to add or drop followers without user permission. The social media company previously took heat for deleting the accounts of certain users deemed inflammatory while allowing others to remain active.
In early 2016, Twitter drew criticism when it established a "Trust and Safety Council" to prevent abuse on its site. One critic at The Week expressed concern for political bias and intentional censorship in the process.
Technology And Alternative Facts
Beyond surveillance and censorship, the recent proliferation of propaganda and false news has propelled the United States to Orwellian status.
Throughout 2016, institutions and individuals used technology to circulate fake reports, which on multiple occasions altered human behavior and changed, even on microscopic scales, the course of history.
In December, a report accusing a pizza business of involvement in child sex trafficking inspired one man to rush the complex with a rifle. Prior to that, voters were forced to filter allegations against both presidential nominees regarding dishonest campaign tactics.
And the scale of truth distortion has gone far beyond individual citizens.
Some are concerned that the U.S. government may use media technology to propagate false news — or what Kellyanne Conway calls "alternative facts" — during the Trump administration.
Parallels between the United States and Orwellian governments have some Americans dusting off their copies of "1984," which on Tuesday became the fifth best-selling book on Amazon.com, Inc. (NASDAQ: AMZN).
Turning The Tides Of Transparency
The rise of technology hastened by Apple's first computer has not only generated an opportunity for Orwellian surveillance and regulation, but it has also evened the playing field between government officials and less powerful plebeians.
WikiLeaks, for example, has proven the people's capacity to monitor the government even as the government monitors the people.
Additionally, constituents have successfully called for greater online transparency among state and local governments. Many states are increasing web access to documents delineating administrative and budgetary activity.
For more educational content, visit BZTeach.
Image Credit:By Jordan L'Hôte - Own work, CC BY 3.0, via Wikimedia Commons
Posted-In: 1984 Donald TrumpEducation Politics Top Stories Tech Media General Best of Benzinga
View Comments and Join the Discussion!