The Most Frequent Mistakes That Lead Traders To Ruin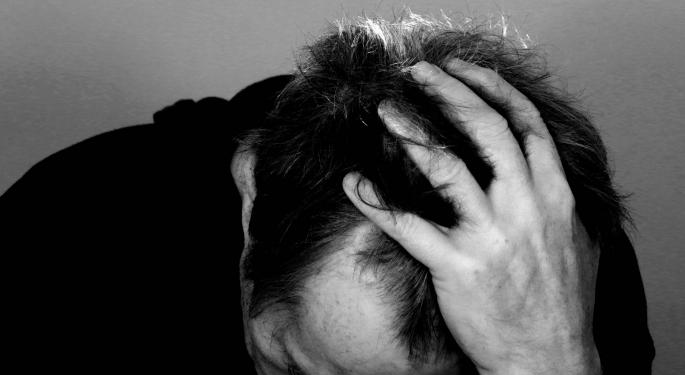 Wednesday's edition of Benzinga's PreMarket Prep morning show saw a special appearance from Jeff Goldman, an old friend of show co-host and former floor trader Joel Elconin. Goldman, who boasts a 25-year career as a trader, visited the show to discuss his new book, "Failed Traders: The 20 Common Mistakes Committed By Over 1000 Losing Traders" and to lay out some of the more egregious examples of shoddy trading.
Watch And Un-Learn
Goldman explained the impetus behind the book came from his time with a proprietary trading firm, fostering new traders only to see most of them fail. "There's all this info out there, and still traders fail," Goldman elaborated, "I saw they all kept doing the same things over and over again, and over the years I started writing them down."
Unlike the books on trading he saw new investors use as research, Goldman emphasized that his book isn't there to guide those just starting out with the markets, saying, "You won't learn to trade reading this book. You will learn what not to do."
The Most Common, And Overlooked, Trading Mistakes
When asked what he felt the biggest mistake he included in the book, Goldman's answered with an error most traders are already very familiar with: "The number one biggest mistake is not getting out of losers. That's got to be the biggest one, and it's so obvious it's funny, because it's the easiest one to correct. You just get out of it."
While the No. 1 mistake made by traders may be unsurprising, Goldman pointed to a more overlooked and less considered misstep made by traders: not having an exit strategy. "You're always looking for the perfect setup, but it's not having an exit strategy before you enter the trade," Goldman said. "An exit strategy for when your down on the position and an exit strategy when you're up on the position. You need to know both of those before you get in on a trade you need to know your risk reward is."
Goldman also outlined a corollary snafu to neglecting an exit strategy, as well as a possible remedy to that oversight, saying, "The second biggest mistake is not keeping a log or a journal of your trading. You need to review those at the end of every trading day. Look to see when you get into a trade. Why did you got into it? Did you listen to your exit plan?"
Get Used To Change
Before leaving, Goldman discussed some of the changes he's witnessed in trading over the years. "Everyone keeps talking about high frequency trading and algos and how it's so difficult for the average person to point and click and make money," Goldman explained. "I don't accept that. I feel there is still a lot of money to be made hand trading."
His advice for keeping up with a more digitally integrated market is for traders to broaden their time frame, shoot for bigger profits and, most of all, adapt. "As the market changes, as volatility increases and decreases and new rules of the exchange come on board," he said. "Traders that didn't change their strategies are traders that aren't with us anymore."
Listen to the full discussion with Goldman at the 35-minute mark in the clip below.
PreMarket Prep is a daily trading ideas show that focuses on technical analysis and actionable short term trades. You can listen to the show live every morning from 8–9 ET here, or catch the podcast here.
Posted-In: Education Topics Success Stories Be Your Own Boss Markets Media Trading Ideas Interview Best of Benzinga
View Comments and Join the Discussion!