8 Financial Resolutions For Millennials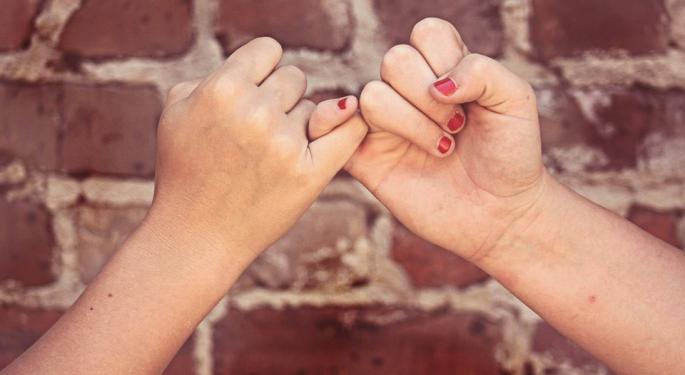 This article was originally published by DriveWealth.
Happy New Year, millennials! As the first week of 2017 has come and gone, we know you probably got a perfect head start and stuck exactly to your New Year's resolutions. Did you hit the gym every day and make sure to get to bed early every night this week? Or, have you already completed your goal of becoming more organized? We're sure you have. That is, if you're in the only 8% of millennials that actually make their resolutions stick. But, if you're reading this and thinking you might need a little extra motivation – or realizing you forgot to set a New Year's resolution altogether – we've got your back.
One thing we know for sure is that vague resolutions make for unattainable goals. So, we've come up with a few creative but manageable New Year's resolutions that you can use to tackle your personal growth as well as your financial stability this year:
1. Learn How To Cook
Your body and your wallet will thank you. Think of going to buy a simple cup of coffee, for example. You might spend $4 at a local coffee shop, while the average price of a cup of coffee brewed at home is between 16 and 18 cents. The same is true for home-cooked food: across the board, prices for homemade meals are drastically cheaper than the prices of their comparable restaurant versions – and the disparity is even larger for people who share their meals (i.e. cooking for multiple people). So, this year, take a cooking class or have a friend show you the basics – you could end up saving hundreds and eating healthier, too!
2. Evaluate Your Subscriptions
Odds are you're signed up for more subscription-based services than you even remember. Between magazines, cable TV, Netflix, Inc. (NASDAQ: NFLX), Spotify, and other entertainment sources, you're probably paying for a lot more subscriptions than you really need. Do you need Netflix and cable TV? How often do you read all of the magazines or online news sources you're paying for? This new year, make note of all of the subscriptions you use and bag the ones you don't – even saving an extra $5 or $10 a month can add up!
3. Stop Being Late All The Time
Time is money! Punctuality is an attribute that can really change your professional life, as well as your relationships with others. By showing up on time, you can accomplish more during your working hours and be able to relax more in your non-working hours. If you're a person who's always running 10 minutes late, start this year by setting the alarm 10 minutes earlier and see what good things can come from being prompt!
4. Recognize Your Social Media Usage
How much of your working or relaxing time do you spend browsing social media? Recent reports show that the average millennial spends an hour a day on just Facebook Inc (NASDAQ: FB), let alone all other social media sites. What else could you be using that hour for? This year, start to take note of your social media use and try to cut it down for just a few minutes a day. Like we said, time is money!
5. Start a Journal
Writing a little blurb after every day is a great way to improve your memory and your finances! If you write a little bit about what you did each day – including the things you bought or the money you saved – you can remember all of the highlights of your days and start to see trends in your personal finances at the same time. Start this year off by buying a new journal and budgeting 10 minutes a day to write – soon you'll know yourself better, personally and financially!
6. Allocate Time to Shop
It might seem counterintuitive, but the more time you spend shopping, the more money you could save. First, ask yourself some necessary questions: what is the best place to buy what I need? Does it make sense to buy in bulk? What kinds of sales are offered for these items? Are there any alternatives? By researching the things you buy beforehand and seeking out all alternatives, you reduce your chances of impulse buying or missing better offers. So, this year, focus on checking all the boxes before you make a purchase – even if it means spending a little more time shopping.
7. Invest $X From Each Paycheck
Many people find it easier to invest when they make it into a routine. Instead of trying to put large sums of money away at once, try taking a little bit of money out of each of your paychecks regularly. This way, it'll feel like you have to sacrifice less in order to invest. As 2017 begins, try to set calendar reminders for every few weeks so that you can remember to save and invest regularly.
8. Learn When To Splurge
Of course, we know saving money and trying to cut back are very important for financial stability. But, don't be unrealistic: sometimes you're going to splurge. And you deserve to. If you're constantly counting dollars and not enjoying your days, you're much less likely to stick to your budget in the long-term. Obviously, that is dangerous for your financial stability. Instead, learn when and how to splurge without crushing all of your progress. If you want a nice dinner out, have it – just don't have it every night. You deserve a little reward for your daily hard work.
Start 2017 off strong by choosing a resolution and setting a plan for how to approach it. By picking a specific and manageable goal, you could soon be well on your way to both personal and financial success!
Posted-In: DriveWealthEducation Success Stories Be Your Own Boss Tech Personal Finance General
View Comments and Join the Discussion!