5 Trends To Expect In Your Workplace In 2017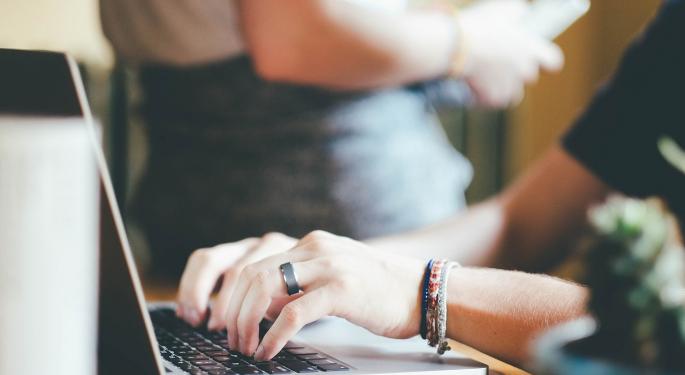 TINYpulse recently composed a list of the five biggest workplace trends employees should expect to see in 2017. The predictions are based on a survey of more than 1,000 global organizations.
According to the survey results, employee engagement will be a key theme in 2017.
"We predict 2017 will be the year of employee empowerment," TINYpulse senior communications manager Ketti Salemme told Benzinga.
"With an improving job market, leaders need to be prepared to build up their work culture, increase communication, and implement growth opportunities in order to keep valued employees engaged and prevent your best individuals from walking out the door."
Here's a rundown of the five biggest workplace trends to watch for in 2017:
1. Coworker Connectivity
A study by TINYpulse and Microsoft Corporation (NASDAQ: MSFT) found that employees with the most personal connections with their coworkers are the most productive. In fact, employees named coworkers as the part of their job they love the most in 2015. Look for companies to try to create more of a collaborative work environment and encourage workforce networking in 2017.
2. Workforce Turnover
With the U.S. economy firing on all cylinders, leverage in the job market has shifted decisively in favor of employees. With plenty of jobs out there, expect high turnover rates to continue. In fact, 25 percent of employees say they would be willing to leave their current job for as little as a 10 percent pay raise.
3. The Rise Of The Middle Manager
Middle management will be taking the lead in the push for employee engagement in the workforce. More than half (53 percent) of employees surveyed would prefer that their direct manager oversee employee engagement initiatives. Companies will continue to recognize the benefit of encouraging managers that interact with employees daily to spearhead engagement strategies.
4. Real-Time Feedback
Companies will realize the benefits of routine one-on-one feedback from managers. Nearly 70 percent of employees believe they are not reaching their full potential at work. However, employees that receive personal, regular feedback feel their voices are being heard, feel more valued by the company and are happier with their overall work environment.
5. Leadership Development Programs
Between now and 2030, an estimated 10,000 baby boomers will be retiring per day. That outflow of business leadership will leave a void in the workplace that companies will be looking to fill internally. Many more companies will likely be providing leadership development programs to millennial employees to ensure a smooth transition of leadership to the next generation.
Posted-In: Ketti Salemme TINYpulseEducation Topics Top Stories Media Interview General Best of Benzinga
View Comments and Join the Discussion!