A Risk-Free Opportunity To Invest In Precious Metals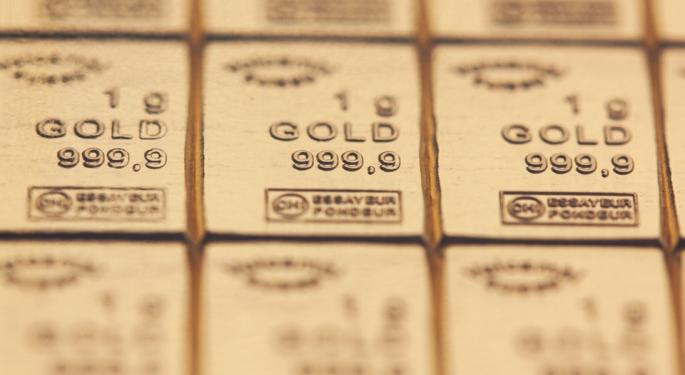 Look at the year the precious metals have had.
Historically seen as a hedge against the stock market, you might have expected back in January to see significant rallies in gold and silver throughout the year.
That's exactly what happened during the first five weeks of 2016 after the Federal Reserve's interest rate hike last December. While S&P 500 futures dropped nearly 12 percent until a mid-February rebound, gold futures rallied 19 percent and silver futures rallied nearly 16 percent.
But the fear in the stock market was short-lived. Since the February low of 1802.5, the S&P 500 is up nearly 26 percent for the year, and we consistently find ourselves at all-time highs across the major indexes. As the market has endured, gold and silver futures have stagnated.
Both metals behaved as they were supposed to following June's Brexit surprise, hitting their annual highs in early July, but the Trump rally over the last month seems to have come at the expense of gold and silver.
Metals Stocks
One attractive play in the precious metals space has been mining stocks, particularly because they give exposure to the metals market while also paying dividends to their investors.
Silver Wheaton Corp. (USA) (NYSE: SLW) has nearly doubled since its January low, Barrick Gold Corporation (USA) (NYSE: ABX) has gone from $7.69 to $15.67, and McEwen Mining Inc (NYSE: MUX) is up nearly 180 percent.
As we head into new Presidential administration, and experience our first interest rate hike in 12 months, these stocks may be worth keeping an eye on to start 2017.
An Alternative Way To Get Into Precious Metals
For investors who are interested in getting exposure to this market without the risk, a new startup is enabling that: Stockpools.
Stockpools has essentially combined the concept of fantasy football with investing. For their latest contest they've partnered with special metal retailer Kitco to create the Kitco 2017 Precious Metals Stock Picking Challenge. During the three-month contest, which is free, players build a portfolio from pools of 24 stocks in the precious metals industry, and then compete against other portfolios. In keeping with the fantasy football style, users can also trade stocks in their portfolio with each other. Barrick, Silver Wheaton, and McEwen are all included in the pool.
The best performing portfolio each week will win a 1/2 oz of gold bullion, and the top three overall performing portfolios at the end of the final week will each win a 1 oz of gold bullion. In total, about $12,000 in gold will be awarded.
This challenge is just the latest from Stockpools, which offers dozens of similar such contests in industries from media to healthcare. For a space as interesting as the precious metals, it's a great way to get an intro to the market without risking any capital.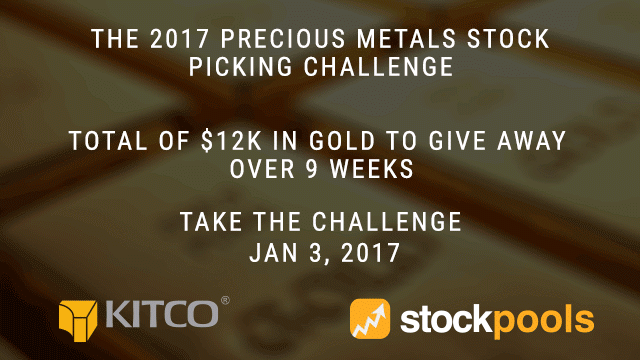 Posted-In: StockPoolsEducation Commodities Topics Startups Markets General Best of Benzinga
View Comments and Join the Discussion!