Why Voters Take Clinton's Lies More Seriously Than Trump's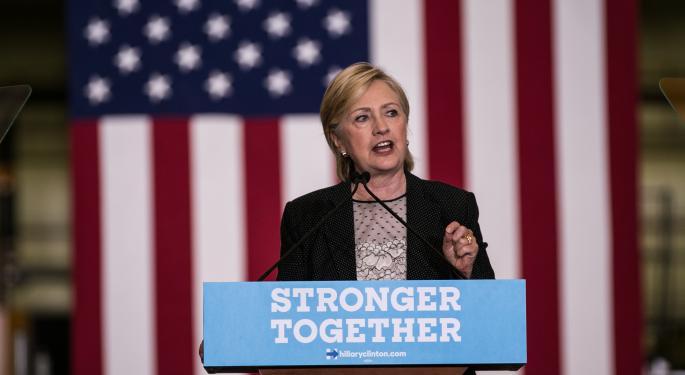 The last of three presidential debates is set to take place on Wednesday between Donald Trump and Hillary Clinton at the University of Nevada in Las Vegas. One of the most important things voters will be watching for is which candidate comes across as genuine and honest.
Fact-checkers have determined that 52 percent of Trumps statements are entirely false, a much higher percentage than the 12 percent of Clinton's statements that are deemed entirely false. In a recent story for CNN, Stanford professor Jeff Hancock discussed why voters seem to hold Clinton and Trump to different standards when it comes to honesty.
Hancock, who studies deception, says there's a difference between lying and "bullsh**." According to Hancock, bullsh** artists like Trump aren't necessarily intending to deceive others.
"When the fisherman says that the fish was this bog, with his hands wide apart, the actual size of the fish isn't what's important, it's the entertainment of the listeners," he explains.
Related Link: 20 High-Profile Business Leaders That Have Picked Sides In The Election
At the same time, many Trump supporters don't care about the feasibility or accuracy of his claims. They care about his message.
"When Trump makes false claims about the trade deficit or the unemployment rate, the reality is less important than his supporters' sense that the economy is leaving them behind," Hancock writes.
Hancock succinctly points out the stark contrast between the way Trump supporters perceive his "bullsh**" and the way the media perceives it.
"The press takes him literally, but not seriously; his supporters take him seriously, but not literally," he explains.
The difference between Hancock's definitions of "bullsh**" and "lying" could explain why Clinton's trustworthiness numbers are so bad even though her statements are much more factual than Trump's.
Voters believe Trump is uninformed or simply exaggerating when he makes false statements. But a large number of voters may perceive Clinton's false statements as intentional attempts to hide the truth and/or deceive voters.
Posted-In: Donald Trump Hillary Clinton Jeff HancockEducation Politics Psychology General Best of Benzinga
View Comments and Join the Discussion!