Playing (And Paying) Part In Your Kid's Wedding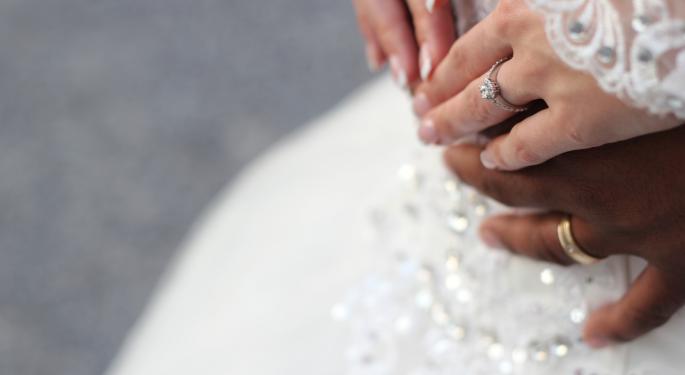 Long gone are traditional dowries, and coupled with the aging demographic of betrothed couples, so too are the customary financial roles.
With the average American bride just over 25 and the average groom almost 27, many couples are expected to be financially independent in their own rights and reliance upon parents, as customs would dictate, seems increasingly impractical.
However, etiquette still dictates some semblance of tradition, even amid this changing landscape.
Keep in mind, though, that the bride and groom finance their wedding on average just 30 percent of the time. Seventeen (17) percent of the time, the bride's family takes care of all costs, and 53 percent of the time, the costs are split between all involved.
Therefore, despite these changes, below follows a more contemporary break down of financial responsibilities for members of the wedding parties.
Traditionally, the breakdown of in-law wedding responsibility (from a financial perspective) is as follows*:
Groom's Family
Out-of-town guest lodging.
Their own wedding clothing/accessories.
Wedding gift for the couple.
Rehearsal dinner.
Bride's Family
Reception.

Room rental.
Catering.
Cake.
Gratuity.
Decoration.
Music.

Invitation
Consultant/Planner fees.
Gift for couple.
Their own clothing and accessories for the wedding.
Wedding site fees.
Ceremony music.
Flowers.
Bride's attire and accessories.
Transportation for bridal party.
Photography.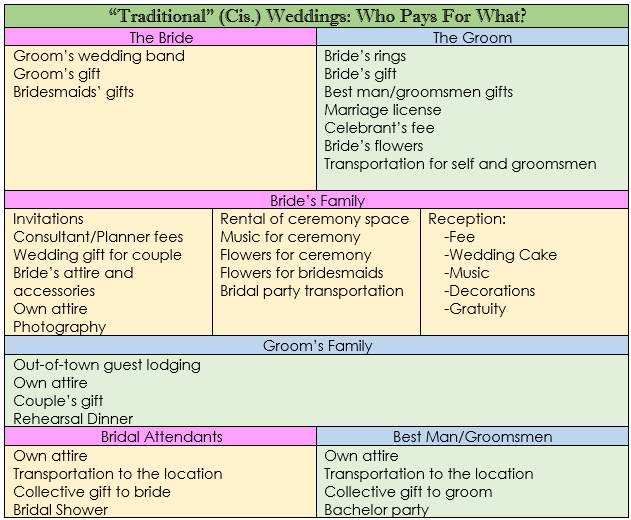 For non-cis weddings, the traditions are less stringent, but many etiquette guides suggest dividing the costs equally between families. Furthermore, it is important to understand that the above are strictly guidelines in the most conventional sense. In this day and age, many couples do not adhere to the traditions of generations before them.
The best advice is to sit down with the couple and the couple's parents if available and have an in-depth conversation about expectations and financial responsibilities.
When in doubt, talk it out. Upfront communication can save all involved headache, wallet-pain and possibly disappointment if expectations are not clear from the beginning. The key to financial success in any endeavor is transparency.
*Derived from Bridal Guide.
View Comments and Join the Discussion!
Posted-In: bride groom in-laws millennials parents of the brideEducation Personal Finance General Best of Benzinga