How Humility Can Make You Rich
From Sunday School classes to middle school counselor-led assemblies, employee workshops to in-services and retreats, the lessons of humility have been pounded into the majority of American society's subconscious at all stages of life. However, once the conferences are over, the retreats long left behind, the lessons are all too often swept aside as well.
Why is it so hard to remember the importance of walking through life in humility? Why must these morals be continually taught and retaught? And, what does all this have to do with personal finance?
Being humble — truly, deeply embodying humility — does not come naturally for most. It involves assessing one's own strengths against their own weaknesses, being brutally honest about where one stands in all aspects of life and acknowledging that the self is not a divine, immovable, perfect being. It involves recognizing that every human has the potential to influence others and the push from one acts as a direct force against others.
Humanity does not exist within a bubble; everything is able to be influenced and everything is influencing. We are in a constant state of flux, never the same as the moment before.
Regarding finances, living a life of humility and understanding the exponential repercussions of a single action on those within the same ecosystem can help ground your approach toward budgeting.
Once you realize that a single purchase or deposit can have an effect upon future outcomes greater than the single initial outcome, you can begin to embrace the power and potential every small action has.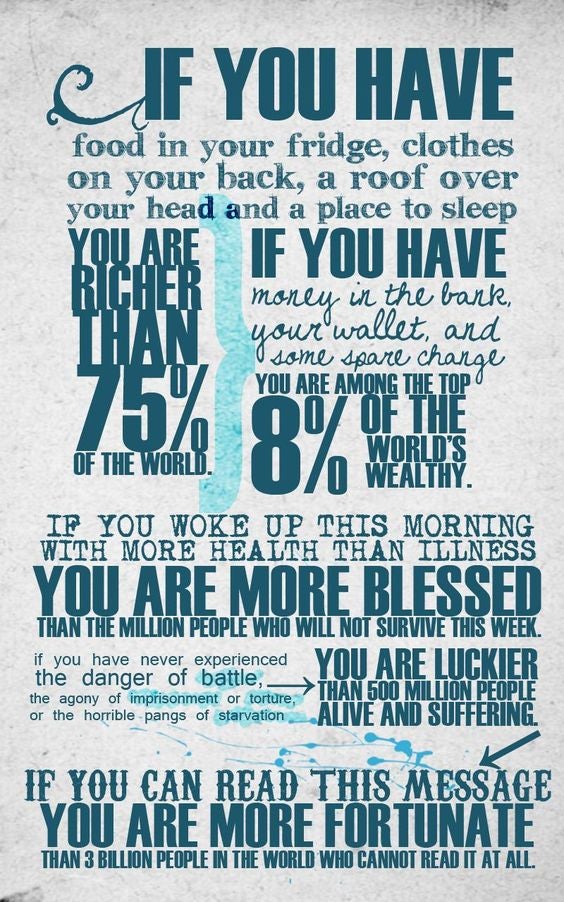 Basic Steps To Begin Walking Humbly
Accept Where You Are: It's time to stop lying to yourself. Don't sugar-coat your current situation. Put everything out in the open for yourself so you can truly see where you are. It can be heartbreakingly depressing, but without knowing exactly where you stand financially, you cannot see how far you have to go or how far you have come along the way.
Redefine "Rich" and "Wealth": We're still talking money here, but repurpose your understanding to include a broader perspective on what being wealthy means. Look beyond material things and focus on how financial independence for today and all the tomorrows to come embodies wealth.
Don't Seek Material Gain: Seek a state of being and make choices that lead to that conclusion. Seek financial security, independence and longevity. Don't seek the biggest house, the newest accessories or the fanciest toys.
Look Beyond: Whether that means seeking guidance from others or looking back toward past successful underdogs, never stop looking beyond. While the initial step toward a life of humility involves deep introspection, the humble life is looking beyond the self, thinking of the self less and striving to be something more pure.
Words Of Wisdom From People Much Smarter Than Me
"There is nothing noble in being superior to your fellow man; true nobility is being superior to your former self." —Ernest Hemingway
"I don't work to collect money. I work because I love what I do." —Warren Buffett
"True humility is not thinking less of yourself; it is thinking of yourself less." —C.S. Lewis
"A great man is always willing to be little." —Ralph Waldo Emerson
"There are two circumstances that lead to arrogance: one is when you're wrong and you can't face it; the other is when you're right and nobody else can face it." —Criss Jami
"As you grow up, always tell the truth, do no harm to others, and don't think you are the most important being on earth. Rich or poor, you then can look anyone in the eye and say, 'I'm probably no better than you, but I'm certainly your equal.'" —Harper Lee
"Don't accept your dog's admiration as conclusive evidence that you are wonderful." —Ann Landers
"Humility means accepting reality with no attempt to outsmart it." —David Richo
"Once you realize there is life after mistakes, you gain a self-confidence that never goes away." —Bob Schieffer
"Have more humility. Remember you don't know the limits of your own abilities. Successful or note, if you keep pushing beyond yourself, you will enrich your own life — and maybe even please a few strangers." —A.L. Kennedy
"[I]t's so important to be truthful because, if you engage in untruthfulness, ultimately you will lie to yourself. And that's where you really get in trouble. So, it's a habit and a discipline that, in addition to being the right thing to do, just works." —Tom Gayner
"Humility is not a one time lesson that comes when you have lost everything. It is a daily reminder of how far we have come, yet still short of who we can be." —Shannon L. Alder
"Too many non-achievers confuse humility with humiliation." —Orrin Woodward
"I like to be reminded of where I came from, and putting myself in modest surroundings helps me do that. Money is not a motivator for me." —Tim Cook
View Comments and Join the Discussion!
Posted-In: Budgeting humility savings strategy spending planEducation Top Stories Personal Finance General Best of Benzinga