When You're The Bread In The Sandwich Generation, Don't Go Stale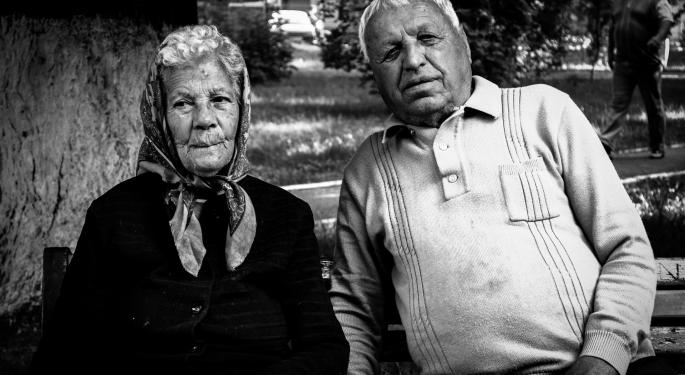 Members of the sandwich generation, take time to remember that the difficulties felt are virtually universal — from the older generation losing their independence but trying to maintain their sense of autonomy to the younger generation, trying to become independent for the first time.
However, let's not overlook those in the middle. There's a lot of pressure being applied from both sides, as the "filling" (the middle generation) tries to hold it all together. Be mindful, respectful and keep your attitude in check. Just as it is crucial for the middle generation to maintain a positive and productive mindset while caring for their older and younger generations, it is just as important that those on either side also express respect.
The relationship will be exponentially more bountiful if all involved come to the situation out of love, sacrifice and understanding.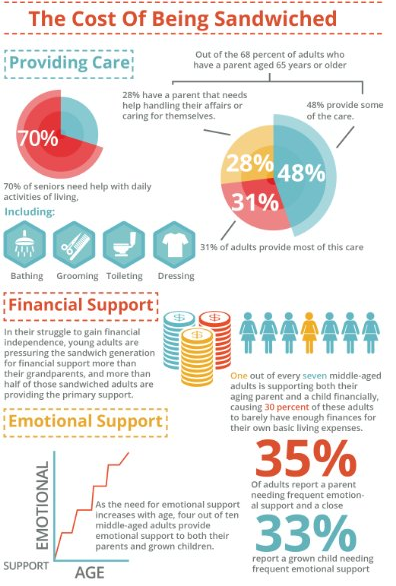 Geoff Gross, founder and CEO of Medical Guardian, provided the infographic above describing how being sandwiched can pay its toll on those "stuck" in the middle. Providing care is far more involved than just sharing the financial burden or physically assisting with daily tasks. The emotional support involved often becomes overshadowed by the weight of the time, effort and money involved, but that does not make it any less significant.
It Comes At A High Cost — For All Parties
As outlined by Gross:
Providing Care
"70 percent of seniors need help with daily activities of living, including bathing, grooming, toileting, dressing."
"Out of the 68 percent of adults who have a parent aged 65 years or older, 28 percent have a parent that needs help handing their affairs or caring for themselves, 48 percent provide some of the care, 31 percent of adults provide most of this care."
Financial Support
"In their struggle to gain financial independence, young adults are pressuring the sandwich generation for financial support more than their grandparents," Gross explained, "and more than half of those sandwiched adults are providing the primary support."
"One out of every seven middle-aged adults [sic.] is supporting both their aging parent and a child financially, causing 30 percent of these adults to barely have enough finances for their own basic living expenses."
Emotional Support
"As the need for emotional support increases with age, four out of ten middle-aged adults provide emotional support to both their parents and grown children," Gross reported.
"35 percent of adults report a parent needing frequent emotional support."
"33 percent report a grown child needing frequent emotional support."
The Bottom Line
Above all, it's important to remember that none of these relationships exist in a vacuum. Each member of this unique family-unit has the influence to create an environment of growth for positive outcomes.
In highlighting sandwich generation statistics have not drastically changed recently, Gross emphasized that the stagnation does not minimize the importance of these messages. "Even though the number of sandwiched middle-aged adults has not increased, the responsibilities and burdens certainly have," he wrote. "You're not alone!"
View Comments and Join the Discussion!
Posted-In: aging parents Geoff Gross Medical Guardian retiree retirementEducation Personal Finance General Best of Benzinga