The Most Important Lesson Bill Gates Learned From Warren Buffett Might Surprise You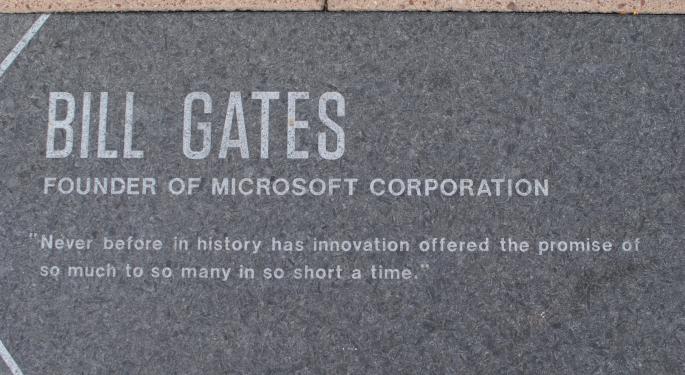 If your day job involves making decisions that could gain or lose billions of dollars and impact the lives of millions of employees and shareholders, it's probably very easy to lose sight of what is important in life.
According to a new article penned by Microsoft Corporation (NASDAQ: MSFT) founder Bill Gates, he's learned a lot of life lessons from long-time close friend and legendary Berkshire Hathaway Inc. (NYSE: BRK-A) (NYSE: BRK-B) CEO Warren Buffett.
Gates and Buffett have been friends now for 25 years, and Gates recently marked the occasion by reminiscing on how Buffett has influenced his life.
"In 1991, when my mother called me to come out to our vacation home on Hood Canal to meet a group of friends, including Warren, I didn't want to go," Gates recalled. At the time, Gates thought Buffett "just buys and sells pieces of paper."
Related Link: How Predictions Of An Impending Market Crash Might Actually Be Evidence It Isn't Coming Yet
Soon after meeting Buffett, Gates was involved in a deep discussion about how Microsoft planned to compete with its giant, well-established rival International Business Machines Corp. (NYSE: IBM), what its pricing strategy would be and what types of unique skill sets that would require.
"Those were amazingly good questions that nobody had ever asked," Gates recalled. "He had this modest way of talking about what he does. He was funny, but what impressed me most was how clearly he thought about the world."
Despite all his investing accomplishments and knowledge, Gates said the biggest lessons he's learned from Buffett over the years are more personal than dollars and cents.
"I've learned many things from Warren over the last 25 years, but maybe the most important thing is what friendship is all about."
Despite his extremely demanding schedule, Gates noted that Buffett regularly calls just to say hello and still insists on personally driving to the airport to pick up Gates every time he visits Omaha.
Watch Gates and Buffett share a special moment singing together below (at 3:00).

Disclosure: The author holds no position in the stocks mentioned.
Posted-In: Bill Gates Warren BuffettEducation Media General Best of Benzinga
View Comments and Join the Discussion!