Just Because It Doesn't Break The Bank: Rethinking Affordability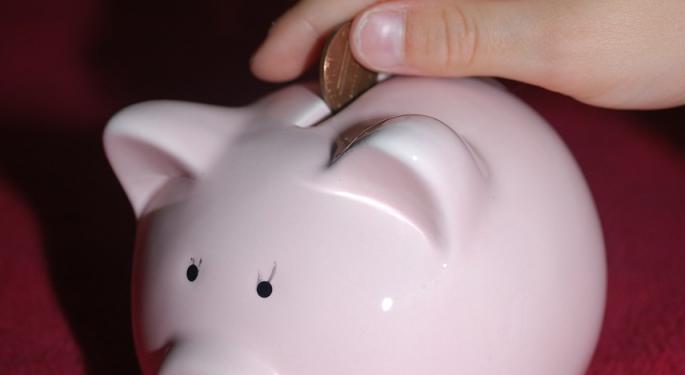 Many times, budgets become sidetracked by good intentions. A nephew could use a few thousand dollars this semester, the house down the street that you've always dreamed about is up for short-sale, there's a beautiful new car "at a great price." However, with proper guidance and prodding, one of the most alluring downfalls can be thwarted — and thwarted again as the need arises.
Often, budgeting is simplified to what someone can afford and affordability is simplified to having cash on hand to pay for it. If the numbers at the end of the month even out, or are even in the green, things must be on track, so the logic goes. The downside of this reasoning is that just coming out even is often not enough to actually make broad financial goals a reality.
For example, if the ultimate goal is to have a secure retirement, working backwards, there are certain steps that must be completed along the way. However, because a "secure retirement" is not equal across all demographics, those steps will vary; furthermore, using the retirement example, the more conservative the estimates are when calculating each step, the looser a month-to-month budget may be. Despite the actual monthly savings needed to ensure a comfortable retirement, these estimated figures often become the gospel-truth building blocks for a sound budget.
Unfortunately, life has a tendency to throw curveballs at even the most well-intended. Interest rates move up or down, family emergencies arise, goals change. Bottom line: A budget is merely a guide, with no insurance of its ultimate success if it goes unchecked.
Below is an in-depth flowchart of one way to prioritize spending.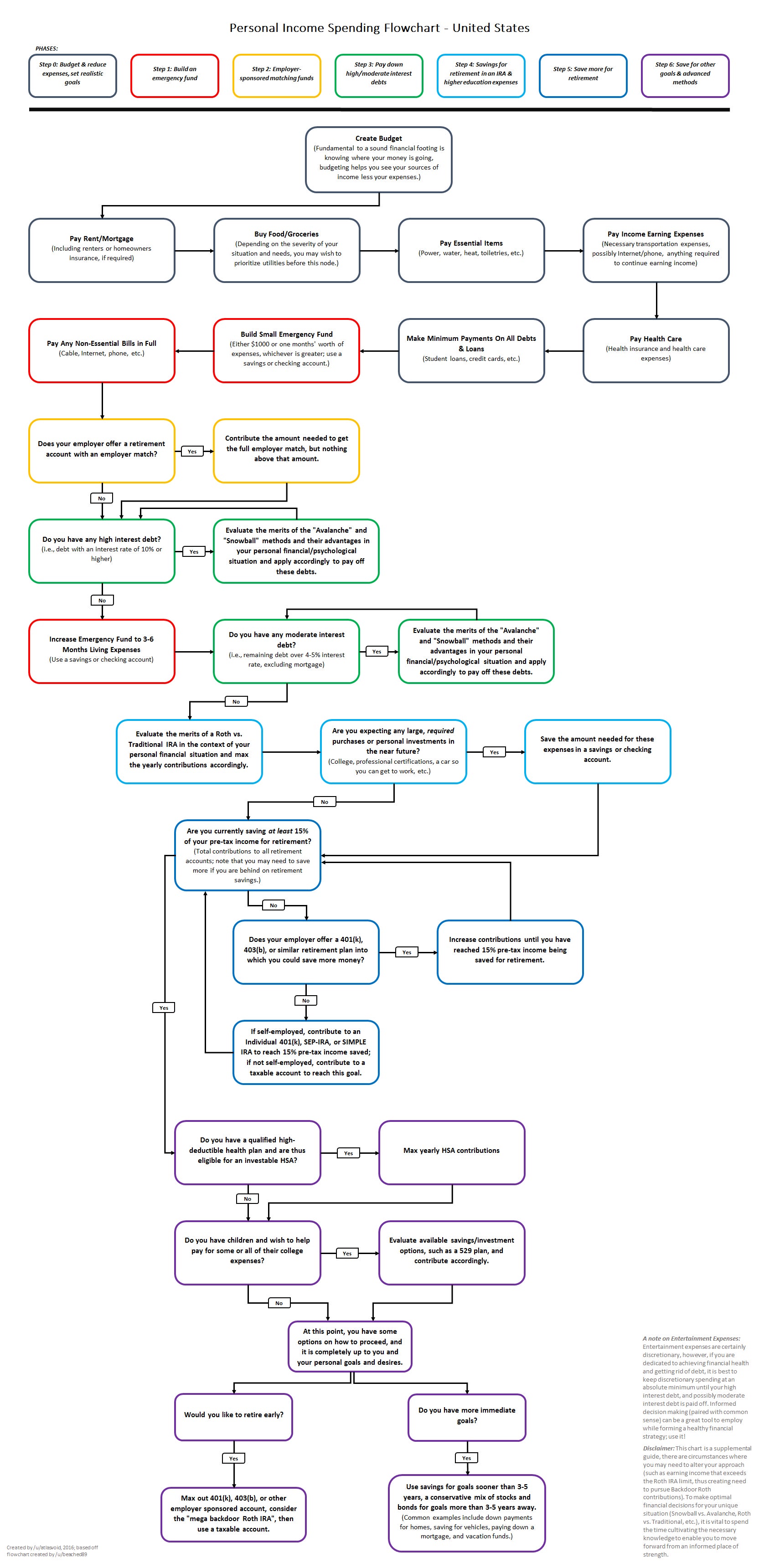 As explained by the designer of this flowchart, "This chart is a supplemental guide, there are circumstances where you may need to alter your approach (such as earning income that exceeds the Roth IRA limit, thus creating need to pursue Backdoor Roth contributions). To make optimal financial decisions for your unique situation (Snowball vs. Avalanche, Roth vs. Traditional, etc.), it is vital to spend the time cultivating the necessary knowledge to enable you to move forward from an informed place of strength."
It Boils Down To The Unending Question Of 'Can I Really Afford That?'
Just as the term "budget" is misused as the be-all, end-all to reaching financial goals, "affordability" is often oversimplified. Being able to actually afford something involves much more than just having the money to make a purchase. It involves weighing that purchase against a larger backdrop of financial goals, expectations and future expenses.
When asking the specific question of whether something is truly affordable, following a series of questions like those outlined below can help place the decision within the greater context of budgeting.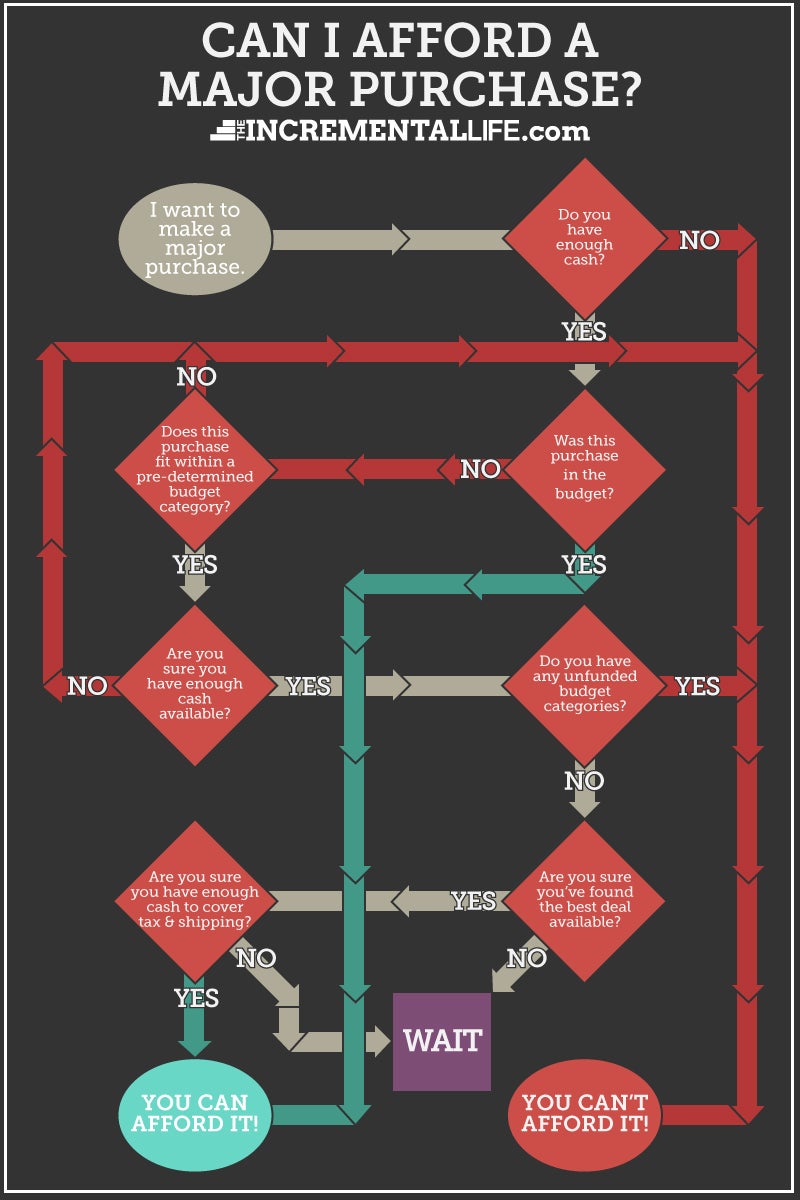 Notice that one of the first questions is "Does this purchase fit within a pre-determined budget category?" In other words, it's important to account for every dollar so as to not let your finances control you, but so that you continuously stay in control of every cent coming in and going out.
If you are unwilling to put in the work of a revolving budget — a budget that is constantly in a state of flux based on savings strategies and spending plans — you don't truly want to reap the rewards. If the desire for a secure retirement is strong enough, doing to work necessary to make it a reality throughout the decades won't be problematic or open for debate.
Therefore, rewire your thinking about budgeting and affordability to indicate something much more complex than having money to pay for impulse purchases. Ask yourself how that purchase fits within the larger picture and what the implications of that may have if it becomes a habit over the course of decades to come. As always, if you have financial concerns, reach out to those who can solidify your personal financial roadmap. Take the time today to invest in your financial future.
Posted-In: Budget Budgeting Retirees retirement savings strategyEducation Personal Finance General
View Comments and Join the Discussion!