Financial Interactions Between Parents And Adult Children: Money Talks, Involvement And Aid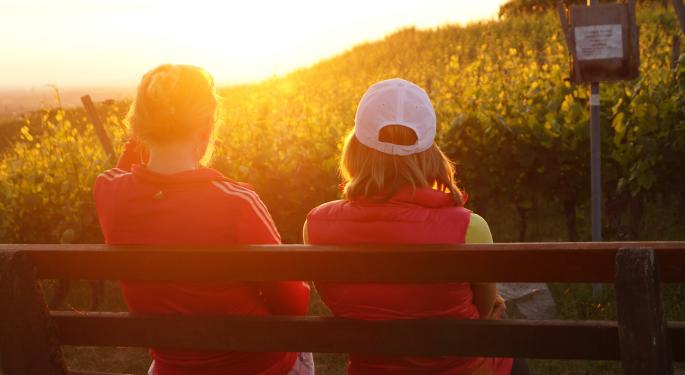 Talking about money is rarely easy. Within our society (the Deaf community aside), it is often seen as inappropriate, impertinent and contemptuous. However, as with most things in life, in order to be proficient in handling the tangible, conversing on the subject is actually quite necessary. Without open communication about how money can work for you instead of being a hindrance or a shackle, the situation remains shrouded in mystery — a place it truly doesn't belong.
While the reasons money talks are often hidden are culturally based, the taboo nature of not talking money can lead to serious mismanagement and ignorance, in addition to psychological unrest and dissatisfaction between generations. Thankfully, there's been a cultural shift recently toward financial literacy and a push for inter-generational communication at every age.
Talking And Involvement
In a recent study conducted by Huffington Post and YouGov, it was revealed that 80 percent of children under 33 either feel they talk with their parents enough, or would like to talk more to their parents, with 15 percent saying the question did not apply to them and 5 percent saying they wish they talked less.
Of that 80 percent, 32 percent of adult children stated they would like to talk more, while 48 were satisfied.
Parents with grown children surveyed indicated that 89 percent were satisfied or wanted more communication, with 8 percent stating they weren't sure or would prefer not to say and just 3 percent saying they would like less talking.
Of the 89 percent, 48 percent would like to talk more, while 41 percent were satisfied with the level of communication.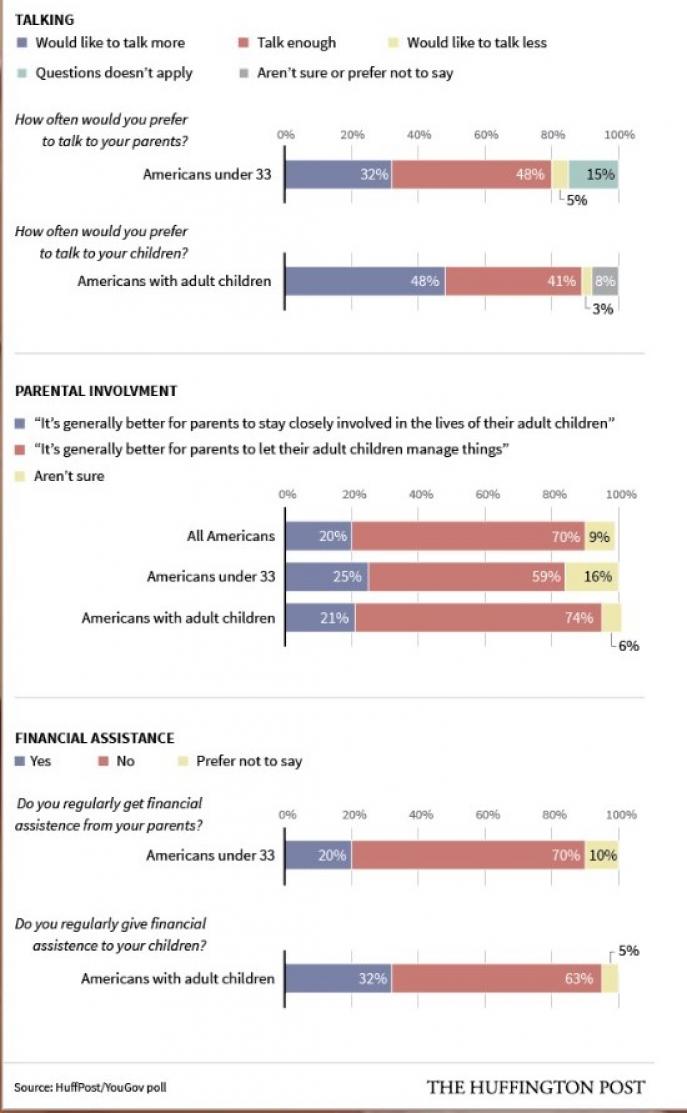 The same study found that adults under 33 and parents with adult children slightly disagreed about how much inter-generational involvement should exist as the adult children age. Twenty-five (25) percent of adult children indicated "it's generally better for parents to stay closely involved in the lives of their adult children," while 21 percent of respondents with adult children indicated the same; 59 percent of the young adults indicated "it's generally better for parents to let their adult children manage things," while 74 percent of parents with adult children indicated the same.
In other words, it appears that adult children and parents of adult children have different perspectives on what levels of involvement "should" be and how talking factors into that involvement. "The HuffPost/YouGov poll found more evidence of a generational mismatch: Most millennials also think they talk to their parents just the right among, thank you very much […] Despite the fact that millennials are just fine with the amount of time they talk to their parents, 25 percent of them think that it's generally better for parents to stay closely involved in the lives of their adult children, as opposed to 21 percent of parents who think the same," the HuffingtonPost report surmised.
Expectations And Perception
Similarly, a Pew Research Center study found that financially, the transfers between generations are essentially balanced, but the perception of these exchanges differ.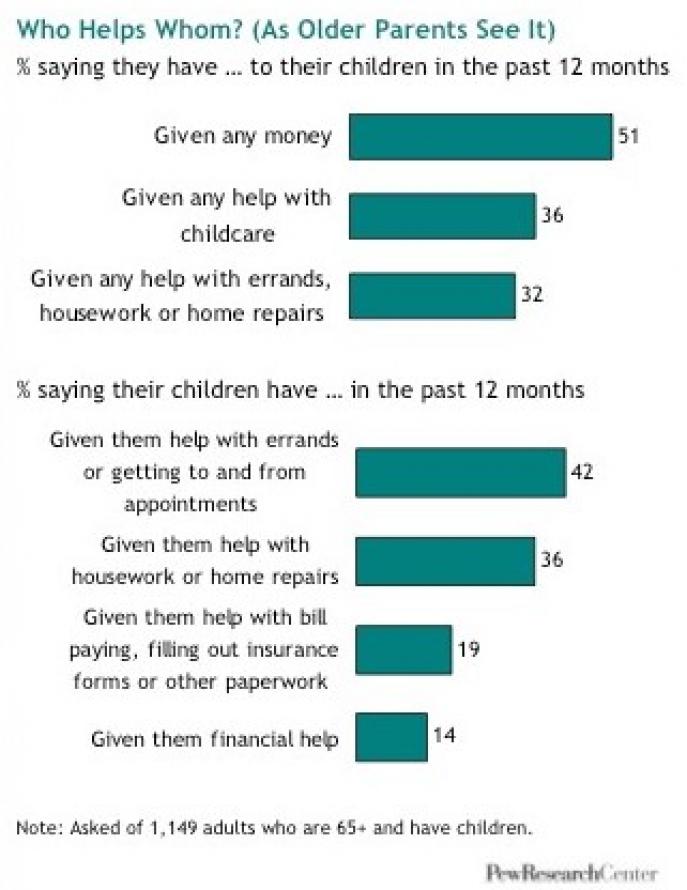 "Despite these reported patterns of non-reliance, older parents and their adult children do help each other out in a variety of ways. However, the perspectives on these transfers of money and time differ by generation," PewSocialTrends explained.
"For example, about half (51 percent) of parents ages 65 and older say they have given their children money in the past year, while just 14 percent say their children have given them money. The intra-family accounting comes out quite differently from the perspective of adult children. Among survey respondents who have a parent or parents ages 65 or older, a quarter say they received money from a parent this year, while an almost equal share (21 percent) say they gave money to their parent(s)."
Making A Healthy Change
The only way to rectify the differences in expectations, perceptions and reality is to address the issue. Open up the lines of communication and specifically talk about not just financial matters, but relationships as well. Bestowing children with the proper resources for success extends beyond handing them a blank check and a bank account. It involves having a vested interest in each other's lives and taking steps toward a mutually beneficial relationship, where the transfer of wealth far exceeds physical wealth.
View Comments and Join the Discussion!
Posted-In: adult children Budgeting budgets Huffington PostEducation Psychology Personal Finance General Best of Benzinga