Parents, Grandparents, American Citizens: Financial Education Is 'Dismal,' But You Can Help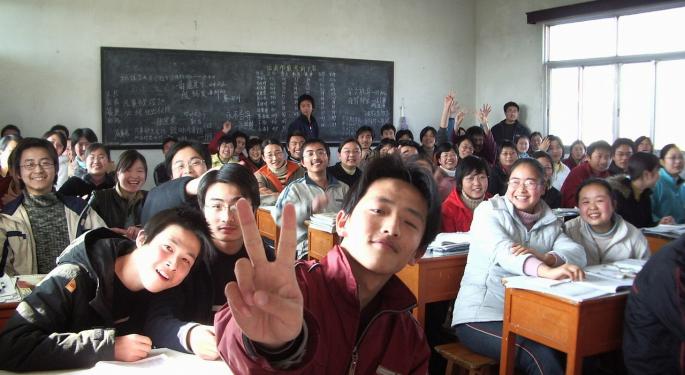 April marks Financial Literacy Month, and April's showers may bring inspiration for tangible changes. In a downpour of disheartening survey results, PwC has compiled multiple reports outlining the need to bridge the financial literacy gap.
Shannon Schuyler, Chief Corporate Responsibility and Purpose Officer with PricewaterhouseCoopers LLP (PwC US), who also serves as the President of the PwC Charitable Foundation, explained, "The results are dismal. The survey of 2,000 K-12 teachers reveals that our next generation of high school graduates is destined for the same fate as today's millennials, who lack even the most basic financial skills needed to succeed in life."
"How do we break this cycle?" Schuyler posed. "Teach Financial Literacy in our schools."
Isn't That A Simple Solution?
While it may appear like an easy solution to a national epidemic – just get teachers to start teaching it – the matter is much more complicated. For starters, those teachers who are so "critical to helping curb the gap in financial education" are frequently millennials, and therefore also lack a concrete foundation of financial education themselves, let alone have a substantial basis from which to teach others.
Furthermore, in the past, conventional wisdom assumed financial literacy was imparted by parents to their children within the home. However, as PwC explained, "The wealth gap in the United States is threatening Americans' aspirations for social advancement and equal opportunity. Minorities, women and the least education have some of the lowest financial literacy rates in the nation […] While the responsibility of financial education has traditionally been left to parents and guardians, K-12 educators increasingly view it as a shared responsibility that schools can and should take on, starting in the early grades."
Luckily, the PwC research also found that while the disparity may exist, educators, particularly millennial educators, are aware of the situation and are striving to make financial education a priority within their classrooms.
The Situation In Snapshots
The survey found that teachers not only lack the basis to pass on financial wisdom, but aren't comfortable doing so.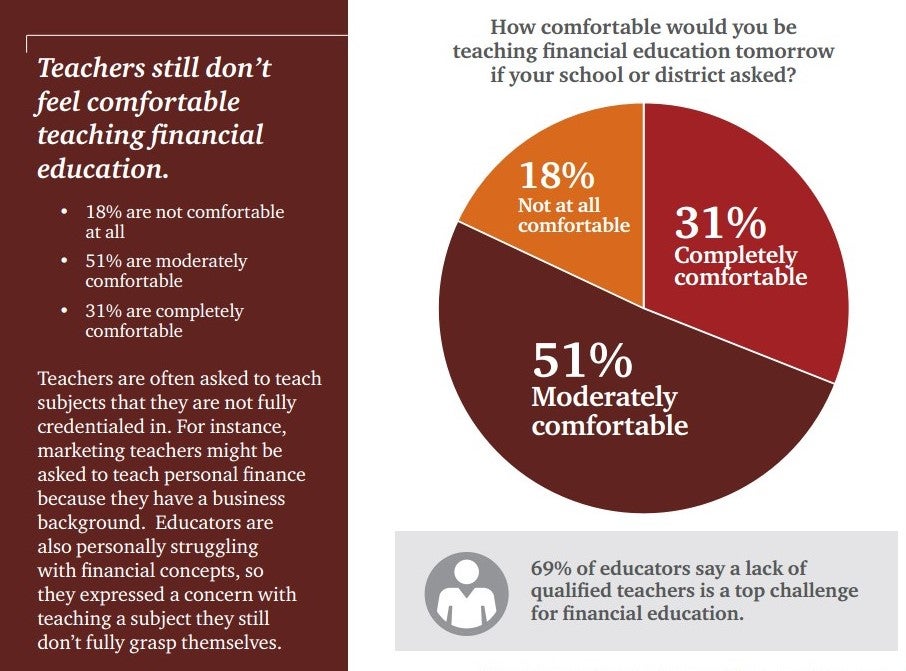 Additionally, simply because educators feel it is important, the situation in the classroom does not currently reflect the same dedication to making real changes.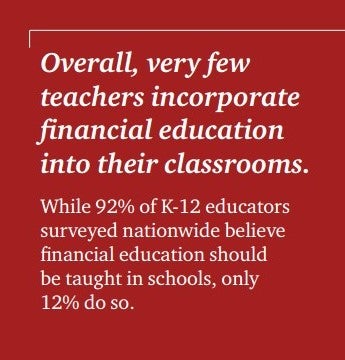 When questioned about why this imbalance exists, teachers cited four reasons and called for greater support.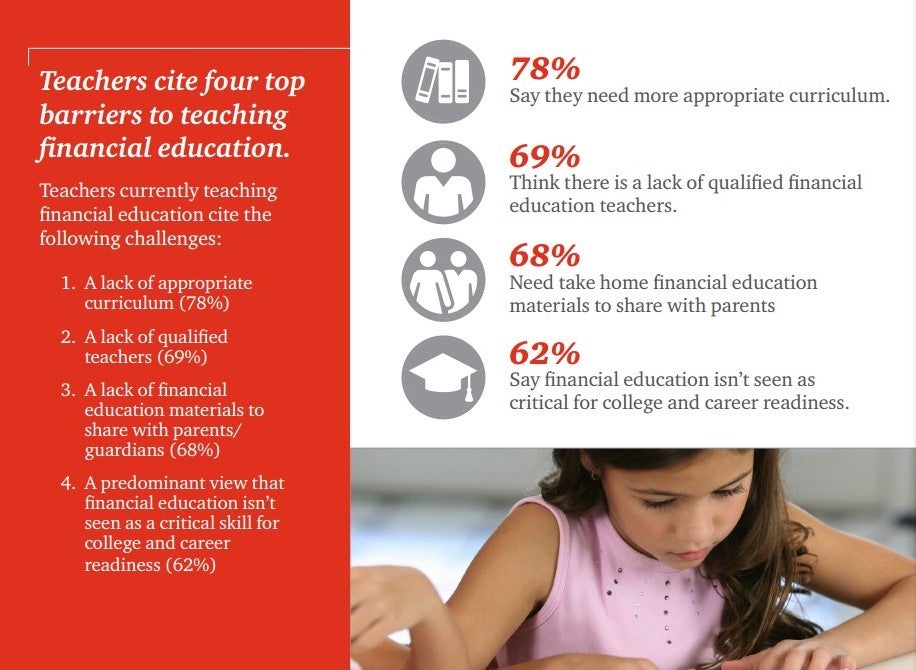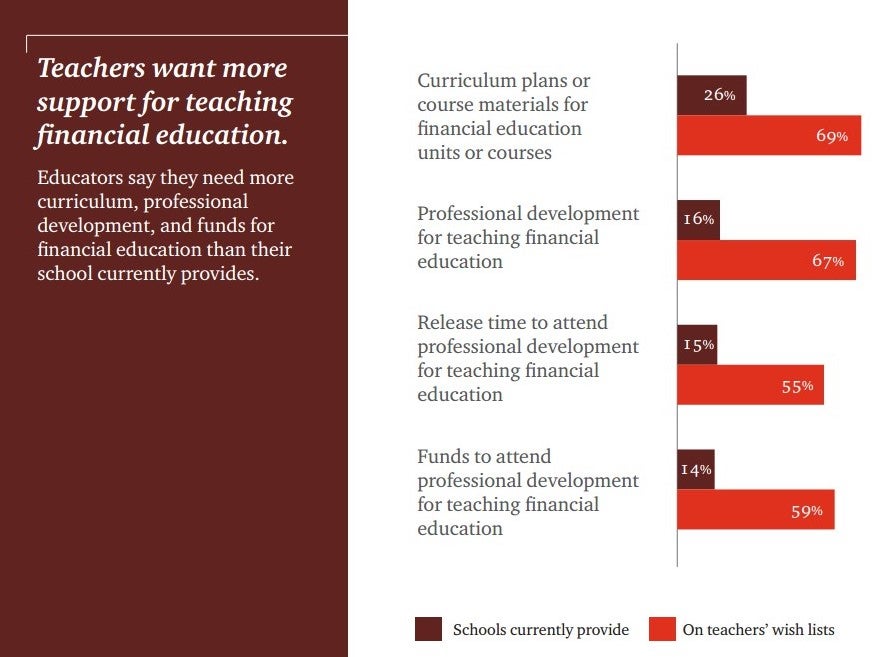 Call To Action
From the survey results, teachers are calling for a partnership between themselves and parents to rectify this situation. However, for a plethora of reasons from lack of financial literacy on the parts of the parents to lack of time, 65 percent of the surveyed parents felt "that it is at least somewhat unlikely that their students are receiving any financial education at home."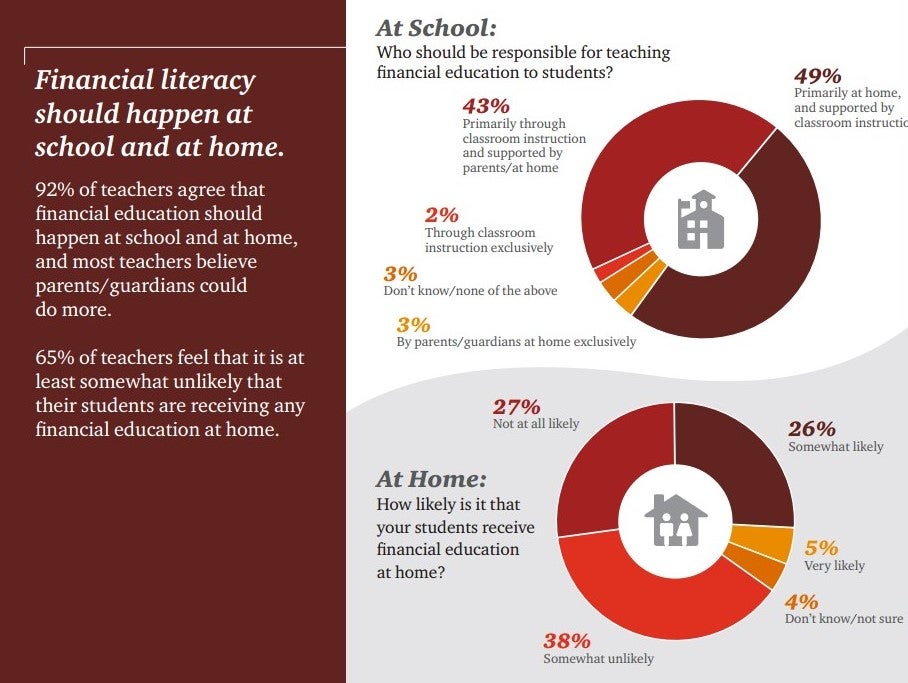 Substantial change may need to come from farther up, either at the corporate level or from the power of the masses found in middle-aged voters. On the surface, the crisis may not appear to have the mass concern other social issues are burdened with, but the implications of a financially illiterate nation are dire.
"Despite teachers' support of financial education, there are a series of obstacles to overcome in order to make it a more regular part of classroom instruction. Teachers need appropriate curriculum materials, more professional development and more take-home resources to share with families. In addition, school stakeholders need to recognize that personal finance is a fundamental skill to college and career readiness," PwC concluded.
"In order to bridge the gap between educators' support for financial education and the current lack of resources, we must push for systemic support of financial education, such as opportunities to teach business and economics at all levels starting in elementary school. We must also work to connect teachers with high-quality financial education materials that align with proven standards. Finally, we need to expand professional development and training for financial education so that teachers feel as comfortable teaching personal finance as they do reading, writing or math."
The financial literacy of today's youth is not a matter isolated to those currently in school or the parents of young children. It is a national concern, affecting all American adults. Whether you have children or grandchildren or you do not, the issue is bigger than the individuals involved. With the proper public support, things can change.
All graphics courtesy of PwC, Bridging the Financial Literacy Gap
Image Credit: Public Domain
Posted-In: financial education Financial Literacy Financial Literacy Month millennialsEducation Politics Personal Finance General
View Comments and Join the Discussion!