Tesla Model 3 Vs. Chevy Bolt: Which Would You Rather Own?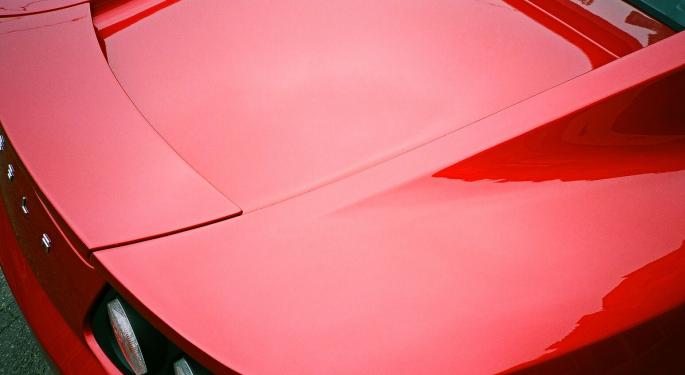 Almost a week after Tesla Motors Inc (NYSE: TSLA)'s Model 3 reveal, the chatter about the newest vehicle has not subsided.
Benzinga jumped at the chance to poll readers about their opinions toward the Model 3 and competitor in the space, General Motors Company (NYSE: GM)'s Chevy Bolt.

Earlier this week, Global Equities Research analyst Trip Chowdhry commented that with the already evident success of the Model 3, the Chevy Bolt is "dead-on-departure."
"GM should just cancel this project," Chowdhry said. "[It] completely misses the mark with the iPhone generation consumer."
Related Link: Tesla Model 3 Makes Chevy Bolt 'Dead-On-Departure,' Chowdhry Says GM Should Cancel The Project
Unsurprisingly, when the results from Benzinga's poll were tallied, the Model 3 was the big winner.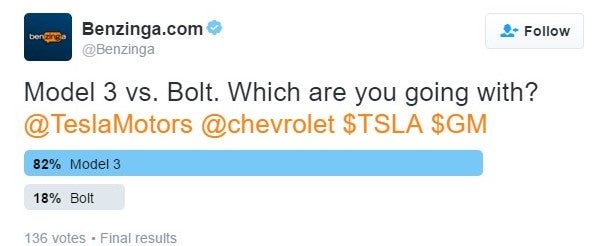 Out of the 136 votes, 82 percent of respondents favored the Model 3 compared to the Bolt.
Image credit: Michael Fraley, Flickr
Posted-In: Autonomous Cars autonomous vehicles Chevy Bolt electric cars electric vehiclesCrowdsourcing Tech General Best of Benzinga
View Comments and Join the Discussion!