Starting A Second Career: Keys For Success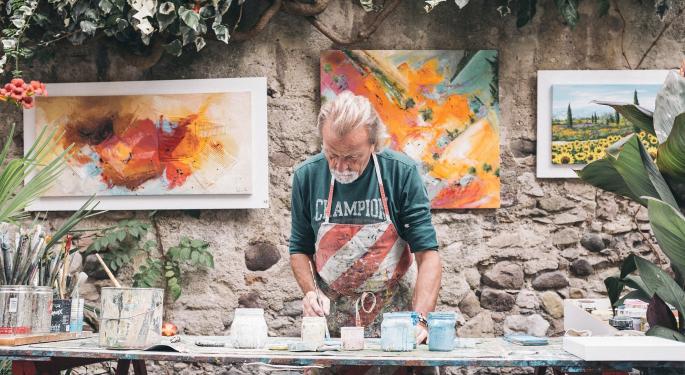 Whether you are looking to begin a career after retiring from your primary occupation or you left a steady job midlife for whatever reason, jumping back into the employment arena can be difficult for middle-aged adults.
However, the percentage of middle-aged and older adults who work has been the fastest growing demographic over the last 16 years.
Since 2000, the number of adults aged 55 and above who have participated in the work force has exponentially increased. According to Advisor Perspectives, Inc., that rate comes in at almost 9 percent for 55–64 year olds, and a whopping 53.6 percent for those over the age of 65.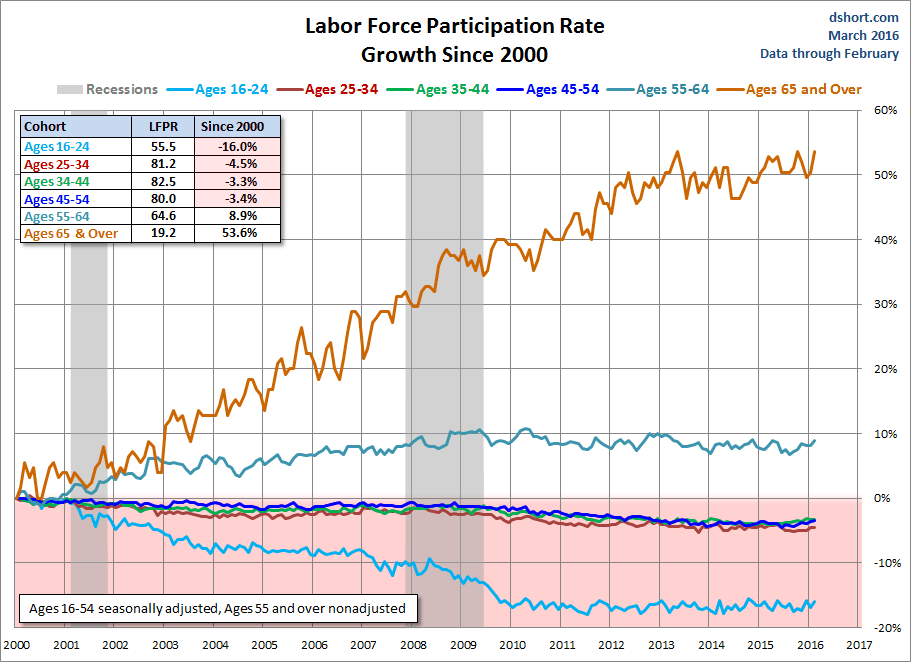 Source: Advisor Perspectives, Inc., 2016
Placed within the context of the broader work force, adults over 55 make up almost 35 percent of the entire working population today compared to only 27 percent in 2000.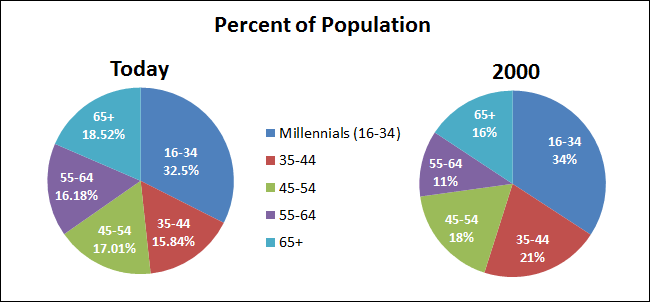 Source: Advisor Perspectives, Inc., 2016
The Struggles Of Ageism
Unfortunately, while the struggles of Millennials finding work in today's economic environment have been widely publicized, the difficulties are not unique to that age bracket.
In reality, older workers face their own set of hindering circumstances that have been detrimental for their work options, employment stability and ability to change careers later in life.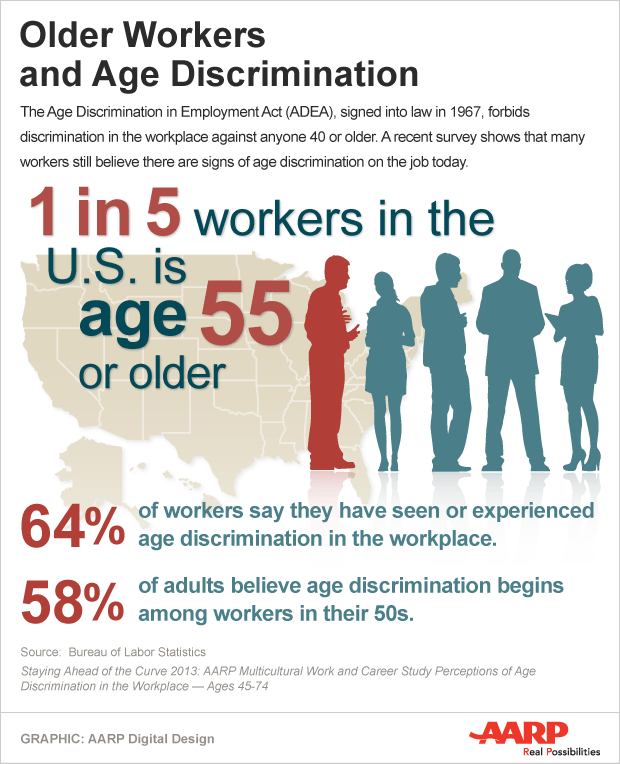 Source: AARP; Bureau of Labor Statistics
Ageism, while illegal, happens with frightening regularity, with 64 percent of respondents in a recent Bureau of Labor study indicating they had either seen or experienced first-hand age discrimination.
It is important to be aware that the Age Discrimination in Employment Act (ADEA) is still in effect, and has been since it became law in 1967. The law "forbids discrimination in the workplace against anyone 40 or older," according to AARP.
The U.S. Equal Employment Opportunity Commission outlines the entire law, which is available to view here.
Of particular note is the following section:
"It shall be unlawful for an employer—
"1. To fail or refuse to hire or to discharge any individual or otherwise discriminate against any individual with respect to his compensation, terms, conditions, or privileges of employment, because of such individual's age;
"2. To limit, segregate, or classify his employees in any way which would deprive or tend to deprive any individual of employment opportunities or otherwise adversely affect his status as an employee because of such individual's age."
"It shall be unlawful for an employment agency to fail or refuse to refer for employment, or otherwise to discriminate against, any individual because of such individual's age, or to classify or refer for employment any individual on the basis of such individual's age."
While it is crucial to be aware of the law, unlawful practices still occur, and the distasteful treatment in employment situations by other employees or superiors still persist. However, this should not be a deterrent from seeking employment, regardless of age. It is merely something to be aware of, understand and know how to combat.
Starting A Second Career
In order to arm yourself with the most effective preparations, as with all things financial, the key to success is all in the planning.
"No one makes a move into a second career overnight," Forbes contributor Kerry Hannon explained. "The most successful career changers I have met built their plan out over a period of a few years. They dreamed, saved, added skills, apprenticed, and more."
Know Your Environment: The first step is to be aware of the environment in which you wish to join. Understanding ageism is essential, but it should not be the foundation for your plan. Rather, accept that ageism exists and may be encountered, but focus on leveraging your unique skill sets to meet the needs of whatever field you hope to make your second career. Research what career paths interest you. Look for opportunities that will give you a boost against other applicants. Volunteer. Talk to people. Get your name out there.
Be Resilient And Optimistic: Remember that you have one thing going for you that younger generations can't compete with: years. You have a plethora of experiences that have accumulated over decades. Often, second career seekers have time experience that is literally as old as their fellow job seekers. Use that to your advantage. Do not downplay your age as a hindrance, but rather as the true benefit it is. It sets you apart, and that can be a great thing.
Get Your Finances In Shape: While looking for a second career may be an act of financial necessity as opposed to a "hobby," it is still crucial to have your finances in order. If they are not at this point, take the time while job searching to get back on the financial security wagon. Check in on your credit and boost your scores if they are not where you want them to be; employers have the ability to check on your credit when making job offers. Create a budget. Place your second career goal into your broad financial plan and long-term outlook.
Draft A Stellar Resume: Make your resume stand out against younger applicants by focusing on experience rather than leading in with graduation dates. While ageism is against the law, employees looking through stacks of resumes can still discard a document without you ever realizing it happened or why. While most resume guides suggest leading in with your graduation dates, consider leading with your most recent employment. Strategies that draw attention to your vast experiences rather than your age can help combat unconscious ageism and help get your resume to the top of the list. Other resume essentials that will help get you noticed are impeccable spelling and grammar, a polished document and a balance between too much details and not enough information. Particularly for older applicants, recognize the pros and cons of listing jobs you may have had before the interviewer was born or out of high school. List what is most relevant and recent, and include a disclosure saying something akin to "more information upon request" or "employment history prior to (date) available upon request."
Get Your Name Out There: Apprentice. Volunteer. Moonlight. Make calls. Set up mock interviews. Shadow other in the field. Send "cold call" emails. Whatever it takes to get your foot in the door and show employers your dedication to the field, do that. So many times, it boils down to who you know in the job arena. Take it seriously and take advantage of your networking capabilities. Ask friends and family if they know anyone in your desired second career field.
Don't Give Up: It may feel like a warzone out there, but it is nowhere near impossible to start a second career in middle age. Prepare yourself; don your armor and don't declare defeat. You have what it takes to make your ambitions a reality.
Image Credit: Public Domain
Posted-In: AARP Advisor Perspectives Age Discrimination in Employment Act ageismEducation Top Stories Personal Finance General Best of Benzinga
View Comments and Join the Discussion!