Agree With Bass' China Short? Here's An Alternative Strategy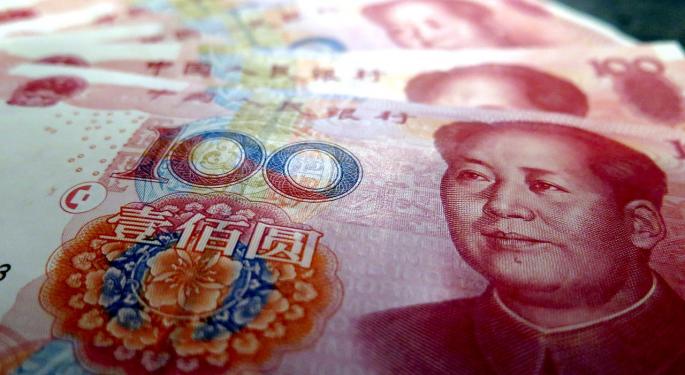 Hayman Capital Management's Kyle Bass has been bearish on the Chinese banking system and yuan for several months now. A couple of days ago, the hedge fund manager appeared on CNBC, warning that the Chinese only have "a few months ahead of them before they get into a real danger territory."
Bass added that his fund is allocating a substantial proportion of its resources to betting against the yuan – or on its depreciation.
Investors will ultimately come to conceive a 10 percent devaluation in the yuan as "a pipe dream," he commented. "When you look at the size of the imbalance and the size of their economy, it's going to go 30 or 40 percent in the end, and it's going to be the reset for the world."
Related Link: Option Alert: SUPN Feb16 9.0 Calls Sweep: 923 @ ASK $1.20: 923 Traded vs 0 OI: Earnings 3/8
"This isn't an aberration. This isn't a speed bump. This is China's excess — let's call it misallocation of capital — coming home to roost," he went on to explain. "You can't grow your banking system 1,000 percent in 10 years and not have a loss cycle. And your currency won't stay strong when you go to rectify that balance."
How To Play The Chinese Bearishness
For those looking for a way to play the bearish thesis on China without actually playing against the yuan or shorting baking stocks, binary options might offer an interesting alternative.
The China 50
The SGX® FTSE® Xinhua® China A50 Index, tracks the 50 largest companies on the Shanghai and Shenzhen stock exchanges.
Below is a list of the index's constituents.

Source: FTSE Publications
What Are Binary Options?
Investing via binary options is just that: Playing a binary event. "Binary options are limited risk contracts based on a simple yes/no market proposition like will the markets go up by the end of the trading week," binary options trading site Nadex explained.
"Binary options offer traders ways to trade the most active stock indices, commodities, forex, event and bitcoin markets with relatively low collateral."
Using Binaries To Play China
There is a way to take a position against China without actually shorting stocks or playing the yuan. By investing in binary options, investors can play something as simple as: "Will the index trade above 8,850 points by March?"
For those thinking the answer is yes, buying the binary options makes sense. For those thinking the response is no, selling could be a better idea.
Disclosure: Javier Hasse holds no positions in any of the securities mentioned above.
Image Credit: Public Domain
Posted-In: China 50 Hayman CapitalEducation Short Ideas Options Markets Trading Ideas General
View Comments and Join the Discussion!