5 Things To Consider When Preparing For A Santa Claus Rally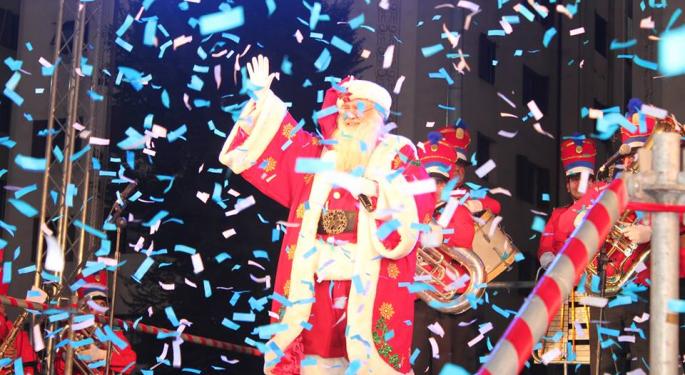 Streets lined with twinkle lights, holiday store window displays and brisk winter air all signal December has finally arrived. A month punctuated by holiday celebrations, December is also a heavy month for trading, as investors sure up their portfolios for the coming year.
As with every other year, it's not just children awaiting Father Christmas at the end of the month. Traders, too, are hoping that the man in red will deliver them a market rally as he has done nearly every year.
Santa Claus Is Coming To The Street
Dubbed the "Santa Claus Rally," a market uptick in the days surrounding the Christmas holiday has been a regular occurrence nearly every year for the past few decades. Believers may attribute the gains to good old fashioned holiday spirit, most say that the rise in stock prices comes from a variety of factors.
Related Link: Retirees And Holiday Prep: Why Planning Ahead Pays Off
Some say it is traders' anticipation of the January Effect, the belief that stock prices will increase more during the month of January than in any other month. Others say it is the result of a series of trades that must be completed before the end of the month for accounting purposes. Some have suggested that fund managers looking to boost their portfolios add well performing stocks at the end of the year, contributing to the rally.
Whatever the case, many investors are eyeing up the markets during month of December in hopes of making some end-of-the-year cash. Here's a look at five things to consider when preparing for the Santa Claus Rally.
1. Is It Really Happening?
Like anything else market-related, the Santa Claus Rally is far from being a certainty. While the December stock rise has occurred more often than not, it isn't set in stone and it's possible that it won't occur.
This year has been a rough one for global markets with commodity prices plummeting and uncertainty in major economies across the world weighing on share prices. Those who say the Santa Claus Rally is unlikely point to the Federal Reserve's upcoming policy meeting as reason the rise may not happen.
The bank is widely expected to raise interest rates for the first time, something that could have a negative effect on markets and reverse any holiday-related gains.
However, many analysts believe that current market conditions are ripe for a December rally despite the Fed's upcoming meeting. Even if the bank does raise interest rates, it is unlikely to do so in any sizable amount. Furthermore, with so much rhetoric coming from the bank over the past year, many say the hike is already priced in. The biggest question will be whether the Fed will divulge the details of its future plans in its policy statement, as the pace at which rates will increase will have the largest impact on markets.
2. Is Retail Safe?
Retailers tend to be a go-to pick for investors during seasonal shopping periods like the holidays. However, the retail environment has been a tricky one so far this year, as many big name stores struggle with bloated inventories and conservative shoppers.
Although the U.S. economy has been on the mend with unemployment figures lower and spending power high, it appears that consumers are continuing to tighten their purse strings. The Commerce Department reported retail sales increased by just 0.1 percent in October, the third consecutive month of lackluster figures. This has created a problem for retailers like Lululemon Athletica inc. (NASDAQ: LULU) and Under Armour Inc (NYSE: UA), both of which saw their inventories balloon at the end of the third quarter.
Related Link: Small-Cap Seasonality: It's The Right Time For This ETF
However, not all retailers are in a troubled spot. Retailers that buy up excess inventory and sell it for a discount like TJX Companies Inc (NYSE: TJX) and Ross Stores, Inc. (NASDAQ: ROST) are in a good position to increase their margins with so many stores needing to cut down on excess stockpiles.
E-Commerce firms like Amazon.com, Inc. (NASDAQ: AMZN) are also in a strong position to benefit from holiday shopping, as last-minute shipping options and comparison shopping is likely to remain popular among consumers. For investors looking to stomach a bit of risk, Wal-Mart Stores ,Inc. (NYSE: WMT) could be a good play, as the company has completely revamped its online shopping experience and is hoping to compete with heavy hitters like Amazon this year. The company suffered a massive setback earlier this year, so for those who think Wal-Mart will be able to pull off an online revival, now could be a good time to buy.
3. Is Tech A Good Bet?
Consumer technology companies are another popular place to search for holiday deals, as many firms release the latest and greatest new gadgets ahead of the holiday shopping season. While this can be a good boost for a tech company's bottom line, the failure of a hot new item to impress the masses can also signal trouble ahead.
This year, the holiday shopping season will be a barometer for success for several firms, including Microsoft Corporation (NASDAQ: MSFT) and GoPro Inc (NASDAQ: GPRO).
GoPro's action sports video cameras have sparked a revolution that has seen consumers flock to the company in droves in order to snap up the high-definition cameras. However, many worry that the excitement surrounding GoPro's products has begun to fizzle, as its latest models have failed to offer enough incentive to drive users to upgrade. This holiday season could prove pivotal for the camera-maker, as it works to monetize video content and continue wowing consumers with new gadgets.
For Microsoft, the holiday season will determine just how popular its latest line of new products will be in the coming year. The company has unveiled a new line of Lumina smartphones, an augmented reality device and a new laptop called the Surface Book. Early sales show that the Surface has been a hit among consumers, earning strong reviews and selling quickly. The laptop retails for $1,499+, making it a big revenue generator for the firm.
4. Where Else To Look?
Retailers aren't the only ones who will benefit from a healthy shopping season, especially with the increase in online purchases. Payment companies like PayPal Holdings Inc (NASDAQ: PYPL) and Visa Inc (NYSE: V) are also likely to reap the benefits, as consumers spread the holiday cheer.
PayPal could be a good bet for this year's holiday shopping, as many consumers have become wary of using their credit cards online after a spate of hacking attacks saw several big name retailers' databases hacked and customer information stolen.
Another good place to look for a holiday uptick is in logistics. Companies like FedEx Corporation (NYSE: FDX) and United Parcel Service, Inc. (NYSE: UPS) are likely to see increased holiday traffic, as people send gifts to far-away relatives and online shoppers request to have their items delivered to their doors. However, this year, many firms are pushing "collect in store" options in order to cut down on shipping costs and ensure timely delivery, which could eat into shipping firms' revenues.
Related Link: Sector ETF Ideas For December: Not What You May Think
5. Anything Else To Consider?
The Santa Claus Rally often makes for a good time to buy beaten down stocks that are due for a comeback. Many are looking to the energy sector for options, as that space has been struggling with low oil prices for quite some time.
Some analysts say that oil prices have already reached their bottom, and companies that have been able to weather the storm have proven themselves as desirable in the future as the industry improves.
For those looking to add oil to their portfolio ahead of a December rally, companies like National-Oilwell Varco, Inc. (NYSE: NOV) and Royal Dutch Shell plc (ADR) (NYSE: RDS-A) could be good bets as they have declined 43.02 percent and 25.68 percent respectively over the past year.
The biotech space has also been on a roller coaster ride this year, as concerns about drug pricing under a new administration in 2016 have weighed heavily on the sector. That means some firms with promising pipelines and good future potential are trading at a discount, and may provide a good entry point into the space. One such firm is Gilead Sciences, Inc. (NASDAQ: GILD), which has lost 5.62 percent over the past six months.
Image Credit: "Parade2014 3" by Posseidon - Own work. Licensed under CC BY-SA 4.0 via Wikimedia Commons.
Posted-In: Long Ideas Education Short Ideas Health Care Events Top Stories Markets Tech Best of Benzinga
View Comments and Join the Discussion!