This Sector Is Surging On The Possibility Of A December Rate Hike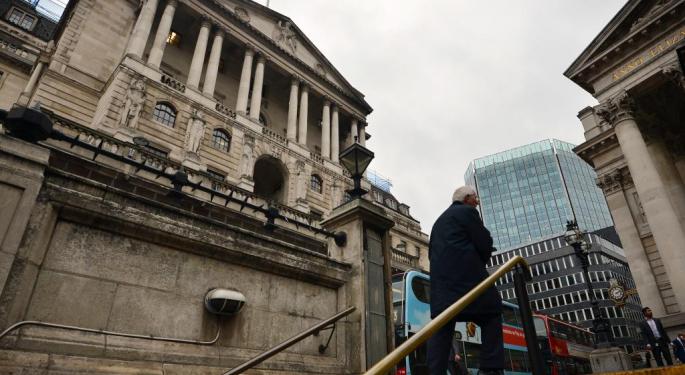 • The strong October U.S. jobs report furthers the case for a December FOMC rate hike.
• Bank stocks are surging on the possibility of higher interest rates.
• The S&P 500 averages double-digit gains in the year following the first rate hike of a new cycle.
U.S. stocks are falling on Friday following a surprisingly strong October jobs report. The U.S. added 271,000 jobs in October, well ahead of consensus estimates of 180,000. The S&P 500 traded down slightly following the report, but bank stocks reacted positively to the news.
Too Good For The Market
While a strong jobs number in the 200,000 range is a very positive sign for the health of the U.S. economy, the timing and circumstances surroundding this report are unique.
Many economists and traders see the strong job number as an indicator that the Federal Reserve will go ahead and begin its long-awaited interest rate tightening cycle in December, and the stock market will no longer be propped up by historically low interest rates.
Banks Stand To Benefit
While the S&P 500 declined modestly following the report, shares of the "Big 4" U.S. banks, Bank of American Corp (NYSE: BAC), Citigroup Inc (NYSE: C), JPMorgan Chase & Co. (NYSE: JPM) and Wells Fargo & Co (NYSE: WFC) have surged between 1.9 and 4.0 percent in Friday's session.
A large part of banks' profits comes from the spread between the interest they collect from long-term loans and the interest they pay on short-term debt. While a rise in interest rates across the board doesn't necessarily improve this spread, it theoretically gives banks more wiggle room when it comes to their net interest margins (NIM), which have been declining steadily in recent years.
Headed For Disappointment?
Unfortunately for bank shareholders, bank stocks have not outperformed the broad market during the last four Fed tightening cycles. But for investors with more diversified holdings, the rate hike is not necessarily bad news in the long run. Stocks have averaged double-digit gains in the year following the first rate hike of a new cycle.
Disclosure: the author owns shares of Bank of America.
Posted-In: News Education Events Top Stories General Best of Benzinga
View Comments and Join the Discussion!