Teaching America's Youth How To Invest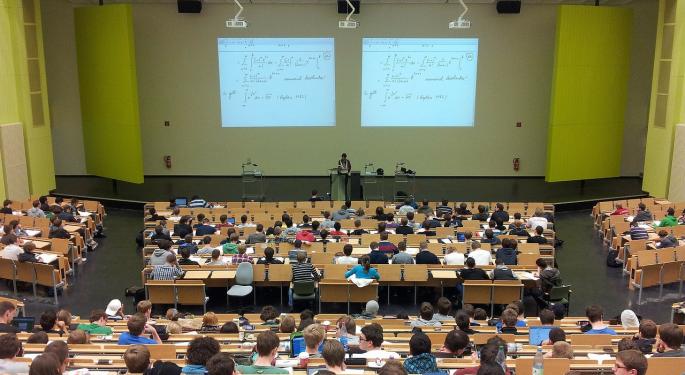 According to a recent TD Ameritrade survey, young Americans don't know how to invest.
In addition, most do not know how plan for retirement.
TD Ameritrade will sponsor a virtual trading competition to help members of Gen Z gain the skills they need.
Nicole Sherrod, managing director of trading for TD Ameritrade, said the company's college level virtual trading competition called thinkorswim Challenge could help alleviate Gen Z's investing problems.
The challenge, part of TD Ameritrade U, runs from October 12 through November 7, 2015, and marks the second year in a row TD Ameritrade has sponsored the competition.
Related Link: TD Ameritrade Users Are Buying Twitter And Disney, Selling McDonald's
Benzinga: What is TD Ameritrade U?
Nicole Sherrod: TD Ameritrade U is a program that provides professors in colleges, universities and even high school teachers with tools they can use to conduct an in-class trading competition.
This allows them to bring their curriculum to life in a more practical manner for students.
BZ: So, even high school teachers can use the technology?
NS: Yes. High schools are welcome to use the technology, and quite a few high schools are using it today.
It's our vision, eventually, to create a full curriculum and show high school teachers exactly what they need to do to educate students on the stock market.
BZ: What is thinkorswim?
NS: Thinkorswim is TD Ameritrade's desktop trading platform.
It's the same one TD Ameritrade customers use to trade every day.
BZ: Young people seem to be having a tough time financially. They have a lot of debt and not much background or information about finances. Why is that?
NS: From everything we've studied, Millennials tend to be a little more risk adverse.
Our sense is that they watched their parents go through two market corrections, and that's probably the genesis of what made them risk-averse.
BZ: How does the thinkorswim technology help create a comfort level for young people?
NS: Gen Z is the age group we think we can impact the most, if we expose them to the financial market in an interesting way when they're young.
That's what the thinkorswim Challenge is all about. Students get together, partner up with different friends or classmates at different schools all across the country and compete for four weeks to learn about the markets and how to trade.
BZ: So the actual thinkorswim trading platform is available to educators?
NS: Yes, and completely free of charge. They get real time quotes and they get all the technologies.
Teachers can pull up a leaderboard in class that helps facilitate a learning discussion within the classroom setting. You can see who's at the top of the leaderboard, what they're doing to outperform other students, who's not faring so well and what they learned.
BZ: Are the professors who sign up and use thinkorswim teaching mostly business majors, or does it turn out to be something for everyone?
NS: It's mostly business, finance and econ professors who are using it today. It's our hope that it (eventually) tails more broadly.
We feel learning something about the stock market should be part of every student's education, because it's practical knowledge. No matter what you're looking to do from a career perspective, you need to understand how to build wealth over time and how to save for retirement.
BZ: Is there an aspect to this that relates to retirement planning for investors?
NS: There's a ton of research on the platform. You can go in-depth into the fundamentals of individual equities. You can look very closely at how companies make money, but it doesn't have things like asset allocation tools and some of the things investors might be looking for.
We do have those at TD Ameritrade. It's not in the thinkorswim technology yet. However, it will be in a matter of months.
BZ: Okay, so the main idea is to create a comfort level with buying stocks?
NS: Exactly. We want students to really get in there, get their hands dirty, try different strategies, try to figure out how to hedge a portfolio with options and how to utilize futures.
It's at risk-free environment where they can try everything without putting their own capital at risk.
Related Link: Kinahan: Apple Airstrip Has Huge Potential, Pencil Could Offer Differentiation To Competitors
BZ: What else should potential participants or teachers know about the Challenge?
NS: We think the TD Ameritrade thinkorswim Challenge is a great way to learn about the stock market for young people.
College students come together in teams of three. We get students from all over the country participating in it, from state schools to Ivy Leagues.
The big prize is $30,000, not for the team, but for the school. In the past, the school has used the prize to invest in their finance, econ programs or in their trading labs.
The winning teams do get $3,000 in a TD Ameritrade brokerage account and an iPad air, which they can use for their own trading.
At the time of this writing, Jim Probasco had no position in any mentioned securities.
Image Credit: Public Domain
View Comments and Join the Discussion!
Posted-In: Gen Z iPad Air Nicole SherrodEducation Exclusives Personal Finance Interview General Best of Benzinga