You're Never Too Old To Revisit Your Budget
Budgeting often gets a bad rep. It's viewed as complicated, time consuming and of little effect. Plenty of people seem to saunter through life without spreadsheets or checkbook ledgers and they do just fine – some even excelling financially.
However, this scenario of complete financial ignorance coupled with financial satisfaction and stability is a mirage. Even for those who claim to not budget, the basic principles must be in place or else they would constantly be in a state of uncertainty. Budgeting at its core is simply making sure that what you bring in money-wise is more than what you spend. This is what keeps you financially afloat and out of serious debt.
That basic plan, whether you knowingly employ it or it comes "naturally," is the cornerstone to financial freedom. Compare your basic budget ideology to building a house. If the foundation is solid, even if you are naively unaware of what it's made of, you can live in relative comfort knowing you will likely not fall into a cavernous sinkhole (the sinkhole is debt in this analogy).
Related Link: Be R.E.A.D.Y.: How To Draft Financial Plans
Likewise, if you know what the foundation is made of, understand why it functions and build on top of it with the proper construction material to withstand the storm, you will inevitably relax more. Knowing and having an active role in the foundation and framework will give you more stability, comfort and ease of mind than you ever imagined possible.
That's why, regardless of how old you are, how well you view your own financial situation or how much you currently budget, it's never too late to revisit budgeting techniques.
How To Start Budgeting
The first step to maintaining a budget is to note and catalogue all expenses. Unfortunately, many budgeting apps or worksheets are incomplete. Daily and large ticket expenses are not typical culprits for budget blitzing, it's the neighborhood fees, coffee costs and toilet paper purchases that sneak into bank accounts and stealthily bombard our deceptively well thought-out plans.
Below is a reliable, three-step approach for taking inventory of your household's expenses, which can be used as the foundation for creating your own comprehensive budget. The purpose of the following check lists is to help jolt your mind about your unique financial habits; there might be items that are not applicable to your family, just as there might be items that are not listed that are a part of your daily life.
Step One: Look At The Numbers
A logical first step in budgeting is to pull out old bank statements and highlight recurring expenses. When looking at past statements, make sure to highlight longer-term trends and expenses that add up from cash transactions.
While a single month's statement is a fantastic place to start, know that it may be just a snapshot of your spending habits.

Step Two: Calendar Check-Up
Go through your planner to help you remember expenses not already accounted for. Birthdays, holiday vacations and gift giving/holiday cards are often overlooked.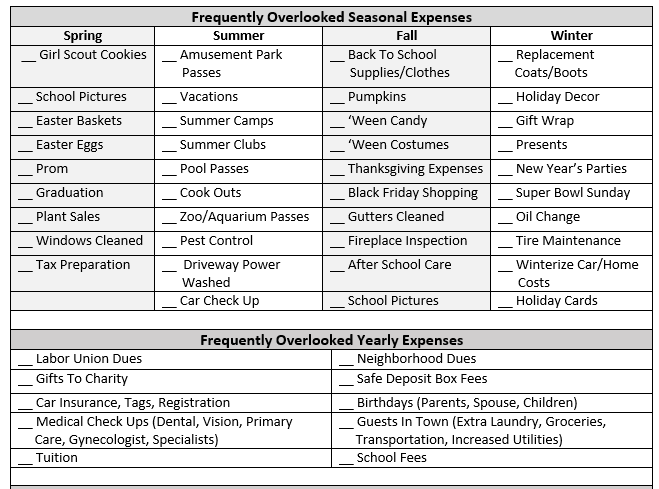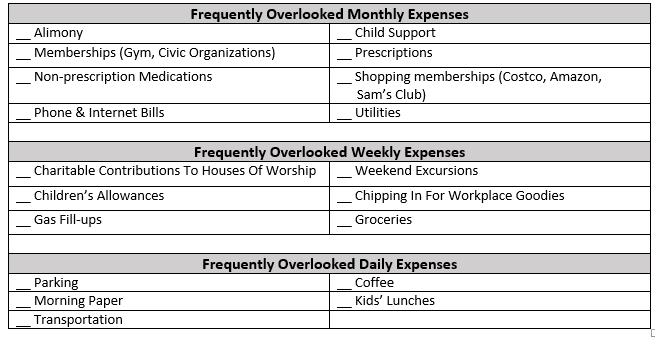 Step Three: Room-By-Room Home Inspection
Turning a house into a home is likely one of the most accomplished feelings you can experience. Likewise, it is one of the most expensive recurring activities that goes unnoticed.
Go through your home room by room, cabinet by cabinet and closet by closet to take inventory of what you have, what you use and you buy on any sort of basis.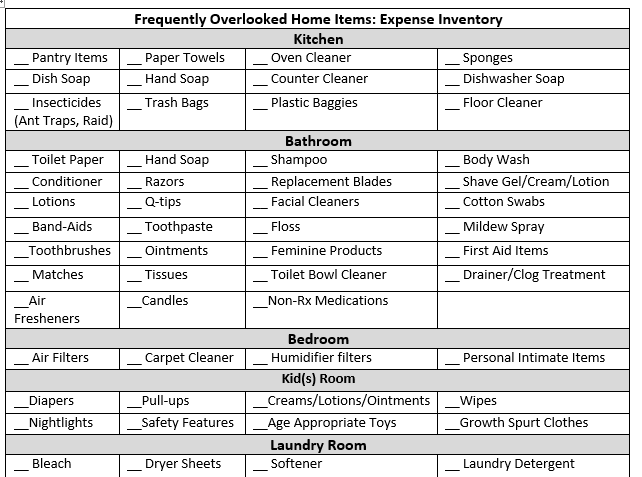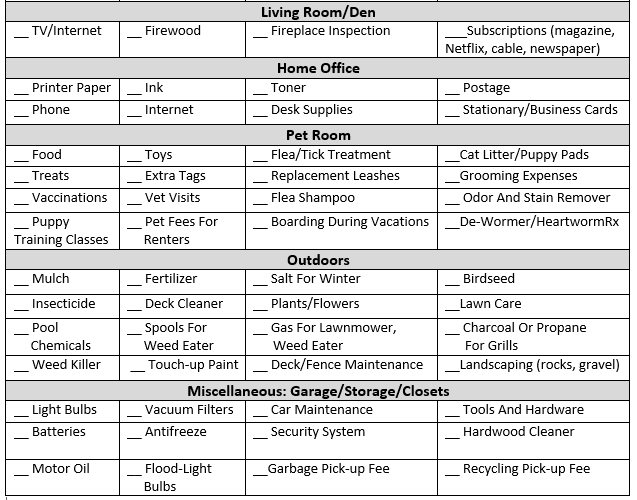 The benefit of having a well-laid budget is the unmatched security for your family's financial well-being. With an accurate and exhaustive inventory of what you spend throughout the year, you can gain financial freedom and control that you may not have ever known you needed.
Whether you are a budgeting pro or a beginner, it's never too late to start taking responsibility of your spending and saving. The marvelous thing about this life is that it is constantly evolving, always in flux. Budgeting, like so many other aspects of life, can be reexamined multiple times over the years and never look the same. Every day brings new changes to our financial portrait. Take a closer look today at your family's budget and see what has been added to the landscape.
Posted-In: Budgeting USAAEducation Be Your Own Boss Personal Finance General
View Comments and Join the Discussion!