Why Back-To-School Matters, Even If Your Kids Are Grown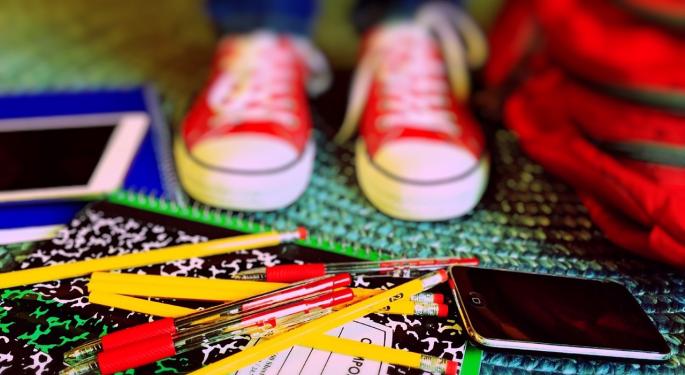 The backpacks have long been put away, and you can't remember the last time you've packed their lunches. It's back-to-school season, but your kids are grown.
However, just because you aren't shipping the kids off to school this August doesn't mean you can't take advantage of the season.
Back-to-school sales may have a corner in the school supplies and children's/juniors' clothing, but there are plenty of deals that can be snagged up by those not heading off to the classroom.
Sales, Sales Everywhere
One of the wondrous things about the beginning of school is its juxtaposition with the changing seasons. Changing seasons mean clearance, as any savvy shopper knows.
Mark LoCastro, DealNews.com, explained to Bankrate, "You're getting great deals because of the convergence of back-to-school, as well as for end-of-season clearance sales." So, the time is right to cash in on double savings events. Check the newspaper and local ads for additional savings, and don't forget manufacturer-circulated coupons.
Look for sales on packaged foods that can be bought in bulk (bottled beverages, snacks, meat to be frozen), school supplies that are usable for anyone (pens, envelopes, notecards, binders, baggies, rubber bands, paperclips, printer paper, ink) and higher-priced items such as computers or cell phones.
Related Link: The Cost Of Supporting Adult Children And Aging Parents
Beware! Sales And Shoppers Are Everywhere
A few words of caution: sales can lure shoppers into overspending, and sales events are prime targets for identity thieves.
Don't Buy If You Don't Need To: Adam Levin from credit.com highlighted that overspending as one of the top mistakes back-to-school shoppers make, "Stream of consciousness shopping can only get you into trouble."
Levin continued, reminding that typical overspending pitfalls/habits don't take a vacation just because the sales are spectacular, "It's easy to make impulsive purchases. That's especially true when you walk into the store fatigued, starving, or at 11 p.m. […] In addition to paying too much money your distracted brain might cause you to make poor credit decisions, and end up throwing everything on a higher interest credit card because you are too tired to care.
"Eat something before you shop. Take a nap if you can," Levin advised. Be aware of retail psychology and avoid shopping habits that are known to lead to financial trouble.
Related Link: Save On Groceries Without Sacrificing Health
Bad Guys On The Prowl: Beware of identity theft. While back-to-school may not be any more of a target than any other time of year, with so many shoppers out and about, swiping cards with lighting-speed frequency, it's prudent to keep an eye on all of your accounts. The Federal Trade Commission (FTC) noted in a report that identity theft goes unnoticed among many victims for months, if not years.
Approximately one third of victims noticed the breach quickly, within the first seven days, but a startling twelve percent took over six months to discover the fraud. Watch your belongings and check in frequently to accounts, making sure that no suspicious charges have been made. The best defense is proper offense; be proactive and preemptively protect your assets.
Back-To-School Means School's Back
One final thought on why back-to-school season matters, even if you don't have children in school: learning never ends, nor do academic opportunities cease to exist once you graduate.
Nontraditional education offerings often loosely follow the same periods as public school systems.
Take advantage of community offerings and take a class or two, or enroll in a degree program. Learn a new skill. Get involved with people who have similar interests. Programs such as OLLI (Osher Lifelong Learning Institute) exist for adults interested in continuing their education and are available nationwide.
Whatever back-to-school season means for you, whether it's another great sales season or time to take advantage of new educational offerings, remember that you are in control of your own life. Your financial decisions have immediate and tangible implications, for better or for worse.
Understanding that your actions have consequences can be liberating and keep your financial stability in check. If you do not yet grasp how minor day-to-day activities can influence your bank account, or if you want guidance on budgeting, talk with a financial expert today. Take control over your own life, and take responsibility for your financial actions.
Posted-In: Adam Levin back-to-school back-to-school salesEducation Entrepreneurship Psychology Personal Finance General
View Comments and Join the Discussion!