Clinton Joins O'Malley, Sanders In Push For Affordable Higher Education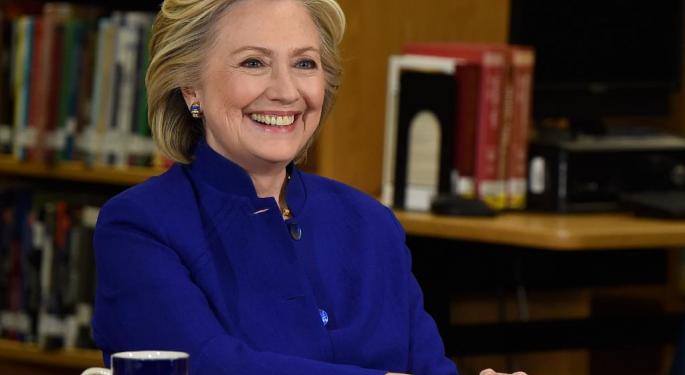 Hillary Clinton became the last of the three major Democratic contenders for the Oval Office to roll out a plan to make college more affordable for young Americans.
Clinton joined former Maryland governor Martin O'Malley and Vermont Independent senator Bernie Sanders in the quest to make accessibility to higher education a federal priority.
Currently, U.S. citizens shoulder more than $1.2 trillion in student loan debt, with as many as eight million in default. But according to the former First Lady and Secretary of State, "costs [wouldn't] be a barrier" under her administration.
"College is supposed to help people achieve their dreams, but more and more paying for college actually pushes those dreams further and further out of reach," Clinton said at a campaign event at New Hampshire's Exeter High School. "That is a betrayal of everything college is supposed to represent."
Clinton believes that one of the most promising avenues to raising incomes is making college affordable for every American. According a blog post by her campaign, bachelor degree recipients earn an average of $570,000 more during the course of their careers than their less-educated counterparts.
Related Link: Private Student Loan Debt: Overlooked 411
The New College Compact
According to Clinton, the problem is that states are slashing budgets, while colleges continue to hike prices. In-state tuition and fees jumped by an average of 42 percent between 2004 and 2014. Over the same interval, the median nominal household income grew much more slowly, while real income actually declined.
Clinton's plan, dubbed the New College Compact, would have two major goals. The first would be to enhance affordability for new students. The most crucial component would be ensuring that students don't need to take out any loans to attend an in-state public university. The state and federal governments, she said, would have to step up to accept the costs -- of course, taxpayers would probably indirectly feel at least some of the burden.
Furthermore, Clinton proposes a system under which students who qualify for Pell Grants would able to use them toward living expenses, noting that "the cost of living at college has been creeping up as well."
The New College Compact would also include provisions proposed by President Barack Obama aimed at offering free community college education.
Clinton promised to focus especially on black and Hispanic students as well as those who have children, saying that these demographics "need the most support and too often have gotten the least of it."
The Democratic front runner's second goal would be to ease the burden of student debt. For those with existing student debt, the Clinton administration would offer a program under which 25 million Americans would be eligible to refinance their obligations at lower interest rates.
In addition, for students who choose to pursue education at private universities or institutions outside their own state, the Compact would cut interest rates for federal student loans. In addition, it would make income-based repayment plans more available, guaranteeing that graduates would never have to dole out more than 10 percent of their incomes and that the debt would be completely relieved after a set amount of time. Clinton said she will make sure that "the government never makes a profit off your loan."
The Alternatives
O'Malley's plan contains many of the same provisions as Clinton's. He would also allow borrowers to refinance their student loans and tie minimum payments to income.
The former governor would then seek to freeze tuition rates at public universities and incentivize states to boost education spending via matching federal grants. Within five years of stepping into office, he would aim to limit annual tuition to no more than 10 percent of the median household income in each state.
Bernie Sanders, Clinton's only significant opposition at this point in the campaign, recently introduced a bill to eliminate undergraduate fees at public institutions. Sixty-seven percent of the costs would fall to the federal government, while states would have to accept the rest: "To qualify for federal funding, states [would have to] meet a number of requirements designed to protect students, ensure quality, and reduce ballooning costs."
Perhaps more interesting than the plan itself is how Sanders would finance the package. He proposes a "Robin Hood Tax on Wall Street:" 0.5 percent on stock trades, 0.1 percent on bonds, and 0.05 percent on derivatives. Sanders believes that these fees could raise hundreds of billions of dollars each year -- more than enough to $70 billion that students hand over to public universities each year.
Related Link: Clinton To Take A Stand On Activist Investing
The Myth of Equality of Opportunity
With Obama having initiated a push for free community college and now Sanders, Clinton, and O'Malley all hoping to fight student loans and exorbitant tuition fees, it is clear that affordability of education has become a hot button issue on the left.
And for good reason.
Equality of opportunity is largely a myth when it comes to the transition to higher education in America. In 2013, only 14 percent of American undergraduates came from the bottom half of the household income distribution. An investigation by The Atlantic found that only about 50 percent of valedictorians from working-class background applied to one of the 61 most selective private institutions in the country. Meanwhile, 80 percent of upper-middle- and upper-class valedictorians submitted resumes to such elite institutions. Thus, the existence of high costs doesn't just prevent many students from enrolling at elite colleges; it appears to discourage them from even applying.
A joint project by Princeton University and the Brookings Institution pinpointed some even more concerning facts about educational attainment and socioeconomic status. A longitudinal study followed more than 20,000 students from eighth grade onwards. The subjects were categorized by two variables: standardized test scores in eighth grade and parents' socioeconomic position. In the analysis, researchers found that students who placed in the top quartile for test scores but the bottom quartile for socioeconomic status were less likely to attend college than were those performed in the bottom 25 percent on standardized tests but had parents who were well off.
Feeding into this phenomenon is the fact that the costs of undergraduate education are increasing much more rapidly for low-income families than for high-income ones. According to an investigation by the National Education Association, over the past five years, low-income families have started paying a much greater portion of their incomes for college, while the cost for upper-class students has risen only modestly in relative terms.
As the Democrats continue to battle for their party's nomination for the 2016 presidential race, their college affordability plans will likely become a center of debate. But whoever comes out on top will undoubtedly call for the expungement of the soaring tuition costs and student loan debt that are plaguing American higher education.
Posted-In: Hillary Clinton National Education Association Princeton University The AtlanticNews Education Politics General Best of Benzinga
View Comments and Join the Discussion!