A Statistical Approach To Identifying Market Bubbles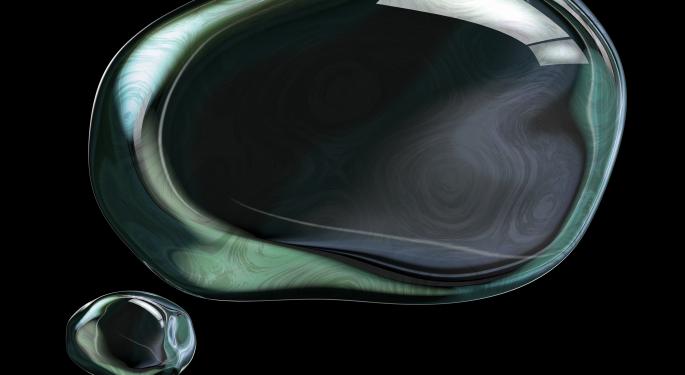 A new report in The Regional Economist by Silvio Contessi focuses on the difficulties of identifying an asset pricing bubble in real time. While it seems easy to identify bubbles such as the housing bubble and the dot com bubble in hindsight, identifying a disconnect between asset price and asset value as it is happening can be challenging.
What Is A Bubble?
Economist Robert Shiller defines a bubble as "a situation in which news of price increases spurs investor enthusiasm, which spreads by psychological contagion from person to person…despite doubts about the real value of an investment."
Contessi also notes that a bubble can be defined as a period in which the price of an asset rises faster than the value of the asset.
Identifying Value
Unfortunately, pegging down the real-time fundamental "value" of an asset can be difficult.
"Generally, we think of the value of an asset as a stream of payments in the form of dividends to the owner over time," Contessi explains. For the typical stock, this value has to do with the earnings (or expected earnings) of the underlying company.
Explosive Behavior
According to Contessi, the key to identifying bubbles could be recognizing "explosive behavior" in price relative to value.
He used a statistical method developed by econometrician Peter C.B. Phillips used to identify rapid divergence between price and value in the stock market. Contessi used the S&P 500 as the "price" in his test and Shiller's Cyclically Adjusted Price/Earnings (CAPE – the ratio of the S&P 500 index to the average inflation-adjusted earnings from the previous 10 years) as his "value" and identified four "bubbly periods" in the modern U.S. stock market.
In the graph below, these periods are identified by blue vertical bars.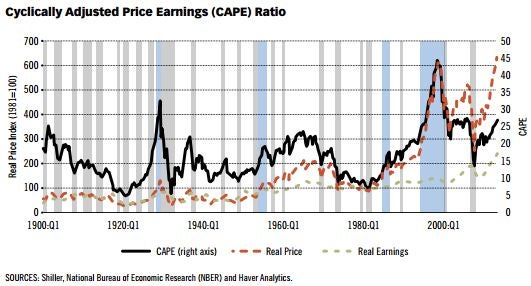 Not Perfect
Contessi notes that the P/E ratio of the stock market is affected by countless dynamic influences other than investor enthusiasm.
However, despite its imperfections, the modern, statistical approach to identifying explosive market behavior could be a helpful tool when monitoring various global markets.
Posted-In: CAPE ratio identifying market bubbles market bubbles Robert SchillerEducation Top Stories Economics General Best of Benzinga
View Comments and Join the Discussion!