How To Sniff Out The Options Opportunity Under Your Nose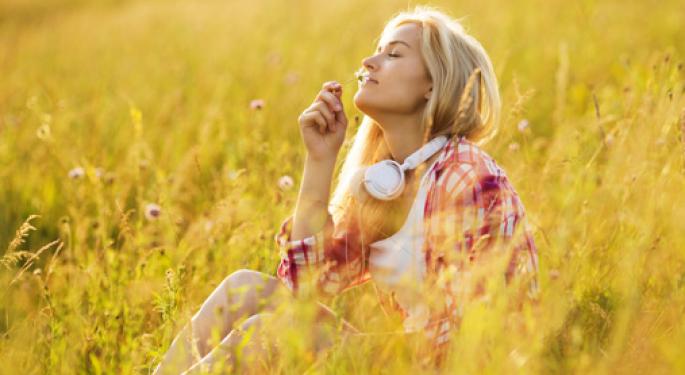 Looking for trade ideas can be time-consuming for option traders. With so many optionable stocks available, you can spend hours trying to find the right match for your investing objectives. In fact, too much window shopping may make it hard to take the plunge.
Good news: there are indicators that can aid your search. Among them is volume. It's already an important statistic in stocks, but can be especially telling when trading options. By sniffing out unusual options activity with higher-than-normal volume, you may be able to find trading opportunities. Here's how.
Turn Up the Volume
When volume increases, market makers adjust by increasing the option's extrinsic value—or the price you pay for the time left to expiration. Extrinsic value combined with intrinsic value—the amount the option is in-the-money—make up the option's premium. Premiums can get inflated when there's unusual volume activity. This scenario provides opportunistic option traders the ability to sell options that are temporarily expensive. As volumes and extrinsic values return to normal, option sellers potentially profit.
Let's look at an example. First, you can run a scan to look for stocks that have certain price and volume characteristics to help narrow your choices down to stocks with readily traded options and higher market capitalizations (figure 1).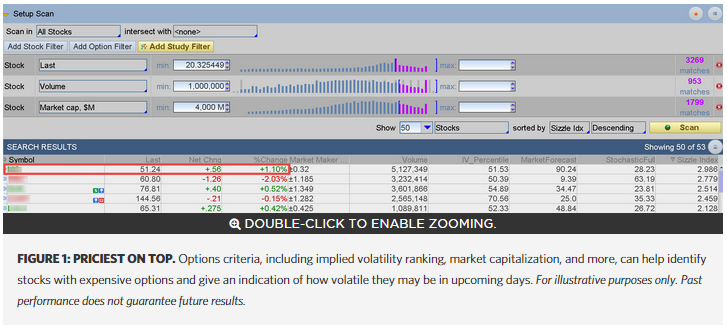 In the sample stock boxed in red, this day's total options volume was nearly three times its previous five days' total. This was the highest of all stocks that fit our scan parameters. Let's dig deeper in figure 2.

Price Check
Typically, volume will be spread out pretty evenly across orders that get filled at the bid or ask prices or anywhere in between. In our sample, our highlighted stock had an unusual spike of volume between the bid and ask prices. This means traders are speculating on the stock's price move and are trying to get the best price possible. Also, the trades are getting filled in closer to at-the-money (ATM) levels, according to the delta. Typically, there will be more volume further out-of-the-money (OTM) as traders use selling strategies with higher probabilities of success.
Related Link: Health Care Sector Surges: Not Just For Playing Defense?
Figure 2 shows the implied volatility rank is close to the 52nd percentile, which means options are a little more expensive than normal. Traders who buy options don't want to buy them if they're too expensive. And if they're buying calls, we might guess they're speculating on the stock making a bullish move.
Figure 3 shows why that may be the case.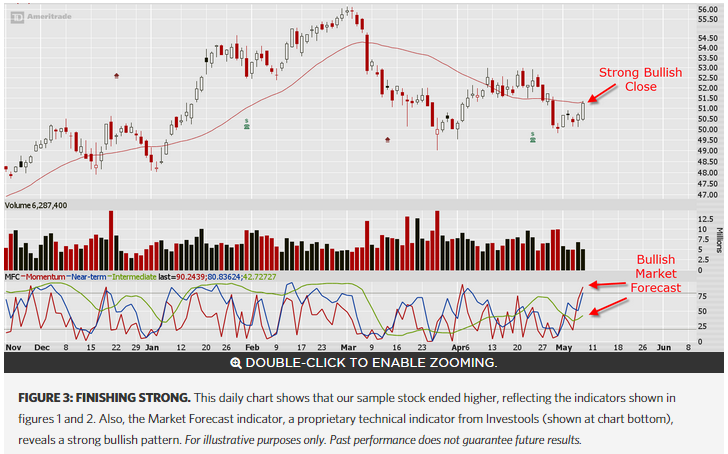 On this particular day, our sample stock finished with a strong bullish move after closing above highs from the previous few days. These charted technical signs suggest the stock may continue higher, and the unusual options activity in the call options helps support that guess. Of course, nothing in trading is guaranteed. But this information can help traders assign odds to a successful trade result.
Figure 4 shows that bullishness continued the day after the strong call option activity.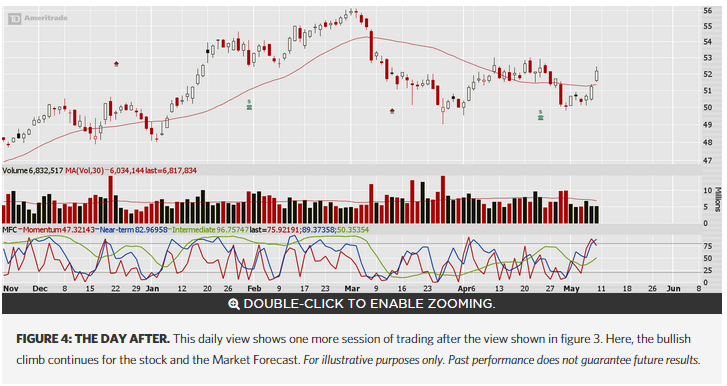 With robust tools to do some of the heavy lifting, traders can be more efficient as they try to narrow down potential trading opportunities. These tools help serve up stocks where extra volume has flocked. Then you get to decide if you want to "follow the money."
This piece was originally posted here by David Settle of Investools on May 28, 2015.
TD Ameritrade, Inc., member FINRA/SIPC. Commentary provided for educational purposes only. Past performance of a security, strategy, or index is no guarantee of future results or investment success. Inclusion of specific security names in this commentary does not constitute a recommendation from TD Ameritrade to buy, sell, or hold.
Options involve risks and are not suitable for all investors. Please read Characteristics and Risks of Standardized Options before investing. Supporting documentation for any claims, comparison, statistics, or other technical data will be supplied upon request.
The information is not intended to be investment advice and is for illustrative purposes only. Be sure to understand all risks involved with each strategy, including commission costs, before attempting to place any trade. Clients must consider all relevant risk factors, including their own personal financial situations, before trading.
Posted-In: David Settle The Ticker TapeEducation Options Markets General Best of Benzinga
View Comments and Join the Discussion!