It's Official: Moms Love Facebook
According to eMarketer, mothers are now using Facebook Inc (NASDAQ: FB) like never before.
The latest statistics on Facebook usage among mothers with children under 18 show just how much business the social media giant is getting from modern mommies.
The Numbers
eMarketer estimates that 29.7 million mothers will use social networks this year. This number represents 86.1 percent of adult female internet users with young children.
Related Link: Stratasys: 'Numbers Weren't There' For MakerBot
A recent study by Edison Research shows just how heavily mothers used Facebook compared to the rest of the population. While the average Facebook user checks the network 5.9 times per day, mothers check their accounts an average of 7.4 times per day.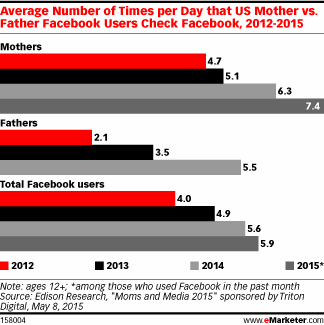 Usage Climbing
The number of daily Facebook checks for moms has steadily climbed in the past several years from 4.7 in 2012 to 2015's 7.4 number. This trend mirrors the average number for all Facebook users, which has climbed from 4.0 to 5.9.
The most recent data from 2014 on fathers of children under 18 shows that fathers check Facebook an average of 5.5 times per day, slightly less than the overall average and much less than the number for mothers.
Going Mobile
The latest numbers also show that moms are going mobile in a big way.
According to the study, about two-thirds of mothers now prefer to access Facebook via a mobile phone. While mobile phone access among mothers has climbed from 41 percent in 2012 to 67 percent this year, desktop access numbers have fallen from 53 percent to only 20 percent during that time.
Tablet access has also risen in popularity for moms since 2012 from 5 percent to 13 percent.
Posted-In: Facebook Facebook usage statsEducation Tech General
View Comments and Join the Discussion!