30 Cybersecurity Stocks In A Dangerous Digital World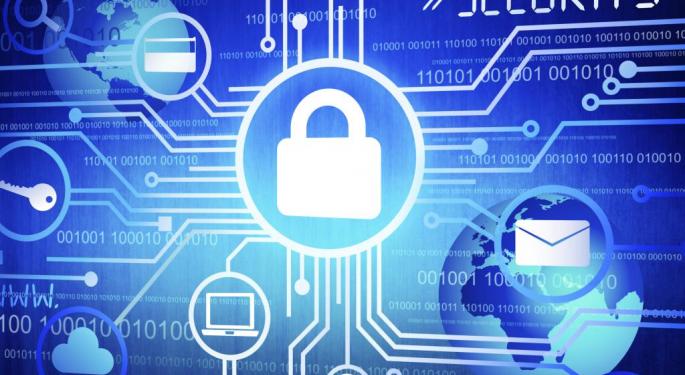 Cybersecurity stocks have been on fire lately, but not all of the names in the space are familiar to investors. Here's a list of 30 companies that are working to keep the digital world safe.
1. CyberArk Software Ltd (NASDAQ: CYBR)
This Israeli software designer's stock is already up more than 77 percent in 2015.
2. FireEye Inc (NASDAQ: FEYE)
FireEye's virtual machine-based security platform helps protect clients from next-generation security threats.
3. Qualys Inc (NASDAQ: QLYS)
This California-based company provides businesses with cloud security and other related services.
4. Proofpoint Inc (NASDAQ: PFPT)
Proofpoint provides SaaS and other solutions for email security, data encryption, privacy protection and many other common security threats.
5. Splunk Inc (NASDAQ: SPLK)
Splunk offers a leading platform for real-time operational intelligence that allows users to investigate security issues themselves.
6. Fortinet Inc (NASDAQ: FTNT)
Fortinet provides threat management and network security solutions for bandwidth-intensive environments.
7. Infoblox Inc (NYSE: BLOX)
This company specializes in developing software and hardware (including a line of DNS security products) to manage internet addresses and identify devices connected to networks.
8. Palo Alto Networks Inc (NYSE: PANW)
Palo Alto Networks provides network security that allows businesses to safely manage the growing number of complex applications running on modern networks.
9. AVG Technologies NV (NYSE: AVG)
This Czech company specializes in computer security software and serves over 188 million active users.
10. Juniper Networks, Inc. (NYSE: JNPR)
Juniper has been in the enterprise and security business ever since it acquired assets from NetScreen Technologies back in 2003.
Related Link: What's In A Secret Merger Code Name? Here's The 10 Most Widely Used
11. Cisco Systems, Inc. (NASDAQ: CSCO)
A multinational developer of networking equipment, Cisco has an entire segment of its business devoted to security.
12. Intralinks Holdings Inc (NYSE: IL)
Intralinks boosted its security product offerings when it acquired docTrackr, a document security company, in April of 2014.
13. Science Applications Intl Corp (NYSE: SAIC)
This technology integrator provides IT and engineering services and security for complex government and commercial projects.
14. Check Point Software Technologies Ltd. (NASDAQ: CHKP)
Check Point develops and produces software and hardware for IT security.
15. Barracuda Networks Inc (NYSE: CUDA)
Barracuda designs and delivers cloud-connected storage and security solutions.
16. Trend Micro Inc (OTC: TMICY)
Trend Micro develops and sells security software in Japan.
17. Symantec Corporation (NASDAQ: SYMC)
Symantec provides security backup, and data solutions for customers worldwide.
18. VASCO Data Security International, Inc. (NASDAQ: VDSI)
This company designs and develops digital asset security systems used worldwide.
19. The KEYW Holding Corp. (NASDAQ: KEYW)
This company provides cybersecurity, geospatial intelligence solutions and other services to the U.S. government and commercial customers.
20. Radware Ltd. (NASDAQ: RDWR)
Radware develops and produces application delivery and security solutions for virtual and cloud data centers.
21. Imperva Inc (NYSE: IMPV)
Imperva develops and produces physical and virtual data center security solutions.
22. Exelis Inc (NYSE: XLS)
Exelis develops and produces communications, intelligence, surveillance and reconnaissance-related products.
23. Widepoint Corporation (NYSE: WYY)
Among other services, WidePoint provides custom security policies and procedures and provides secure asset disposal services.
24. ManTech International Corp (NASDAQ: MANT)
ManTech provides cyber warfare and cyber defense security solutions, including identifying and neutralizing cyber-attacks.
25. Zix Corporation (NASDAQ: ZIXI)
Zix provides email encryption and data loss prevention solutions.
26. Guidance Software, Inc. (NASDAQ: GUID)
This company provides digital investigative services that allow customers to collect, search and analyze digital information for security purposes.
27. Gemalto NV (OTC: GTOMY)
This Dutch company specializes in security in the areas of mobile communication, machine-to-machine communication and digital transactions.
28. LifeLock Inc (NYSE: LOCK)
LifeLock specializes in identity theft protection and fraud and risk solutions.
29. Varonis Systems Inc (NASDAQ: VRNS)
Varonis' solutions allow customers to monitor data access and prevent unwanted security breaches.
30. Akamai Technologies, Inc. (NASDAQ: AKAM)
Akamai provides cloud and mobile computing security, including software products that prevent DDoS attacks.
View Comments and Join the Discussion!
Posted-In: cyber attacks cyber securityTop Stories Tech Trading Ideas Best of Benzinga