10 Numbers To Know Ahead Of The Oscars On Sunday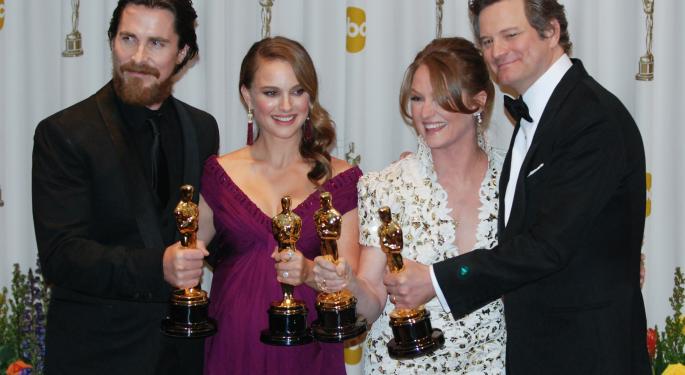 Come this Sunday, all eyes in the film industry will be focused on the Dolby Theater in Hollywood for the 87th Academy Awards.
Actor Neil Patrick Harris will be hosting the show this year for the first time, and millions of people will be joining in the celebration and cheering for their favorite movies and stars from the comfort of their living rooms.
Here's a list of 10 fun Oscar numbers to know ahead of this year's show.
1. 72 million viewers
According to USA Today, that's the number of viewers that tuned in to ABC to watch Ellen DeGeneres host the Oscars last year. That is more than half the number of viewers that watched the Super Bowl this year. ABC's parent company Walt Disney Co (NYSE: DIS) is hoping that this year's show will draw even higher ratings.
Related Link: 5 Highest-Grossing Best Picture Winners
2. $5 per ticket
That's the cost of a single ticket to the first ever Academy Awards in 1929. That year the Oscars were held in the Blossom Room of the Hollywood Roosevelt Hotel. The ceremony lasted a total of 15 minutes.
3. $1 billion
According to NBC News, that's how much Ellen DeGeneres' 2014 Oscar selfie was worth to Samsung. The tweet was seen by 37 million people.
4. 200 countries
This is the number of countries that tune in to watch the Oscars each year.
5. 6,124 members
There are over 6,000 voting members of the Academy of Motion Pictures Arts and Sciences.
6. 40 minutes
According to the Academy's rules, a film must have a running length of at least 40 minutes to be eligible to win an Oscar as a feature film.
7. 2,809 Oscars
Since the first ceremony in 1929, this is the total number of awards than have been given out over the years.
8. $861,542
According to Moviefone, this is the price fetched at auction for Orson Welles' 1941 Oscar for "Citizen Kane" after his heirs won a lawsuit that gave them the right to sell it. Since 1950, winners have been forbidden by the Academy from selling their award statues.
9. $125,000
According to Variety, this is the value of the 2015 Oscar nominees' gift bag. It reportedly includes items ranging from $1,500 worth of French Mediterranean sea salts to a gift certificate for a $14,500 luxury train ride through the Canadian Rockies.
10. 45 seconds
This is the requested time limit for the acceptance speeches of this year's winners.
Image source: Wikimedia Commons
Posted-In: Academy Awards Neil Patrick Harris OscarsEducation General Best of Benzinga
View Comments and Join the Discussion!